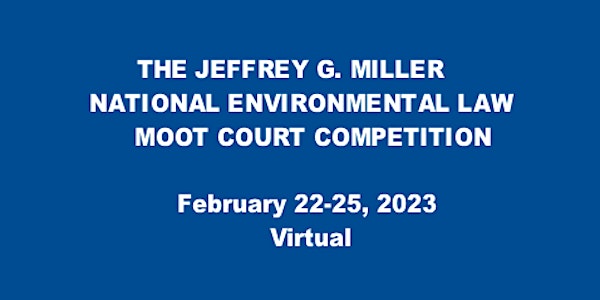 NELMCC 2023 Team Registration
This is the NELMCC Team Registration & Payment Portal for NELMCC 2023. Competition Dates: February 22-25, 2023
About this event
Dear NELMCC Team Representative:
Welcome to the registration and payment portal for the 35th Annual National Environmental Law Moot Court Competition.
Once your team is registered, you will receive an email Form to provide individual
All payments must be made before the problem is distributed on October 3, 2022.
Team member information. Complete this form by October 27, 2022: https://forms.gle/EcspadHDaJtEAc1a9
Please contact us with any questions or concerns.
Very kind regards,
NELMCC Moot Court Board
nelmcc@law.pace.edu
------------------------------------------------------------------------------
NELMCC Competition Dates:
Day 1, Wednesday, February 22, 2023
Preliminary Round 1, Online, 3pm – 5pm
Preliminary Round 2, Online, 7pm – 9pm
Day 2, Thursday, February 23, 2023
Preliminary Round 3, Online, 12pm – 2pm
Quarterfinal Round, Online, 6pm – 8pm
Day 3, Friday, February 24, 2023
Semifinal Round, Online, 12pm - 2pm
FINAL ROUND, Saturday, February 25, 2023
Final Round, Online, 1:30 pm - 3:30pm
--------------------------------------------------------------------------------