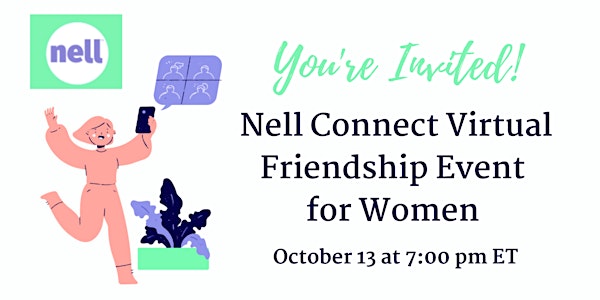 Nell Connect Virtual Friendship Event for Women
Join Nell Connect, a friendship app for women, for a one hour virtual discussion group to help facilitate friendship and support.
About this event
The Nell friendship app is a safe, easy, reliable way to find and make new friends in your immediate area or while traveling.
We know that in person connections can be difficult to make so that's why Nell Connect is putting together a virtual event to help women facilitate friendships and get the opportunity to get support from others like them.
Join 54 year old co-founder of Nell Connect, Tracy Lenehan and 27 year old mental health educator, Catherine Reynolds for a Nell Connect Virtual Friendship Event on Thursday, Oct 13 at 7:00 pm.
Attendees will be given the opportunity to share with the group for a set amount of time about what's going on in their life and pose any questions or topics for discussion to the group.
This event is open to Nell Connect users but space is limited. Nell Connect users get access to discounted tickets. General admission tickets are also available.
Join Nell Connect at https://nellconnect.com/