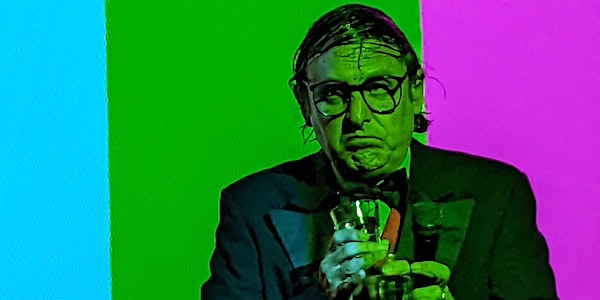 Neil Hamburger with special guest Major Entertainer at Thee Stork Club
America's Funnyman, NEIL HAMBURGER, returns to the crime of the scene for a one-night only at Oakland's Stork Club!
When and where
Location
Stork Club 2330 Telegraph Avenue Oakland, CA 94612
Refund Policy
Contact the organizer to request a refund.
Eventbrite's fee is nonrefundable.
About this event
Talent Moat presents
NEIL HAMBURGER and special guest Major Entertainer
at Thee Stork Club, Oakland
7pm doors, 8pm show, $25 adv/door. 21+.
"America's Funnyman" Neil Hamburger has worked every imaginable stage, from New York's Madison Square Garden, to a show in pitch black darkness at the Edin- burgh Fringe Fest. He has performed countless American, Australian, British, Irish, and Canadian tours, as well as in Norway, New Zealand, and the Bahamas, along- side acts ranging from Faith No More to Robin Williams. His TV credits include Tim and Eric Awesome Show, Tom Green Live, and Jimmy Kimmel Live. His Live At Third Man album was produced by Jack White in Nashville; an earlier Hamburger effort was included in SPIN's "40 Greatest Comedy Albums Of All Time." The fea- ture movie Entertainment, a dramatic look at Hamburger on- and off-stage co-star- ring John C. Reilly, Tye Sheridan, and Michael Cera, premiered at the Sundance and Locarno Film Festivals, and was released in 2015 to rave reviews. His recent Drag City album of lavishly-produced song, Still Dwelling, featured a memorable trio version of Jesus Christ Superstar's "Everything's Alright" with Neil singing alongside Mike Patton and Jack Black.
Press quotes:
"A phlegm-filled sack of putrid self-loathing, Neil Hamburger is the perfect satire of a slick, professional nightclub comedian. If you've ever suspected that behind the glossy veneer of fake bonhomie of those perma-smile acts lies an ugly, embittered, grotesque soul – well Hamburger is that demon made flesh. In some living Sisyphean hell, every night he dons his tuxedo, greases down his hair and ploughs through the vile set that dis- gusts even him, just so he can earn a three-piece chicken dinner. His contempt for his own pitiful existence is surpassed only for his contempt for the audience who compel him trudge through his despicable cavalcade of jokes. And my, these gags are certainly not for the faint of heart, as he plumbs the depths of depravity for the sake of a laugh." — Chortle (U.K.)
"Hamburger is the clapped-out husk of a decorous Southern gentleman, now coughing in painful hacks, suppurating filth through his tuxedo, and her to tip a slurry of abuse all over celebrity and modern life...a combination of malignance and desiccated vaudeville." — The Guardian
"Neil Hamburger remains the greatest comedian I've seen the greater majority of an audience walk out on....No one was leaving their seats this evening though, as this peerless performer shocked and delighted in equal measure...On the road for 12 years with scarcely a day off, Hamburger is a condemned showbiz lag, doomed to perform his an- tagonistic anti-comedy to potential hostility forever." — The Scotsman
"A brilliantly awful persona of an old-school, C-list funnyman—the kind with an ill-fit- ting tuxedo and an enormous, greasy combover—on a very bad night. Neil Hamburger toys with an audiences' expectations (and patience), and indeed his act is a kind of rude commentary on stand-up comedy altogether." – New York Times
Major Entertainer is a Los Angeles based professional *OPENING ACT* deeply committed to self promotion and social networking. Able to quickly adapt to any situation in which entertainment is required, he shines brightest in front of a small audience who has never heard of him before. He's toured internationally opening for the likes of Neil Hamburger, Secret Chiefs 3, Eric Andre, Pinback.