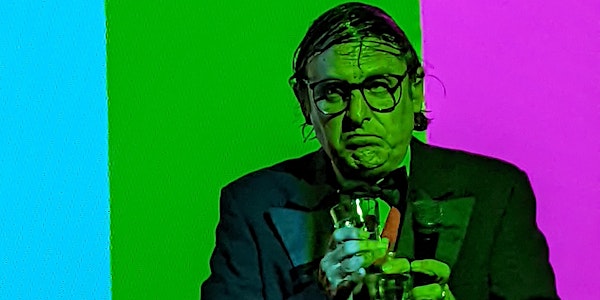 Neil Hamburger with Major Entertainer at Club 337
Lafayette Comedy presents comedian Neil Hamburger with Major Entertainer on Friday, January 13, 2023 at 8:30 PM at Club 337.
When and where
Location
Club 337 1521 West Pinhook Road Lafayette, LA 70503
About this event
Tickets are on sale for $25 in advance.
"America's Funnyman" Neil Hamburger has worked every imaginable stage, from New York's Madison Square Garden, to a show in pitch black darkness at the Edin- burgh Fringe Fest.
He has performed countless American, Australian, British, Irish, and Canadian tours, as well as in Norway, New Zealand, and the Bahamas, along- side acts ranging from Faith No More to Robin Williams.
His TV credits include Tim and Eric Awesome Show, Tom Green Live, and Jimmy Kimmel Live. His Live At Third Man album was produced by Jack White in Nashville; an earlier Hamburger effort was included in SPIN's "40 Greatest Comedy Albums Of All Time."
The fea- ture movie Entertainment, a dramatic look at Hamburger on- and off-stage co-star- ring John C. Reilly, Tye Sheridan, and Michael Cera, premiered at the Sundance and Locarno Film Festivals, and was released in 2015 to rave reviews.
His recent Drag City album of lavishly-produced song, Still Dwelling, featured a memorable trio version of Jesus Christ Superstar's "Everything's Alright" with Neil singing alongside Mike Patton and Jack Black.
"Hamburger is the clapped-out husk of a decorous Southern gentleman, now coughing in painful hacks, suppurating filth through his tuxedo, and her to tip a slurry of abuse all over celebrity and modern life...a combination of malignance and desiccated vaudeville." (The Guardian)
"Neil Hamburger remains the greatest comedian I've seen the greater majority of an audi- ence walk out on....No one was leaving their seats this evening though, as this peerless performer shocked and delighted in equal measure...On the road for 12 years with scarcely a day off, Hamburger is a condemned showbiz lag, doomed to perform his an- tagonistic anti-comedy to potential hostility forever." (The Scotsman)
"A brilliantly awful persona of an old-school, C-list funnyman—the kind with an ill-fit- ting tuxedo and an enormous, greasy combover—on a very bad night. Neil Hamburger toys with an audiences' expectations (and patience), and indeed his act is a kind of rude commentary on stand-up comedy altogether." – (New York Times)
Lafayette Comedy produces stand-up comedy shows around the Acadiana area, featuring local, regional, and national comedians. Lafayette Comedy also produces weekly open-mics, monthly showcases, and special comedy shows.
SHOW RULES:
* Cell phones must be set on silent or turned off. Never take a phone call during the show. If it can't wait, please step outside.
* Table Talk – must be kept to a minimum. Lafayette Comedy reserves the right to remove loud, talkative patrons. No refunds will be given.
* No Flash Photography permitted
* No Recording: Each comedian owns the rights to their own material, you however do NOT.
* Do Not Heckle the Comedian: Heckling is interrupting the performance to upstage, disparage, or throw off the comedian. It is never acceptable, and the quickest way to ruin the show for everyone. It is also the quickest way to ejection.
* Do Not Interrupt the Comedian: The common excuse for this is "I'm helping the comedian" and "that's what you're supposed to do at Comedy Clubs!" Comedians are professionals, they do not need help. Exception: If a comedian directly engages you in conversation, it is ok to respond. Some of the best comedy happens this way, and can make for a memorable experience. Be ready to let it go when the bit is over.
I don't recognize the comic's name, will the show be funny?
Yes, all of our acts are professional nationally touring comedians. There are so many talented comedians out there today; it is impossible for all of them to become household names.  That being said, comedy is subjective and we recommend you research the comedian you are coming to see.
Unless otherwise stated, please consider all of our shows as "adult subject matter."
No refunds unless the show is cancelled or rescheduled.

For any questions or to request more information, please contact Lafayette Comedy at lafayettecomedy@gmail.com or (337) 298-4373.