Neil Hamburger live at the historic San Francisco Mint open-air courtyard with special guests JP Inc. and Major Entertainer
About this event
For over 20 years, 'America's Funnyman' NEIL HAMBURGER has worked every imaginable stage, from New York's Madison Square Garden and the UK's Reading Festival, to a Hollywood cemetery, Tasmanian pubs, an abandoned monkey cage in a decrepit Catskills zoo, and, now, to the courtyard of the historic Old San Francisco Mint!
A stately Greek Revival masterpiece opened in downtown SF in 1874, the Old Mint (also known affectionately as 'The Granite Lady') once stored a full third of the US gold supply and is one of the few buildings that survived the great 1906 San Francisco earthquake. Join Neil Hamburger and his special guests JP Inc. and Major Entertainer for this never-to-be-forgotten night of laffs under the stars.
8pm. $30 adv/door. 21+ only. Fully seated socially distanced show in a unique outdoor setting. Full bar with cocktail service to your table.
Neil Hamburger has performed countless headlining American, Australian, British, and Canadian tours, as well as shows in Norway, New Zealand, Ireland, and the Bahamas. He has toured internationally as the cherry-picked opening act for Tenacious D and Faith No More.
He was the subject of the critically acclaimed dramatic 2015 feature film Entertainment, co-starring John C. Reilly, Tye Sheridan, and Michael Cera. Neil's many TV credits include Tim and Eric Awesome Show, Tom Green Live,and Jimmy Kimmel Live.
Among his dozen album releases is Live at Third Man, produced by Jack White in Nashville; an earlier Hamburger effort was included in SPIN's '40 Greatest Comedy Albums of All Time'. His latest LP, the chamber-pop epic Still Dwelling, features guest appearances from Jack Black and Mike Patton.
"A brilliantly awful persona of an old-school, C-list funnyman—the kind with an ill-fitting tuxedo and an enormous, greasy combover—on a very bad night. Neil Hamburger toys with an audience's expectations (and patience), and indeed his act is a kind of rude commentary on stand-up comedy altogether."—NEW YORK TIMES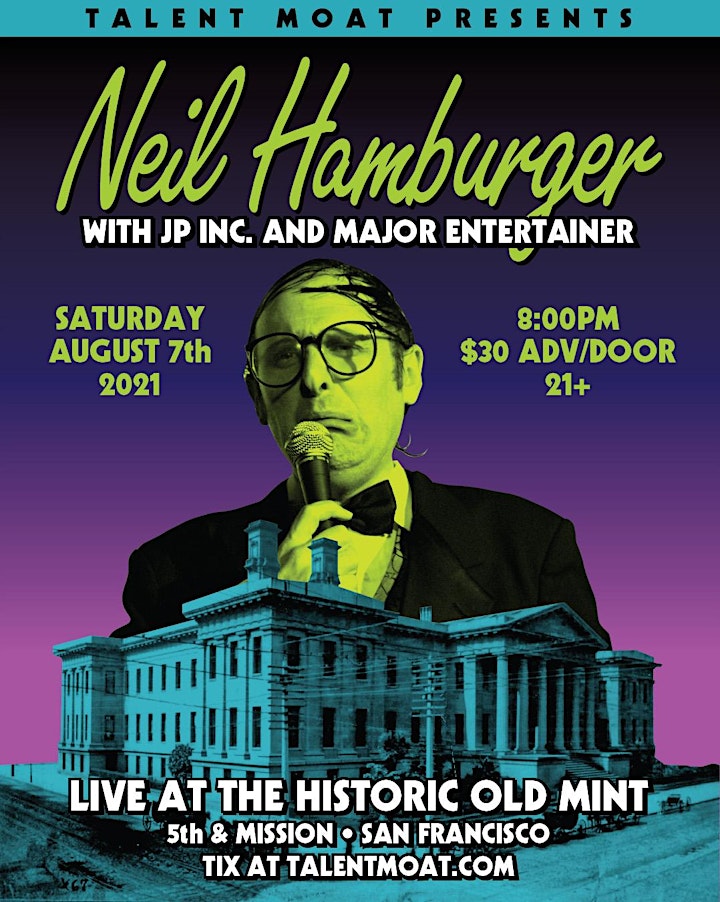 Organizer of Neil Hamburger live at the historic Old San Francisco Mint