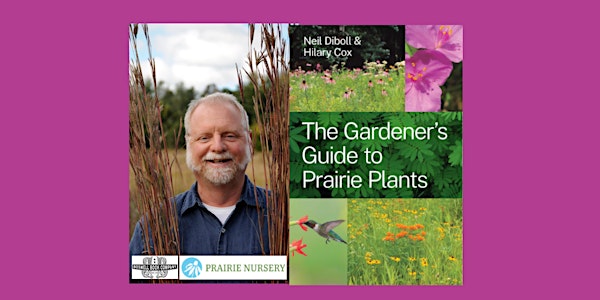 Neil Diboll for THE GARDENER'S GUIDE TO PRAIRIE PLANTS - a Boswell event
Neil Diboll, author of THE GARDENER'S GUIDE TO PRAIRIE PLANTS - an in-person Boswell event
Date and time
Starts on Saturday, June 17 · 4pm CDT
Location
Boswell Book Company 2559 North Downer Avenue Milwaukee, WI 53211
About this event
Boswell Book Company presents an evening with Neil Diboll, coauthor of The Gardener's Guide to Prairie Plants. In conversation with Mike Yanny. Cohosted by Prairie Nursery.
The Gardener's Guide to Prairie Plants is the one-stop compendium for all gardeners aspiring to use native prairie plants in their gardens. Neil Diboll and Hilary Cox—two renowned prairie gardeners—compile more than four decades' worth of research to offer a wide-ranging and definitive reference for starting and maintaining prairie and meadow gardens and restorations. This book provides all the inspiration and information necessary for eager native planters from across the country to welcome these plants back to their landscapes. The Gardener's Guide to Prairie Plants is a must-have reference for gardeners, restorationists, and every flora fan with a passion for native plants, prairies and meadows.
From Douglas W. Tallamy, University of Delaware: "If you are looking for the complete—and I do mean complete—guide to prairie ecosystems, you will not do better than this much-needed book. Diboll and Cox cover not only what prairie species look like at each of their growth stages (a first!), they also dive deep into their historical and ecological roles in prairie ecosystems."
Neil Diboll has been president and consulting ecologist for Prairie Nursery, Inc. for over forty years, having previously held positions with the United States Park Service, the United States Forest Service, and the University of Wisconsin-Green Bay's Cofrin Arboretum.
Click here to order your copy of The Gardener's Guide to Prairie Plants from Boswell. Signed copies and personalization available on pre-orders. Please note that signed copies will not be shipped until after the event.