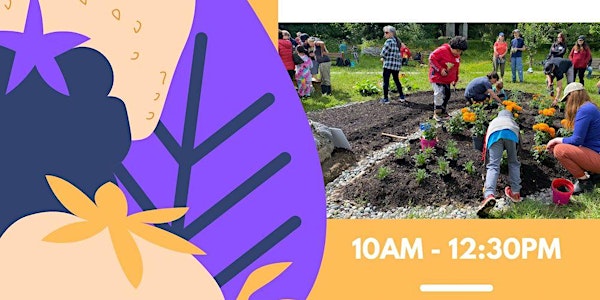 NEIGHBOURHOOD FOOD WEEK: 215 Memorial Garden Ceremony & Planting
Join us at Chen Chen Stway for the 215 Memorial Garden planting and ceremony
When and where
Location
Oxford Park 2050 Wall Street Vancouver, BC V5L 1B1 Canada
About this event
Exerpt from Running Free Wildflowers Memorial Gardens website
"The vision for the memorial gardens has blossomed in all of our hearts, but it was first planted in our minds by our beloved colleague Elder Valerie. Amazingly, the wildflower seeds that sparked this idea came into Elder Valerie's hands a few weeks before the discovery of the grave sites:
"Some time ago, prior to the first discovery of the unmarked graves, I was gifted a small envelope of wildflower seeds with the message, "broadcast freely." I carried this package on two long walks with a good friend who also had her envelope of seeds - not once did we remember to spread these seeds. Our Ancestors had other plans.
Upon the discovery of the unmarked graves at Tk'emlúps te Secwépemc, I was gifted a vision. This vision came every night until I got it "right." The vision showed me children running free through a field of wildflowers with their hair and braids long. They were running towards the horizon, they were finally going "home." These Children never had the opportunity to run free.
With the sadness and grief we all felt in light of the news from Tk'emlúps te Secwépemc, I saw a need for a place for all people of all nations to heal and remember. We are planting wildflowers for every child that never had the chance to be free and live and go home, so that we never forget. I know these wildflower gardens and the children we honour will also bring back the bees and help many of our winged ones and crawlers." - Elder Valerie Nicholson
10:00am - Painting our thoughts onto orange rocks to place aorund the garden
11:00am - Ceremony with Elder Val
11:30pm - Plant flowers and seeds
12:00pm - Place rocks (If they are dry!)
You are welcome to simply attend the event without registering through Eventbrite!
This event will happen RAIN or SHINE!
We will have covered areas and some umbrellas avaialble.