Description
UPDATE: TICKETS ARE NOW SOLD OUT! Please Join the Waiting List! As soon as a ticket becomes available, you will receive an automated email notification!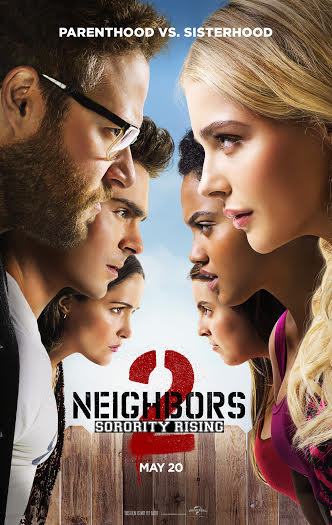 Situation Social has been invited to a free advance screening of the Universal Pictures' highly anticipated new film, NEIGHBORS 2: SORORITY RISING! This movie was filmed right here in Atlanta and stars Zac Efron, Chloë Grace Moretz, Selena Gomez, Seth Rogen, Dave Franco and Kiersey Clemons! Checkout this advance screening on Wednesday May 18, 2016!
---
We suggest you RSVP as soon as possible and arrive early, with your full party, as limited seating is available and this screening will be first come first served basis.
---
POLICY: Please DO NOT RSVP and Not Show Up! We want to see you there! If you can't make it, Release the RSVP so the FREE Tickets can become avail. to someone else! Please be considerate! Paid Tickets are non-refundable but are transferable!
FYI: Arrive early to the theater to avoid the lines! The theater seating available will be based on a first come first served and the capacity of the theater. We have no control over sudden cancellations or if the theater has reached it's maximum capacity and you are unable to be seated!
CHANGES: We have no control over unforeseen circumstances regarding the venue, or weather as a cause to postpone or cancel the event. It is IMPORTANT we have a valid telephone number in which we may reach you to confirm your RSVP or communicate updates regarding the event.
EVENT CROWD: This event is CO-ED for Adults 18+ Children will Not Be Admitted!
---
Movie Overview:
After a sorority moves in next door, which is even more debaucherous than the fraternity before it, Mac and Kelly have to ask for help from their former enemy, Teddy. The trailer can be viewed at the film's official website:http://www.neighbors-movie.com.
---
IMPORTANT NOTICE: THIS LISTING IS NOT A TICKET! PLEASE COMPLETE THIS FORM TO REGISTER FOR OUR GUEST LIST AND YOU WILL BE DIRECTED TO THE SCREENING TICKET REGISTRATION PAGE!
AFTER REGISTRATION FOR YOUR TICKET, YOUR NAME WILL ALSO BE ADDDED TO OUR MAILING LIST FOR FUTURE SCREENINGS AND EVENTS!
YOU Must Confirm your RSVP at the designated link within the confirmation email! Tickets are on a first come first served basis! This initial Registration will not guarantee access to the film without your confirmation of your RSVP on the confirmation email! Please follow these directions to receive confirmed tickets and ensure entry into the theater!