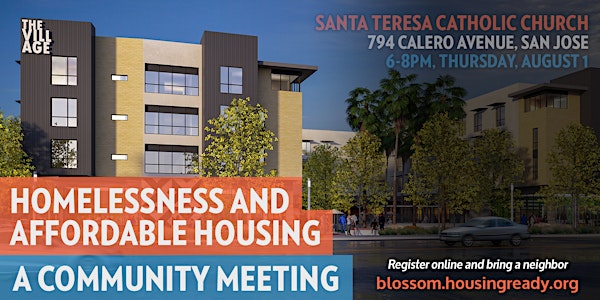 Neighborhood Conversation on Housing to End Homelessness
When and where
Location
Santa Teresa Catholic Church 794 Calero Avenue San Jose, CA 95123
Description
Important Note: This event is at capacity and cannot accept additional attendees at this time. We apologize for this inconvenience. Register here to be added to the waitlist (in case a spot opens).
Note: While the formal program begins at 5:45 PM, please plan on arriving earlier to find a seat, get some dinner, and meet your neighbors.

---
Conversation on Affordable Housing Development in Our Neighborhood
Please join us at Santa Teresa Catholic Church as we engage in meaningful dialogue with our family, friends, neighbors and others in our community.
Homelessness affects each and every person who lives and works in Santa Clara County, but causes and solutions can be difficult to discuss. We invite you to join us in meaningful dialogue and community conversation on homelessness and supportive housing development in a safe space for us all to explore partnerships and solutions together.
Save the Date
Thursday, August 1, 2019
5:45 PM - 8:00 PM
5:15 PM: Gather and Dinner
5:45 PM: Begin Community Meeting
Santa Teresa Catholic Church
Avila Hall
794 Calero Avenue
San Jose, CA 95123
Registration required. Capacity limited. Dinner provided.

ALF Faith Leader Housing Group
This community meeting is organized and facilitated by the American Leadership Forum - Silicon Valley (ALF) Faith Leader Housing Group, led by Catholic Charities of Santa Clara County, Charities Housing, Stone Church of Willow Glen and Urban Sanctuary, and supported by Santa Teresa Catholic Church, Destination: Home and the Housing Ready Communities initiative.
Housing Ready Communities
The Housing Ready Communities initiative brings together faith leaders, neighbors, community groups, nonprofits, government and housing developers to take action and support approval of new supportive housing and lowest-income affordable housing throughout Santa Clara County.
For more information about the Housing Ready Communities initiative, including an events calendar of learning and action opportunities, an interactive housing map, tools and other resources, visit housingready.org
Housing Ready Communities is a Destination: Home initiative implemented in partnership with the County of Santa Clara Office of Supportive Housing, the City of San Jose Housing Department, the Santa Clara County Housing Authority, Silicon Valley at Home, community organizations and neighbors throughout the county. Housing Ready Communities is generously supported by Symantec.
Flyer
Feel free to download and share the flyer with others in the neighborhood.
Image Credit: A Charities Housing affordable and supportive housing development proposed for South San Jose's Blossom Hill neighborhood.