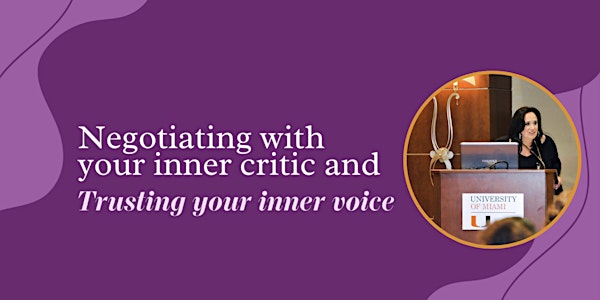 Negotiating With You Inner Critic & Trusting Your Inner Voice
What Would Your Life & Relationships Be Like If You Could Manage Your Inner Critic?
Refund Policy
Contact the organizer to request a refund.
Eventbrite's fee is nonrefundable.
About this event
We all know this voice in our head that constantly criticizes, belittles, and gets in the way of achieving our goals and our dreams.
Our inner critic can be a cruel and deeply damaging force. Its strength and impact determine our overall mental wellbeing and has the potential to keeping us stuck.
To make matters worse this inner critic shows up on the most important moments in our lives to rock our world.
For some of us, this inner critic is ever present.
Ignoring it doesn't work. If you're like me, the more you ignore it the louder and more forceful it gets.
Our inner critic wants to be heard!
What's the price we pay? Damaged relationships, hurt, dissapointment and unbroken dreams.
What if I told you there is a way to co-exist with your inner critic in a way that productive for your realtionships and your profession?
I invite you to attend one day Interactive Master Class where I will teach you a 6 step process to co-exist with your inner critic and we will dive deep on each part of the process to help you retrain your brain to co-exist with your inner critic.
By the end of the seminar, you will learn how to Check In, Regulate and Check Back with your inner critic so you can align with it in a way that supports you and nurtures your mental energy.
You will gain clarity on the barriers and protective behaviors that stop you from taking action. You will learn how to get through those limitations, fears and concerns so you can stop being stuck and take move in the direction of your goals and dreams.
Just imagine what your world would be like managing your inner critic!
I invite you to choose from three different days/times and join me as we go through the process of aligning with our inner critic.
Will it be worth $97 dollars to learn how to find synergy and align with your inner critic and start living your dreams?
About the Instructor:
Reizel is an Emmy Winning Investigative Journalist, communication and negotiations coach, and a forever student of personal development and human mental capacity. Her mission is to help her clients build synergistic relationships with themselves and others to live a more fulfilled and joyful life.