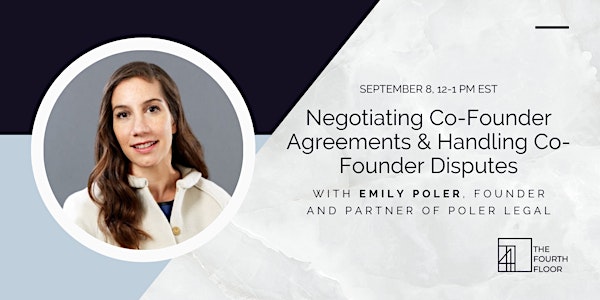 Negotiating Co-Founder Agreements and Handling Co-Founder Disputes
RESCHEDULED with New Date: An Expert Hour with Emily Poler
About this event
RESCHEDULED: New date September 8th
There's a lot about starting or growing a business that can be scary. For many people this includes negotiating founder agreements.
Join us in welcoming attorney Emily Poler, the founder of Poler Legal LLC, who will help to demystify the process, discuss some practical consideration, and identify important considerations for such agreements. She will also discuss some ways of handling co-founder disputes when they do arise.
______________________________________________________________________
More about us:
The Fourth Floor is a market network getting more women on boards and cap tables of companies, including startups, as a way to initiate or advance their board careers and help women entrepreneurs access funding. #PayItForward75k
Board Candidates: Join us to grow your board career and access our private investment club to network with investors and founders raising funds.
Founders: Join us to build out your advisory and governing boards and our private investment club to network with investors and participate in our pitch competitions. You can qualify for a $1 membership if you are willing to put a mentor, sponsor, or board seat opportunity to our board seat exchange. Just include it on the application.
If you are interested in learning more, join us for a platform tour here or apply for membership here.