NEGIS Lunch & Learn! Location Intelligence & Transportation GIS (GIS-T):...
Description
Please join NEGIS and special guest Stewart Berry for a presentation titled: Location Intelligence & Transportation GIS (GIS-T): Specialized Tools Becoming Mainstream.

Abstract
At Caliper, transportation is seen as fundamental to all human activity. Business users want more advanced transportation tools, and so transportation planning and G.I.S. software are merging, making the analysis of business and customer behavior much more realistic. This presentation will provide several examples of cutting-edge spatial analysis tools that use transportation data to solve real world business problems.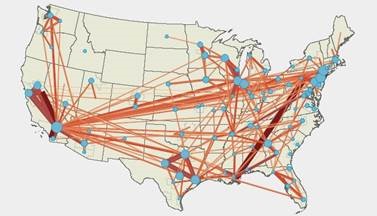 Stewart Berry bio:
I am responsible for marketing and business development, with a focus on the Maptitude mapping software. I help develop new products, work in planning and execution of sales, and ensure development and revenue benchmarks are met. I am also a sessional lecturer at Birkbeck College in the UK, and a guest lecturer at Cardiff University in the UK.
View the event Agenda
Register by September 21st for a discounted fee:
By September 21st: $25 for students, $35 for all others *
After September 21st: $30 for students, $40 for all others *
* Registration fee includes lunch and the remainder of the fee is used to fund scholarships for students seeking a GIS career.
* September 28 - Check in/Registration: 10:30-11:00 AM.
Please contact NEGIS at admin@negis.org with questions or if you prefer to register offline and pay at the door with cash or a check.