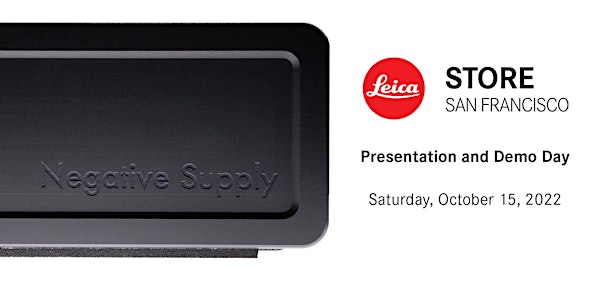 Negative Supply Presentation and Demo
Calling all film photographers! A new method of digitizing your film.
When and where
Location
Leica Store San Francisco 463 Bush Street San Francisco, CA 94108
About this event
Leica Store San Francisco in collaboration with Negative Supply is excited to host an upcoming event that will present and demo Negative Supply's current and soon-to-be-released film scanning products. Founded in 2017, Negative Supply products have quickly become the new standard for digitizing film using your existing dedicated camera and macro lens, eliminating the need for slower in-home scanning methods. This event is tailored for all analog photographers, as the Negative Supply product line supports a wide variety of film formats.
In celebration of this collaborative event, Leica Store San Francisco will be launching an exclusive Negative Supply kit to help jump-start your scanning needs.
All participants who RSVP will receive a gift bag that will include film (Courtesy: Made in Wetzlar, Ilford), special pricing offers, and early access to future products. Refreshments will be served throughout the day's event.
Leica Store San Francisco will host the event on Saturday, October 15, during the four separate sessions, as noted below. Each time slot will be limited to thirty participants, so please RSVP as soon as possible.
***Due to the overwhelming response and interest by the film community who are looking to maintain full control of the digitizing of their negatives, we are pleased to share the following: Leica Store San Francisco will be dedicating an area for those wanting to make use of Negative Supply products to digitize their negatives made with Leica camera and lenses. Stay tuned and follow Leica Store San Francisco for more details
Learn more:
https://www.leicastoresf.com
https://www.negative.supply