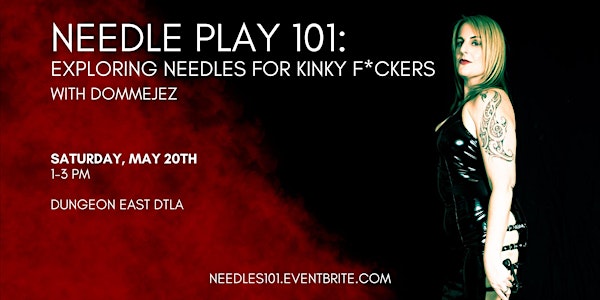 Needle Play 101: Exploring Needles for K*nky F*ckers
This friendly beginner class will include basic safety rules of playing with needles and how to introduce needle play into any scene.
Date and time
Saturday, May 20 · 1 - 3pm PDT
Location
Dungeon East Dungeon East - DTLA - address will be e-mailed day of event LOS ANGELES, CA 90021
About this event
Your parents always told you not to play with sharp objects, yet, you are somehow drawn to them now. Well, no wonder! As adults, we get to decide what we want to play with, and sometimes, needles are just the thing we need to get us hot and bothered. Taught by an experienced registered nurse, this beginner-friendly, 101 class will include basic safety rules of playing with needles and how to introduce needle play into any scenario from sensual to sadistic.
About the Presenter
DommeJez (she/her/hers) is a queer power femme Leatherwoman and lifestyle player with almost three decades as a member of the community. Trained as a registered nurse with nearly 30 years of experience, she maintains firm professional boundaries and ethics while also bringing her deep knowledge of the human body and safety practices to her teaching and play. A thrill-seeking top-heavy switch who can't be pigeonholed, her tastes run the gamut of deviance, but tend toward the sensually and seductively sadistic, helping her specialize in training the curious in edge play and living out their hottest fantasies of power roles and exchange.
This class will be held in person at Dungeon East. Address will be emailed to your Inbox (the one you registered with) the day of class.
Get tickets for all events at:  https://LosAngelesBDSMevents.com
1. All in person classes/events require proof of COVID vaccination (must be boosted aka 3 shots.)
2. Can't make it to class? Many classes have been recorded and can be downloaded on Gumroad
3. Need more one on one BDSM instruction? Book private consult with Justine Cross
About the organizer
Mistress Justine Cross is a professional BDSM consultant and queer lifestyle Dominatrix . She owns Dungeon East (RIP Dungeon West.) Justine is an educator, a provocateur and all around bad ass Bitch. Justine offers classes in person, online and private tutorials; she also hosts BDSFemme - a play party for cis and trans women and co-hosts Deviant - a play party for all queers.
Extensively interviewed and profiled, Mistress Justine has appeared in Los Angeles Magazine and Playboy, and featured in Nylon, LA Weekly, Time Out Los Angeles, Buzzfeed and Salon. She has also appeared as herself on A&E, Lifetime, Epix, VH1 and an upcoming remake of House Party.
Please visit her website: LosAngelesDominatrix.com.
Follow her on insta/clubhouse @thejustinecross and twitter: @justineplays; tiktok @thejustinecrossagain
Website: TheJustineCross.com
Replays for past classes here: Gumroad.com/justinecross