Description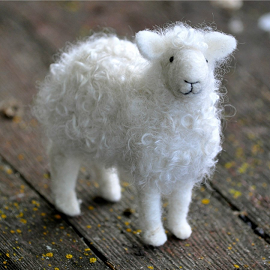 Date: Wednesday, September 6, 2017 1:00 PM to 4:00 PM - Sculpted Needle Felting

Thursday, September 7, 2017 1:00 PM to 4:00 PM - Flat Needle Felted Class
Location: Smoking River Studio Arts, 627 Main Street, Meeker, CO

Fee Includes: Includes One Workshop, 5-Day pass to Meeker Classic, All supplies for selected workshop

About the Workshops
Soft Sculpted Needle Felting Class
Wednesday, Sept 6, 2017 1-4 pm
Smoking River Art Studio, 627 Main St., Meeker, CO
Basic Sculpted felting class – This class is designed for beginners- no previous felting or sewing experience is necessary. We will discuss different felting methods, sample different types of wool and learn about the process the wool goes through from sheep to felted sculpture. You will be walked through the basics of felting and creating soft sculptures in wool, finishing class with a single wool sheep.
Your kits will contain everything that you need to complete this project.
Flat Needle Felting Class
Thursday, Sept 7, 2017 1-4 pm
Smoking River Art Studio, 627 Main St., Meeker, CO
FLAT Needle Felts is for anyone who is interested in learning how to embellish clothing, or place your own needle felted art on a fabric substrate for making art suitable for room decor, making decorative art, and more! In general, you will be learning the relaxing and forgiving craft of needle felting and how to use this craft on a Flat substrate, or "canvas". You will be creating a 4 set of coasters.
Your kits will contain everything that you need to complete this project.
A bit about Kimberly:
As an escapee from the fast lane returned home to small-town Colorado with a passion for fiber art! Kimberly Gamba's passion actually started with a love of Alpacas and two rescues which turned into 23 with 3 Llamas to boot. With that many animals she needed to find a way to use all that fiber! KImberly started with the usual, spinning but quickly found herself fascinated by felting. She loved the freedom to express myself through the fiber and it's amazing versatility. As former graphic designer Kimberly found herself drawn to the variety of colors and textures that she could use to create with, it was like having the 64 pack crayon box x100!
FAQs
What are my transportation/parking options for getting to and from the event?
You can drive on your own or take the FREE SHUTTLE from the Meeker Classic Trial Site that runs hourly each day. TheSHUTTLE SCHEDULE can be found on the Meeker Classic Website: www.meekersheepdog.com

How can I contact the organizer with any questions?

email at trials@meekersheepdog.com or call 970-878-0111

What's the refund policy?
Refund Policy: Refunds for the class will be issued until August 15, 2017 unless in the case of an emergency. A $5 fee will be assessed and only the cost of the class (but no original processing fees) will be refunded. Contact us through trials@meekersheepdog.com for more information. Thank you.
Do I have to bring my printed ticket to the event?
That would be best, but if you loose it, we'll look your information up. Call us or email ahead of time with quesitons.

Can I update my registration information?
As far as name, email address etc - yes

Is my registration fee or ticket transferrable?
Contact us - we can help you out 970-878-0111