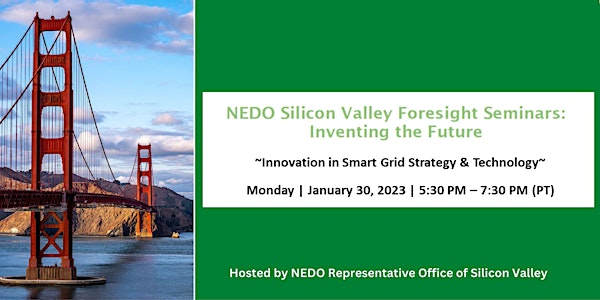 NEDO SV Foresight Seminars: Inventing the Future: Session 3
NEDO Silicon Valley Foresight Seminars: Inventing the Future ~Innovation in Smart Grid Strategy & Technology~
When and where
Location
Plug and Play Tech Center 440 North Wolfe Road Sunnyvale, CA 94085
About this event
NEDO Silicon Valley Foresight Seminars: Inventing the Future
You are cordially invited to an in-person seminar exploring Innovation in Smart Grid Strategy and Technology. This is the third session of NEDO Silicon Valley Foresight Four Seminar Series featuring solutions to advance the goal of a sustainable future with Net Zero emissions by 2050.
Session III. Innovation in Smart Grid Strategy & Technology
As climate impacts become more severe in the race to reach Net Zero by 2050, our energy systems will have to transition away from fossil energy to electrification using clean renewable energy and better design for stationary and mobile applications. This drives the necessity of upgrading the electric grid and creating resilient, distributed systems.
Foresight Seminar III will explore in-depth the technical challenges of redesigning old infrastructure and building new infrastructure that can enable sustainable, resilient communities; a dynamic energy system; and, the industry of the future. How can renewable energy, storage and intelligent systems work together to power our buildings, communities, transportation systems and electrical infrastructure.
During this interactive event, you'll learn:
● What are some leading smart grid technologies
● Who is innovating in this area and their examples
● What are the opportunities and future visions for transforming how electricity is produced, transmitted, managed and used.
Also, you will have an opportunity to network in person to share your thoughts and experiences with peers and to speak in-depth with each of the panelists after the formal presentation, while enjoying holiday refreshments.
Date: Monday, January 30, 2023
Time: 5:30 PM - 7:30 PM (Registration and networking begin at 5:00PM)
Location: Plug and Play Tech Center, 440 N Wolfe Rd, Sunnyvale, CA 94085
Cost: Free but registration is required
Agenda:
5:00 - 5:30 pm Registration, Networking
5:30 - 7:00 pm Panel Presentations, Q&A
7:00 - 7:30 pm Networking
Speakers/Panelists:
Carl Mansfield - Head of Commercial Solutions, Swell Energy
Christian Agulles - President and CEO, PAE Consulting Engineers
Jorge Elizondo - President and Co-Founder, Helia Technologies
Marianna Grossman (Moderator) - Senior Consultant & Advisor on Sustainability, USAsia Venture Partners
Panelists and Moderator Bios:
Carl Mansfield - Head of Commercial Solutions, Swell Energy
As Head of Commercial Energy Solutions, Carl Mansfield helps Swell Energy to deliver resilient virtual power plant networks and grid-balancing services to utilities, which are fundamental to our future, carbon-free, distributed renewable energy system.Before Swell Energy, he served as Senior Vice President, overseeing NantEnery's SmartStorage® lineup of intelligent energy management products and services for commercial and industrial customers. Mr. Mansfield previously founded Sharp Electronics Corporation's Energy Systems and Services Group and served as its general manager, focusing on developing innovative energy management and energy storage products for the U.S. market. Mr. Mansfield has more than 20 years of experience in the high-tech industry, with an emphasis on communications, information technology and control systems. He holds a Master of Science degree in Telecomms Engineering degree from the University of London and a Master of Arts degree in Physics and Theoretical Physics from the University of Cambridge. He is a member of the Institute of Electrical and Electronics Engineers (IEEE).
Christian Agulles - President and CEO, PAE
For over 30 years, Christian has led teams in the design of innovative building systems for a broad range of complex building types including sports arenas, a U.S. Embassy, LEED Gold and Platinum corporate headquarters, high-rise mixed-use buildings, and affordable housing projects. Christian has been involved in the design of several grid-interactive, all-electric, net-zero carbon, resilient projects. Agulles began his career in New York City and has expertise leading offices in major markets such as Las Vegas, Washington, D.C., and San Francisco. He currently serves as the President and CEO of PAE, where he focuses on mentoring future leaders and bringing regenerative design concepts to all of PAE's projects.
Jorge Elizondo - President and Co-Founder of Helia Technologies
Through game theory, Heila Technologies (a Kohler subsidiary) provides a distributed control platform that autonomously manages and optimizes resources and enables a modular microgrid – one where assets can be added or removed seamlessly. Their breakthrough technology is changing the way complex local energy systems are managed and operated, making each component smarter while making the whole system far more efficient and resilient. Dr. Jorge Elizondo is the President and co-founder of Heila Technologies, an MIT spin-off dedicated to simplifying the deployment, operation, and optimization of microgrids and other systems with distributed energy resources. Jorge received his PhD from MIT in 2016 where he worked on microgrid stability analysis and control strategies. Prior to MIT, Jorge worked on the development of renewable energy projects in Mexico for five years and received an M.S in Electrical Engineering and a B.S in Physics from Monterrey's Tech in Mexico.
Marianna Grossman is Senior Consultant & Advisor on Sustainability, USAsia Venture Partners and Managing Partner of Minerva Ventures, investing and advising on solutions for a resilient future – bringing people and institutions together across sectors to collaborate, invent, fund and implement solutions that enhance sustainability and reverse climate change. Marianna led Sustainable Silicon Valley for seven years, after roles in the automotive, computer, and semiconductor industries. Recent publication: Sustainable Electricity II: A Conversation on Tradeoffs, Chapter on Silicon Valley Corporate Case Studies on Clean Energy Innovation. Service includes: California's Climate Adaptation Action Plan Technical Advisory Group 2016; Sustainable and Resilient Resources Roundtable; the international Balaton Group; Board President, Transportation Choices for Sustainable Communities; Environmental Entrepreneurs; and, climate action councils for Palo Alto and Mountain View. Degrees: BA in Policy Studies, Dartmouth College and an MBA from Yale School of Management.