Description
AN ASQ NEDG EVENT SPONSORED BY

MDSAP for the Medical Device Professional
Monday January 8 2018 8:30 am - 5:00 pm.
Cost:
$299 prior to and on December 8th 2017
$350 after December 8th 2017.
$250 For groups of three of more, registering at the same time from the same company
TOPICS:
MDSAP Overview and Management

MDSAP Module: Measurement, analysis, and improvement process
MDSAP Module: Medical device adverse events and advisory notices process
MDSAP Module: Design and development process
MDSAP Module: Purchasing process
MDSAP Module: Production and service controls process
MDSAP Module: Device marketing authorization and facility registration process
MDSAP Findings and real-life experiences: What constitutes a nonconformity, the grading system, when would a facility not be recommended for certification, and the review process - all with examples
SPEAKERS:
Pamela Burdette-Miller MDSAP Scheme Manager NSAI, Inc.
Glen Emelock Senior Partner CRO Group, Inc.
Joseph "Greg"ory Jones Operations Manager Medical Devices US SGS North America
Sue Finneran President Regulatory Compliance Experts, Incorporated
Brian Ludovico, Medical Device International Regulatory Compliance NSF International
AGENDA: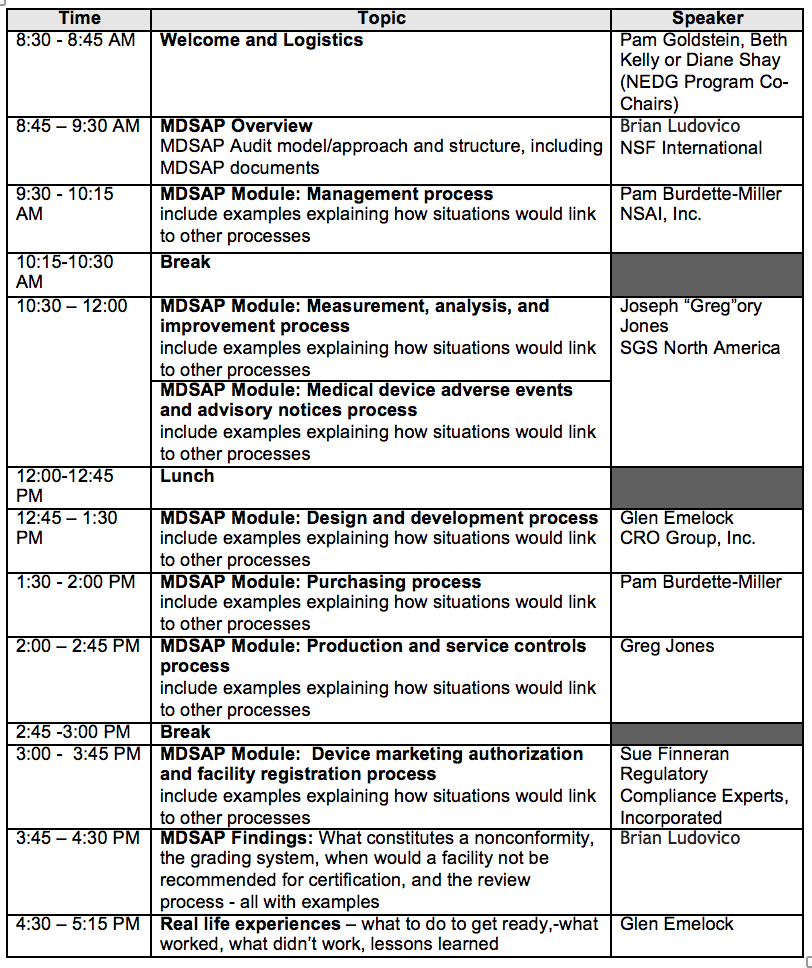 Who will benefit: This seminar will provide an in-depth snapshot of the MDSAP certification program. Those interested in the pros and cons of the MDSAP program, and how to prepare for the MDSAP audit, will benefit from this course. Global Medical Device Professionals, especially QA Auditors and Auditees, as well as Regulatory Affairs Professionals are encouraged to attend.
Co-Chairs:
Beth Kelly BethKellyConsult@aol.com;
Diane Shay diane.shay@ymail.com;
Pam Goldstein pgoldstein.qa@gmail.com

Refund policy:
7 days: Attendees can receive refunds up to 7 days before your event start date.