NECA Webinar-Opportunities for Nordic Nutrition&Health Food brands in China
NECA is pleased to announce our coming webinar on providing opportunities for Nutrition&Health Food brands from Nordic countries in China
About this Event
Nordic E-commerce Association (NECA) is pleased to announce our coming webinar on providing opportunities for Nutrition&Health Food brands from Nordic countries in China.
Special thanks to China Chamber of Commerce for Import & Export of Medicines & Health Products (CCCMHPIE), for an introduction and overview of the nutrition&health food market in China and the opportunities for foreign brands. In addition, our partner company, Nordic Express will provide you the market entry strategies from a cross-border e-commerce point of view.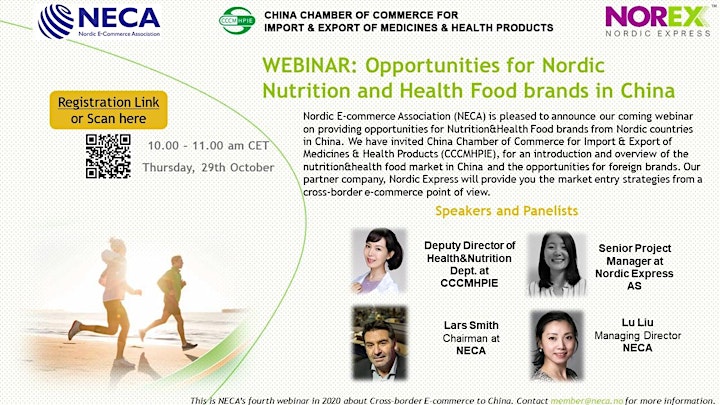 Program
Introduction by NECA by Lars Smith and Lu Liu
Analysis on the opportunities of nutrition and health food in China by Monika Xing
China market entry strategy for Nordic nutrition and health food brands by Mingmin Liu
Speakers
Monika Xing
Deputy Director of Health&Nutrition Dept. at CCCMHPIE
www.hncexpo.com/hnc
Ms. Xing Cheng (Monika), has 18+ years of professional work experiences in PR, marketing & sales, project management areas. She engaged in nutrition and health food industry for more than 10 years. As a professional business executive leader, she worked at multinational industry leading enterprises such as BMW, TUV before. As a senior executive with a global vision, she has contributed the extraordinary achievements for international industrial cooperation with hands-on in practice.
Mingmin Liu
Senior Project Manager at Nordic Express AS
www.nordicexpress.no
Senior Project Manager at Nordic Express AS which helps nordic brands enter the Chinese market.
About NECA
Nordic E-Commerce Association (NECA) was founded in 2018, by a group of experienced e-commerce professionals and service providers from different business areas including digital marketing, payment solution, logistics and platform operation, etc. Today NECA has around 20 members in the Nordics, spanning a broad spectrum of e-commerce services including internationally leading Norwegian corporations, small/medium sized enterprises as well as individual members.
We want to become the primary forum for creating and facilitating Nordic-Chinese e-commerce business by
Matchmaking e-commerce business between the Nordics and China​Arranging seminars, events and delegation programs
Networking, discussing and learning new e-commerce ideas and digitalize business​
Providing information and reports of the Nordic e-commerce and development of digital China​
Creating new e-commerce environment in the Nordics and a digital bridge between the Nordics and China​
Our Partners
Nordic Express, GoDigitalChina, Nordkost, Gture, Apay Nordic, Cosin, Primex Chemicals, Wepack, Zington
Contact us at members@neca.no for member registration or other requests.
About CCCMHPIE
China Chamber of Commerce for Import & Export of Medicines and Health Products (CCCMHPIE) Founded in May 1989, China Chamber of Commerce for Import and Export of Medicines and Health Products (CCCMHPIE) is the national industrial association in China devoted to promote international trade and investment in the healthcare sector.
CCCMHPIE has a diverse membership including the major R&D facilities, manufactures, trading companies and investment institutions in China, ranging from pharmaceuticals, medical devices and equipment, biopharmaceuticals, traditional Chinese medicines, nutraceuticals, functional cosmetics to foods for special medical purposes. It is a professional trade and investment promotion organization in the Chinese healthcare sector while serving as the bridge between authorities and enterprises as well as Chinese and foreign partners.