Description

The Nebraska Chapter of The Wildlife Society is pleased to hold our 2018 annual meeting in partnership with the Central Mountains and Plains Section of The Wildlife Society and the Great Plains Fire Exchange. This will be held in Kearney, NE from Feb. 28 - March 2, 2018. Board meetings will be held the morning of February 28. That afternoon will be a plenary session followed by a social and dinner. Thursday will be symposium followed by a dinner and fundraising auction. Friday will be a student-professional workshop on prescribed fire.
A block of rooms is available at $93/night at the Holiday Inn in Kearney (308)237-5971. This block is being held until January 26. Please request the block for Nebraska Chapter of The Wildlife Society to get that rate. Note that late February is the beginning of the tourist season for crane viewing in that area so if rooms are not booked in advance you may have difficulty finding a room in Kearney for this conference.
Membership dues for the Chapter can be paid at the event or through the Chapter website at http://wildlife.org/nebraska/membership/ .
Early registration runs through January 28, and late registration through February 23.
If you want to register now but pay at the door please contact matt.steffl@nebraska.gov to make arrangements.
NGPC EMPLOYEES: Please use the NGPC ticket option. You will not be charged at this time and the chapter will invoice NGPC for the full amount after the conference.
2018 Annual Meeting Schedule
Wednesday, February 28 – Friday March 2, 2018
Holiday Inn Conference Center, 110 South 2nd Avenue, Kearney, NE
Time
Wednesday, February 28
9:00 – 11:00
NETWS Executive Board Meeting
10:00 – 1:00
Conference Registration and Check-in
1:00 – 1:10
Welcome- Jenny Prenosil, NETWS President
1:10 – 2:00
Platte Basin Timelapse: Perceiving a Watershed in Motion – Michael Forsberg and Mary Harner
2:00 – 2:40
Impacts of the 2012 Wildfire on The Nature Conservancy's Niobrara Valley Preserve – Chris Helzer and Amanda Hefner
2:40 – 3:00
Break
3:00 – 3:20
Prehistoric Fire Evidence And The Use Of Grassland Fires By Historic Native American Indians In The Northern Great Plains - Kenneth Higgins
3:20 – 3:50
Recovering America's Wildlife Act - Eric Zach
4:00 – 5:00
Nebraska Chapter of The Wildlife Society Annual Business Meeting
5:00 – 6:00
Social and Poster Session
6:00 – 9:00
Dinner and Activities
Time
Thursday, March 1
Time TBA
Crane Viewing – depending on migration
8:00 – 10:00
Morning Session, Coffee and Rolls Available in Meeting Room
Mariah Simmons, The Wildlife Society
Student Chapter Updates
10:00 – 10:30
Break
10:30 – 12:00
Session A
Session B
10:30 – 11:00
Comparison of sampling techniques for Asclepias on a variety of land management types located in the Monarch Butterfly's (Danaus plexippus) breeding grounds in Eastern Nebraska – Mercy Dinwiddie, Nebraska Game and Parks Commission
Large or Small Patches? How Patch Size and Nest Density Influence Nest Survival and Conservation in Grasslands – Victoria Simonsen, University of Nebraska-Lincoln
11:00 – 11:30
Effective control of deciduous woody plants in grasslands: results from a land manager survey and field study – Eric Chien, The Nature Conservancy
The effects of large-scale wetland loss on network connectivity of the
Rainwater Basin, Nebraska – Bram H. F. Verheijen, Kansas Cooperative Fish and Wildlife Unit
11:30 – 1:30
Lunch and CMPS Business Meeting
Session A
Great Plains Fire Science Exchange Symposium
1:40 – 2:10
Human-induced rapid environmental change and spatial mismatches in species distribution – Erica Stuber, University of Nebraska-Lincoln
Normalizing Prescribed Fire: Cultural disruption on the prairie and the return of the fire regime in Nebraska – Brian Teeter, Pheasants Forever/Nebraska Game and Parks
2:10 – 2:40
Effects of field and landscape-scale habitat on ring-necked pheasant demography and predation patterns – Tim Lyons, University of Nebraska-Lincoln
Results of Prescribed Fire on Platte River Prairies – Chris Helzer, The Nature Conservancy
2:40 – 3:10
Life History Plasticity Creates Long Term Options for Species Survival – Nate Bickford, University of Nebraska-Kearney
Use of Grassland Fires in the Management of Ground Nesting Game Birds in the Great Plains and Elk in Teton National Park – Kenneth F. Higgins, South Dakota State University
3:10 – 3:30
Break
3:30 – 4:00
Evaluation of the Deadwood Bighorn Sheep Herd Translocation – Ty Werdel, Kansas State University
Exploring the Value of Habitat Heterogeneity at Multiple Scales and Geographies in Nebraska's Grasslands – Chris Helzer, The Nature Conservancy
4:00 – 4:30
Bison as grassland seed‐dispersal vectors – Mark Hammer, Wayne State College
Lighting the Sandhills on Fire – Shelly Kelly, Sandhills Task Force
4:30 – 5:00
Comparing small mammal communities in remnant and restored prairies at TNC's Platte River Prairies – Jasmine Cutter, The Nature Conservancy
Prescribed Burning in Oak Woodlands – Gerry Steinauer, Nebraska Game and Parks Commission and Kent Pfeiffer, Northern Prairies Land Trust and Nebraska Game and Parks Commission
5:00 – 6:00
Social and Poster Session
6:00 – 9:00
Dinner, Awards, and Auction
Friday, March 2, Student Professional Workshop, location near Wood River, NE.
Breakfast and lunch provided at workshop site for students and advisors.
Plan to finish about noon.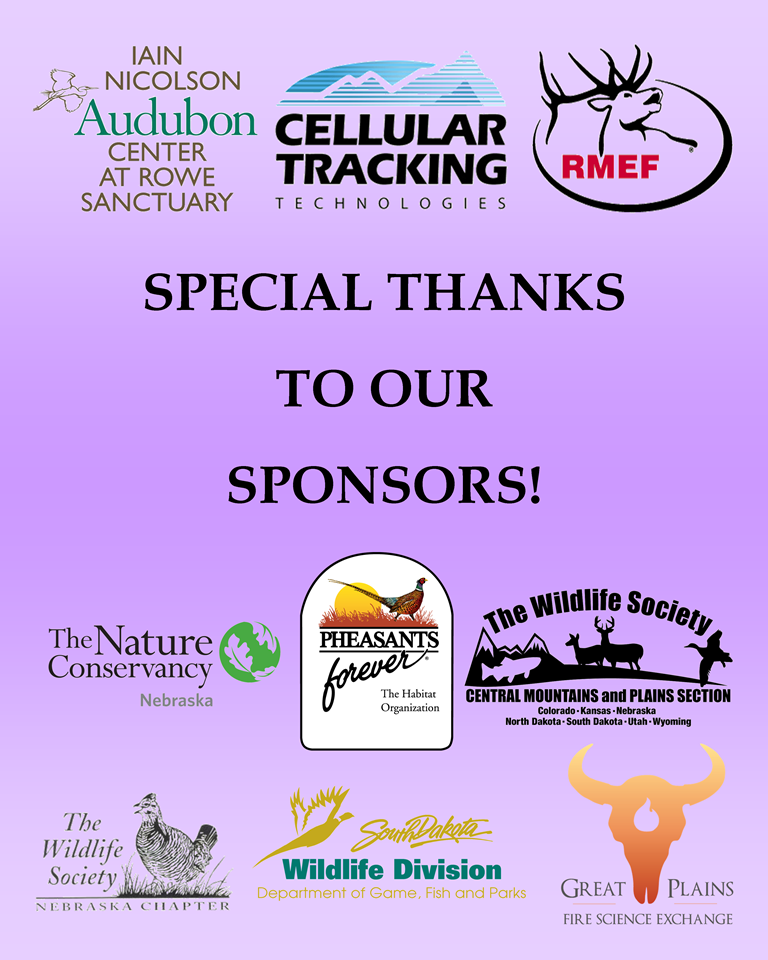 Sponsor links:
www.rowe.audubon.org
www.celltracktech.com
www.rmef.org
www.tnc.org
www.pheasantsforever.org
www.wildlife.org/cmp/
www.wildlife.org/nebraska/
https://gfp.sd.gov/
www.gpfirescience.org