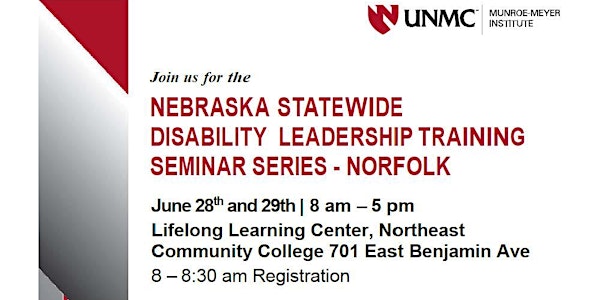 Nebraska Statewide Disability Leadership Training Seminar Series
When and where
Location
Lifelong Learning Center 701 East Benjamin Avenue Norfolk, NE 68701
Description
Who should attend?
Persons with disabilities, family members, concerned citizens and professionals who are interested in promoting the best outcomes for individuals with disabilities and their families in Nebraska.
What will I learn about?
Ladership and advocacy training regarding systems of services and supports to individuals with disabilities and their families, including philosophical tenets, current systems, opportunities for leadership, systems change strategies, and planning. Participants will receive support at the seminar and beyond on developing advocacy plans, building and supporting state and local coalitions with the goal of improving services and systems for individuals with disabilities.
There is no cost for the training and travel and related expense support is available for individuals with disabilities and family members.
Agenda
Day 1
Introduction to the Seminar, Mark Smith
A Vision for Nebraska, Patty McGill Smith
A Brief History and Philosophy of Developmental Disability Services, Dr. Eric Evans
Independent Living, Kathy Hoell
Lunch on your own
Special Education Birth – Transition, Jennifer Miller
Introduction to state services presentations, Mark Smith
Workforce Innovation & Opportunities Act (WIOA), Kathy Hoell
Day 2
Introduction to Day 2, Mark Smith
Personal Leadership story, Cheryl Lux video
Issues in Nebraska Adult Developmental Disability Services, Mark Smith
Leadership from One Mother's Perspective, Janet Miller
Lunch on your own
Advocacy, Community Organizing, and Voting, Brad Meurrens, Edison McDonald, Kathy Hoell
One Advocate's Journey, Jennifer Hansen
Developing Attendee Advocacy Plans and Participation survey(s), Jennifer Hansen and Mary Angus
General Information
The Seminars will be held at the Lifelong Learning Center on the Northeast Community College Campus

Registration is scheduled from 8:00 to 8:30 AM each day

Presenters start at 8:30 AM

Morning and afternoon breaks are planned with refreshments

Lunch will be on your own, approximately 45 minutes, around noon

To be eligible for a $100 expense reimbursement, attendees need to be present for the day and complete an advocacy plan, a University of Nebraska Visiting Personnel form, a Citizen Attestation form, and the seminar evaluation. All forms are available on site. A $200 stipend is available for those who attend both days and complete the listed paperwork. Also, an individual attending in a professional role is ineligible (as they are being paid to attend.)

All seminar presentation and supplemental materials are available on our Box Cloud site (you do not require a Box account to access the site) at https://www.dropbox.com/sh/up494kg8vk37aub/AADt_3PCoqcaNR5PKq3GfJDTa?dl=0
The team you will be meeting
Dr. Eric Evans, Ph.D., Executive Director, Disability Rights Nebraska
Mr. Brad Meurrens, MPA, Public Policy Director, Disability Rights Nebraska
Mr. Edison McDonald, Executive Director, Arc of Nebraska
Ms. Janet Miller, MS, Respite and Adult Services Associate, Munroe-Meyer Institute
Ms. Jenn Miller, Outreach Coordinator, PTI-Nebraska
Ms. Kathy Hoell, Director, Statewide Independent Living Council
Ms. Jennifer Hansen, Parent Resource Coordinator, Munroe-Meyer Institute
Mr. Mark A. Smith, M.S. Assistant Professor, Munroe-Meyer Institute
Additional information will be sent via email when you register.
If you need any assistance in registering or have questions, contact Mark Smith at:
402-559-5744 or msmitha@unmc.edu
This project has been funded by the Nebraska Planning Council on Developmental Disabilities