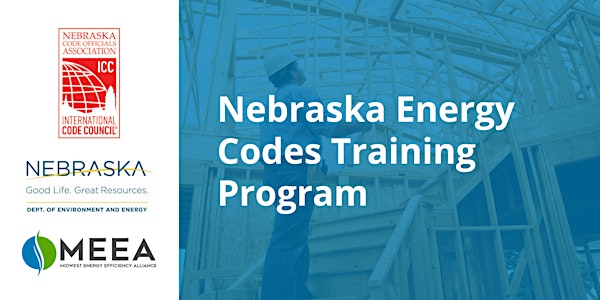 Nebraska Residential Energy Code: REScheck and HVAC Rightsizing
This interactive virtual training will provide information on the 2018 IECC.
About this event
In partnership with the Midwest Energy Efficiency Alliance, the Nebraska Code Officials Association and the Nebraska Department of Energy and Environment, and led by an expert in building energy efficiency Matt Belcher, this interactive virtual training will provide information on the 2018 IECC.
In this training, you'll learn:
How to use REScheck for residential compliance
The Total UA Alternative Methodology
The Simulated Performance Alternative
The importance of rightsizing HVAC systems
How to calculate HVAC system design loads
And more!
Who should attend:
This training is designed for builders working in the state of Nebraska, but may also be useful to code officials, subcontractors, supply houses, energy raters, designers and others working in residential construction.
Continuing Education:
Participants in this training are eligible to receive continuing education credits from the International Code Council (ICC) and American Institute of Architects (AIA).
About the program:
The Nebraska Energy Codes Training Program is designed to prepare the Nebraska workforce for upcoming changes in construction best practices – from the adoption of the 2018 IECC as the statewide energy code, as well as advanced building technologies that are becoming more widely available and increasingly incorporated into projects.
Additional trainings will be held throughout the state. To learn more about the training or the Nebraska Energy Codes Training Program, visit: https://www.mwalliance.org/nebraska-energy-codes-training-program or contact Corie Anderson at canderson@mwalliance.org.