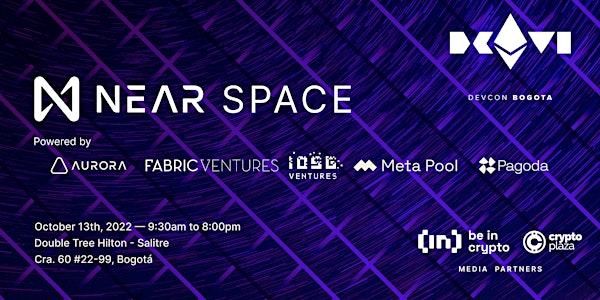 NEAR Space at DEVCON VI
The NEAR Ecosystem is coming to Bogota to showcase what is being built by our partners and the community. Join us for talks & workshops.
When and where
Location
DoubleTree by Hilton Bogota Salitre AR 22-99 Carrera 60 Bogotá, Cundinamarca 111321 Colombia
About this event
Join NEAR in Bogotá on October 13th at this year's DEVCON conference! DEVCON will bring together builders of all kinds: developers, designers, researchers, client implementers, test engineers, infrastructure operators, community organizers, social economists, artists, and others.
The NEAR Space will be open from 9am - 7:00pm for talks workshops, office hours, special keynote talks, and more. Featuring world-class interoperability with Ethereum through the Aurora bridge, NEAR allows builders to create without limits. Join NEAR to help shape our multi-chain future.
Free Transportation.
The Double Tree by Hilton Salitre is close by to the Agora Conference center, we will provide a shuttle ride from the DEVCON venue to the NEAR Space event. You will find a shuttle bus right in front of the DEVCON venue beneath the bridge connecting Corferias and Agora. Look for volunteers with the NEAR Space t-shirt.
Shuttle will begin to operate at 8:30am. Register to get all the information.
Venue: Double Tree by Hilton Salitre.
Date: Thursday October 13th
Time: 9:00am to 7pm
There will be two rooms available during the event:
Conference room for keynote presentations.
NEAR Space Lounge
Registration
Due to ticket demand, we will not be able to register people onsite. We are humbled by the interest from the Ethereum community to attend the event. We will try to acommodate as many people as we can. Just be advise that we are reaching full capacity for the venue.
Attendees will be able to enter on a first come first serve.
NEAR Space Lounge.
From 9am to 5pm you can checkout our ecosystem partners and enjoy refreshments. Some of our partners that will be available to learn what is being built on NEAR and Aurora.
Aurora Labs.
Fabric Ventures.
IOSG Ventures.
Meta Pool.
Pagoda.
Nativo NFT / Burrito Battle.
Pembrock Finance.
Axelar Network.
Partners Office Hours
Note: Spanish and English speakers are available for office hours
We will kickoff the day with presentations from our partners on the main stage, before kicking off the Office Hours.
9:40 - 9:50AM - David Garcia - NEAR Grants
9:50 - 10:00AM - Ishanne Nagpurkar - IOSG Ventures
10:00 - 10:10AM - Angela Ocando - Platzi
10:10 - 10:20AM - Christian Zambrano & Luz Margarita - NEAR Certification by NEAR Hispano
10:20 - 10:30AM - Nico Poggi - Pagoda
10:30 - 10:40AM - Alex Schevchenko - Aurora Labs
11:00AM to 12:00 PM - Pagoda (ES/ENG)
11:00AM to 12:00 PM - Aurora Labs (ENG)
11:00AM to 12:00 PM - NEAR Foundation Grants (ES/ENG)
11:00AM to 12:00 PM - NEAR Certification Courses by Platzi + NEAR Hispano (ES/ENG)
11:00AM to 12:00 PM - IOSG Ventures (ENG)
Lunch
From 12:00PM to 1:00PM we will be serving food, so grab a bite and mingle with fellow attendees, talk to ecosystem builders and projects from NEAR and Aurora
Main Conference room.
1:00PM - 1:20PM - Alex Shevchenko, CEO of Aurora Labs.
1:20 - 1:40 PM - Patrick Woo, AstroDAO.
1:40 - 2:00 PM - Santiago Siri - co-founder Proof of Humanity.
2:20 - 2:40 PM - Kevin Owocki, co-founder Gitcoin.
2:40 - 3:00 PM - Nico Poggi, Pagoda
3:00 - 3:20 PM - Claudio Cossio, co-founder Meta Pool - state of liquid staking in NEAR Protocol and Aurora networks.
3:20 - 3:40 PM - NEAR Ecosystem DApps panel. Presentation by David Morrison from NEAR Foundation, 3 projects from the Ecosystem will be showcased.
3:40 - 4:00 PM - Oscar Barajas, Platzi.com educating the new generation of Web3 builders with NEAR Hispano.
4:00 - 4:20 PM - Kendall Cole, co-founder Proximity Labs.
4:20 - 4:40 PM - Richard Muirhead - Fabric Ventures.
4:40 - 5:00 PM - Investing in Web3 panel . Moderator: Richard Muirhead from Fabric Ventures Tesa Ho from Fightclub.vc, Ishanne Nagpurkar from IOSG Ventures & Daniela Osorio from MetaWeb.
5:00 - 5:20 PM - Developer Relations in Web3 panel. Moderator: Nader Dabit from AAVE & Lens Protocol, Lorny Pfeifer from Pagoda, Camila Ramos from Fuel Labs and Emily Lin from Truffle.
5:30 - 8:00PM - Happy Hour, join us for a drink to celebrate Web3 and discuss everything that is happening at DEVCON.
Immerse yourself in the NEARverse for a day of networking, workshops, and more hosted by the NEAR ecosystem and its community.
Stay tuned for updates.
IMPORTANT!
Entrance to the event can be limited to provide a comfortable atmosphere in the venue for attendees.