BDSM in the time of COVID - how to navigate distance
About this event
**Part of our series of events for Los Angeles Kink Pride. Please check out full line-up and specials here: LAKinkPride.com and follow on insta: @lakinkpride**
***This event will be ASL interpreted.
Lou Alchemy and mx. ruby both have personal experience with long distance relationships. They are in a 24/7 D/s dynamic, with a permanent contract. Lou Alchemy lives in Anchorage, Alaska, and mx. ruby lives in Los Angeles, California, giving their relationship a whopping 2,330 miles in distance.
This workshop will cover the following topics.
- Creating long distance power exchange through regular and intentional ritual.
- Acts of Service, from smaller everyday acts to larger more formal scenes.
- Assignments, how to integrate assignments that work within your life and feel joyful.
- Contracts and integrating regular contract review.
- Technology: use technology to add connection and tender rituals throughout the day. This will expand beyond just Facetime & Zoom. Use technology to turn on your partner's front door light when you know they are on their way home, or hear their voice giving you navigation directions as you drive around.
- Maintaining intimacy.
- Long Distance Sex: tips, tricks, and toys.
- Absolutely zero Celine Dion content.
**Thanks to Cloneawilly, we will be giving away one Cloneawilly kit and one Cloneapussy kit! But everyone gets to use promo code LAKINKPRIDE for 15% off!**
**This event will be ASL interpreted.
Lou Alchemy (she/her)
Lou Alchemy is a butch Top with an infectious energy. Lou is an exhibitionist, and a self-described "ham" who loves to put on a show. Lou is a sadist with a deep love of high protocol, 24/7 power exchange, and macgyver-ing kinky implements. She came into the Leather BDSM scene later in her life, and so took every class she could find, and participated in 12 months of formal training. She eventually took over a private dungeon rental space, Dragon House, after the owner passed away. Lou renamed the space, "Alchemy SF" and she ran the only public/private Dungeon on Folsom Street for over 4 years.
Lou now lives in Alaska, and has created a 6-month BDSM training program and social group, "Alaska F.L.I.R.T.S." She is fluent in ASL, and has been a professional sign language interpreter for over 25 years. She has been the ASL interpreter coordinator for the International Ms. Leather Bootblack conference for the past eight years. Both Lou Alchemy and mx. ruby are founding members of the queer cigar service club AshCraft, which meets regularly (pre-Corona) in Los Angeles.
mx. ruby (she/they)
mx. ruby is a queer and genderqueer hard femme. she has nearly 15 years of experience in BDSM and kink spaces. mx. ruby was a founding member of the Against the Wall / Contre le Muir collective, throwing queer play parties and events in Montreal. she has a degree in sexuality studies from Concordia University in Montreal, and pursued graduate level work at NYU in this field as well.
mx. ruby has worked as a teacher of bdsm, conducting workshops in community spaces and at universities; and they bring Provider experience, and a deep love of community and leather queers. mx. ruby is a co-founder and organizer of Deviant party, an all gender queer play party in Los Angeles. Both Lou Alchemy and mx. ruby are founding members of the queer cigar service club AshCraft, which meets regularly (pre-Corona) in Los Angeles. mx. ruby is a power bottom, who loves giving service and 24/7 power exchange. they are proud to serve as Lou's girl.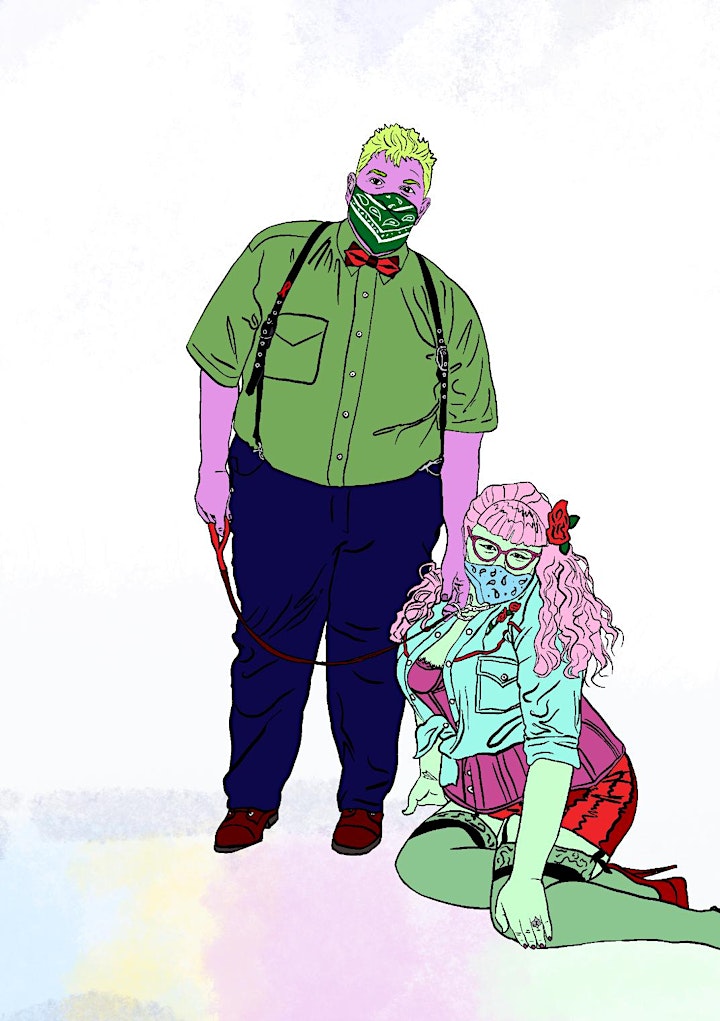 Organizer of Near, Far, Wherever Y/you Are: Long Distance D/s & Power Exchange
Mistress Justine Cross is a professional BDSM consultant and lifestyle Dominatrix based in Los Angeles. She is the owner of Dungeon East, Los Angeles's premiere dungeon studio. With over 10 years' experience as a lifestyle Dominatrix and BDSM consultant, Mistress Justine's expertise and creativity has been called on for dozens of print, radio, and video productions.  Internationally recognized and followed, she typically travels all over the world.