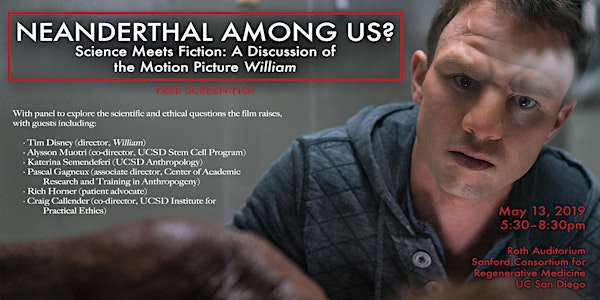 Neanderthal Among Us? Science Meets Fiction: A Discussion of the Motion Picture William
When and where
Location
Roth Auditorium Sanford Consortium for Regenerative Medicine La Jolla, CA 92093
Description
Neanderthal Among Us? Science Meets Fiction: A Discussion of the Motion Picture William
May 13, 2019
5:30–8:30p
Roth Auditorium
Sanford Consortium for Regenerative Medicine
UC San Diego
Join the UC San Diego Stem Cell Program, the Center for Academic Research and Training in Anthropogeny, OnePlace, and the Arthur C. Clarke Center for Human Imagination for a free screening of the film William, which tells the story of what happens when two scientists clone a Neanderthal from ancient DNA and raise him in today's world. Following the film, a panel will explore the scientific and ethical questions the film raises, with experts including:
Katerina Semendeferi (UCSD Anthropology)
Pascal Gagneux (associate director, Center of Academic Research and Training in Anthropogeny)
Rich Horner (CEO, OnePlace)
Craig Callender (co-director, UCSD Institute for Practical Ethics)
And special guest Tim Disney (director, William)
Moderated by Alysson Muotri (co-director, UCSD Stem Cell Program)
About the Film William

Star academics Doctors Julian Reed and Barbara Sullivan, fall in love with each other and with the idea of cloning a Neanderthal from ancient DNA. Against the express directive of University administrators they follow through on this audacious idea. The result is William: the first Neanderthal to walk the earth for some 35,000 years. William tries his best to fit into the world around him. But his distinctive physical features and his unique way of thinking--his "otherness"--set him apart and provoke fear. William's story is powerful and unique, but his struggle to find love and assert his own identity in a hostile world is universal--and timeless.
"Wiliam" is a stirring, heartfelt, provocative and inventive look at nature, nurture and the limits and vastness of scientific possibility, directed by Tim Disney.
About the Panelists

Tim Disney has enjoyed a dual filmmaking career as both a producer of environmentally and socially-conscious documentaries and a director (and writer) of narrative features. He served as executive producer on the documentaries "Gift of the Game," "Racing Against the Clock," "A Life Among Whales," "The Price of Sugar" (2008 Image Award nominee, Outstanding Documentary) and "The Last Mountain," which, in 2011, won both the International Documentary Assn.'s prestigious Pare Lorentz Award and was a nominee for the Sundance Film Festival's Grand Jury Prize. Disney's feature directing credits include "A Question of Faith" (also writer), "Tempesta" and "American Violet." In addition, he wrote and directed the short film "Southbound," executive produced the feature dramas "The Giving" and "The Legend of Lucy Keyes," and produced the fantasy-adventure film "Crusade in Jeans." He is also an executive producer on "Janis," the upcoming biopic of singer Janis Joplin starring Michelle Williams. Disney, who is the great-nephew of Hollywood pioneer Walt Disney and a graduate of Harvard University, currently serves as Trustee of the Southern California Institute of Architecture and Chairman of the Board of Trustees of California Institute of the Arts.

Alysson Muotri earned a BSc in Biological Sciences from the State University of Campinas in 1995 and a Ph.D. in Genetics in 2001 from University of Sao Paulo, in Brazil. He moved to the Salk Institute as Pew Latin America Fellow in 2002 for a postdoctoral training in the fields of neuroscience and stem cell biology. He has been a Professor at the School of Medicine, University of California in San Diego since 2008. His research focuses on modeling neurological diseases, such as Autism Spectrum Disorders, using human induced pluripotent stem cells. His lab has developed several techniques to culture human neurons and glia for basic research and drug-screening platforms, including using stem cells altered with Neandethal DNA to better understand neurological differences between human and Neanderthal brains. He has received several awards, including the prestigious NIH Director's New Innovator Award, NARSAD, Emerald Foundation Young Investigator Award, Surugadai Award from Tokyo University, Rock Star of Innovation from CONNECT, NIH EUREKA Award among others.
Katerina Semendeferi is Professor of Anthropology and Director of the Laboratory for Human Comparative Neuroanatomy at UC San Diego. Starting in graduate school, Semendeferi undertook two major initiatives in the field of human brain evolution. One initiative involved establishing collaborations with zoos across the U.S. aimed to make available to science the brains of apes, following their natural death. The other initiative involved the novel application of structural Magnetic Resonance Imaging technology on the collected postmortem brain specimens, followed by a postdoctoral NIH fellowship in 1995 to begin scanning, in collaboration with the Yerkes Primate Research Center, the brain of living apes. These early initiatives provided comparative material and opportunities for many students of human and ape neuroanatomy and planted the seeds for the establishment of primate brain banks and the subsequent larger scale application of imaging techniques on living apes in this country. Semendeferi's research involves the study of the frontal cortex and the limbic system in human evolution and in neurodevelopmental disorders. She showed that the relative size of the frontal cortex is remarkably similar across apes and humans and that evolutionary modifications in neuron density, nuclei volume, and dendritic tree branching characterize some, but not all, regions of the human cortex and the limbic system. The overarching hypothesis in her lab is that a phylogenetically recent reorganization of frontal cortical and amygdala circuitry took place that may be critical to the emergence of human-specific social and emotional functions, and that developmental pathology in these same systems underlie Autism and Williams Syndrome. WS, a genetic disorder characterized by distinctive alterations to social cognitive abilities, is targeted in her lab as an ideal model for understanding the reciprocal effect of genes on behavior in humans with implications for human evolution. Semendeferi is actively collaborating with pioneers in the field of induced pluripotent stem cells in an effort to bridge classical quantitative neuroanatomy and morphometry with this novel technology in ways that can move the field of brain evolution to the future.
Pascal Gagneux is Professor of Pathology and Anthropology at UC San Diego. He is interested in the evolutionary mechanisms responsible for generating and maintaining primate molecular diversity. His team is exploring the roles of molecular diversity in protecting populations from pathogens as well as potential consequences for reproductive compatibility. The Gagneux laboratory studies cell-surface molecules of sperm cells in closely related primates species. His focus is on glycans, the oligosaccharides attached to glycolipids and glycoproteins of the cell surface. The numerous parallels between the surface molecules of successful pathogens and those found on the surface of mammalian sperm, invite the analogy between internal fertilization and "extremely successful infection." Dr. Gagneux's interest is in how differences in sperm surface molecules reflect sexual selection (via sperm competition and cryptic female choice) and whether such differences might contribute to reproductive incompatibility and speciation due to female immune rejection of sperm decorated with incompatible glycoconjugates. The operating assumption is that glycan evolution is shaped by constraints from endogenous biochemistry and exogenous, pathogen-mediated natural selection, but could also have consequences for sexual selection. Dr. Gagneux has studied the behavioral ecology of wild chimpanzees in the Taï Forest, Ivory Coast, population genetics of West African chimpanzees, and differences in sialic acid biology between humans and great apes with special consideration of their differing pathogen regimes. His great concern is that the current surge in interest for comparative genomics is not being translated into direct support for the conservation of primates in their endangered natural habitats.
Rich Horner is a San Diego businessman that worked in Corporate America for 30 years where he started his career with Xerox Corporation and gained a solid foundation from 1985 to 1995. Thereafter, he left to start his own company with another colleague and grew the business from $1M to $60M over the next 20 years and created over 300 jobs along the way in 7 different cities. In 2010 he sold the business to a fortune 500 and has been philanthropically active in the community since. Rich has been a Visionary donor and held various leadership roles for the board of the New Children's Museum in downtown San Diego. Ultimately, his leadership, business experience and contributions there helped stabilize the organization, strengthen its development efforts and better define its impact and programs to the community. Rich is also a donor and supporter of Autism Tree Project Foundation (ATPF). Upon learning about the OnePlace concept Rich offered to lead the effort to bring it to fruition. In addition to wanting to make a difference for the community, Rich has personally experienced neurodiversity with his child and understands what its like as a parent to navigate. Rich's commitment is to not only to break ground and build the OnePlace Center for Children and Families, but also to lead it ongoing using his business experience to ensure its long-term sustainability. Rich not only sees OnePlace as a breakthrough, legacy organization for San Diego, but also as a model for other cities as well. A graduate of Pepperdine University, Rich resides in Rancho Santa Fe, CA and has many life passions that include his 14-year-old son, Brett.
Craig Callender is Professor of Philosophy at UC San Diego, Co-Director of the Institute for Practical Ethics, and Founding Faculty at the Halıcıoğlu Data Science Institute at UC San Diego. His book What Makes Time Special? (Oxford University Press, 2017) won the 2018 Lakatos Award and my research won the 2018-19 Chancellor's Associates Faculty Excellence Award in Research in Humanities and Social Science. He is President of the Philosophy of Time Society and, from 1996–2000, worked in the Department of Philosophy, Logic & Scientific Method at the London School of Economics. He obtained his Ph.D. from Rutgers University in 1997. His main areas of research and teaching include Philosophy of Science, Philosophy of Physics, Metaphysics, and Environmental Ethics.
Parking and Directions:
Parking is available for $1/hour. Visitors must enter their parking space number and pay for a temporary parking pass at the base of the stairs beneath the restaurant Bella Vista.
Roth Auditorium is located at:
Sanford Consortium for Regenerative Medicine
2880 Torrey Pines Scenic Drive
La Jolla, CA 92037
Driving Directions From the North
Use I-5 South

Exit Genesee Ave and turn right (heading west)

Turn left onto North Torrey Pines Road

Drive 1/8 mi, turn right on to Torrey Pines Scenic Drive,

Sanford Consortium for Regenerative Medicine is the first driveway on your right.
Driving Directions From the South
Use I-5 North

Exit Genesee Ave and turn left (heading west)

Turn left onto North Torrey Pines Road

Drive 1/8 mi, turn right on to Torrey Pines Scenic Drive,

Sanford Consortium for Regenerative Medicine is the first driveway on your right.
For more information, contact us at info@imagination.ucsd.edu.