Neal Stephenson: SEVENEVES at The Interval reading and signing
When and where
Location
The Interval at Long Now Fort Mason Center 2 Marina Blvd San Francisco, CA 94123
Refund Policy
Contact the organizer to request a refund.
Description
You can preorder a signed copy of SEVENEVES for pick up on May 21 (or later).
But Neal Stephenson's talk at The Interval is SOLD OUT.
He has two other Bay Area appearances
On May 21, time allowing, Neal will personalize preordered copies of SEVENEVES for those lined up by 2pm outside The Interval.

Long Now members can listen to this event via live audiocast
from the Long Now member website

The Long Now Foundation welcomes
Neal Stephenson
#1 New York Times-bestselling author of Anathem, Reamde, Snow Crash, and SEVENEVES
Tickets include a signed copy of SEVENEVES
Talk hosted by Long Now co-founder Stewart Brand
Signed copies of SEVENEVES can be ordered above for pickup at Fort Mason from May 21-24 at Readers Bookstore, Fort Mason.
A portion of all books sales go to The Long Now Foundation and Friends of the San Francisco Library
@ The Interval at Long Now: talk begins @ 1pm sharp
Neal will sign books immediately after the event from 2pm to 2:30pm
Stephenson's remarkable novel is deceptively complex, a disaster story and transhumanism tale that serves as the delivery mechanism for a series of technical and sociological visions… there's a ton to digest, but Stephenson's lucid prose makes it worth the while.
-- Publishers Weekly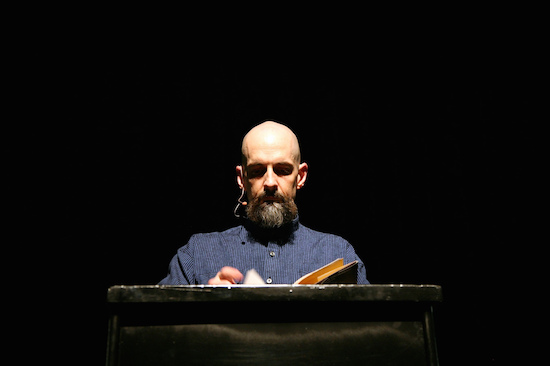 Neal Stephenson has a once-in-a-generation gift: he makes complex ideas clear,
and he makes them funny, heartbreaking and thrilling.
– TIME
Neal Stephenson reads from his latest book SEVENEVES at The Interval at Long Now on May 21st in a special daytime event. Long Now's co-founder Stewart Brand will introduce Neal and speak with him onstage after his reading. Stewart Brand, Ryan Phelan, and Long Now's Revive and Restore are acknowledged by Neal for providing useful background for this book. No spoilers beyond that.
Throughout his impressive, 30-year writing career, Neal Stephenson has proven to not only possess one of the boldest imaginations in contemporary fiction, but also the unique ability to illuminate the vital intersection of science, technology and sociology through a diverse list of themes: after cementing his position as a beloved "cult" writer of speculative fiction with Snow Crash, he tackled code-breaking and world wars in Cryptonomicon, historical fiction and the origins of science with the Baroque Cycle, philosophy and mathematics in Anathem, and high-stakes, action-packed global adventure in Reamde. In SEVENEVES, he shoots for the moon – literally – and take fans into outer space.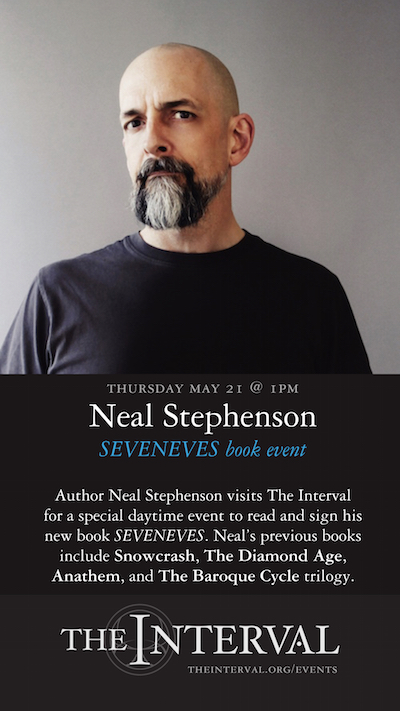 Neal Stephenson has been a friend of The Long Now Foundation since our founding. In 01998, while brainstorming with Danny Hillis and others, Neal sketched his own 10,000 Clock design ideas which years later came to life in his book Anathem. He spoke in Long Now's SALT series in 02008 in a launch event for Anathem which included an onstage conversation with Long Now co-founders Danny Hillis and Stewart Brand. In 02013 he was amongst the first donors to The Interval at Long Now, our public space in San Francisco.
We are thrilled to welcome Neal and celebrate his latest book SEVENEVES in the venue that he helped us build.

A writer of dazzling genius and imaginative vision, Neal Stephenson combines science, philosophy, technology, psychology and literature in a magnificent work of speculative fiction that offers a portrait of a future that is both extraordinary and eerily relevant to the real-life challenges that threaten the survival and well-being of our planet today. As he did in Anathem, Cryptonomicon, the Baroque Cycle, and Reamde, Stephenson explores some of our biggest ideas and perplexing challenges in a breathtaking saga that is daring, engrossing and altogether brilliant.
No slim fables or nerdy novellas for Stephenson: his visions are epic, and he requires whole worlds-and, in this case, solar systems-to accommodate them....Wise, witty, utterly well-crafted science fiction.
-- Kirkus Reviews
Signed copies of SEVENEVES

Ticket for Neal's talk at The Interval include a signed copy of SEVENEVES and a chance to have Neal personally inscribe it after his talk.

Although capacity is very limited at The Interval, thanks to our partners Friends of the San Francisco Public Library we have plenty of copies of SEVENEVES avaialble to preorder.
On May 21, Neal will sign all preordered copies right before his talk, and they will be available to pick up next door to The Interval at Readers Bookstore during and after the event. If you are not attending the talk, you can still get your copy inscribed by Neal, time permitting, by picking up your preordered book and lining up by 2pm outside The Interval. Neal will be signing until 2:30pm

Neal Stephenson is the author of Reamde, Anathem, and the three-volume historical epic the Baroque Cycle (Quicksilver, The Confusion, and The System of the World), as well as Cryptonomicon, The Diamond Age, Snow Crash, and Zodiac. He lives in Seattle, Washington.
Interval donors hear about our events first: become a donor today