Neal Stephenson & Nicole Galland at The Interval: The Rise and Fall of DODO
Description
The Long Now Foundation welcomes to The Interval

Neal Stephenson and Nicole Galland
authors of The Rise and Fall of D.O.D.O. in conversation with Long Now's Executive Director Alexander Rose

Tickets include a signed copy of The Rise and Fall of D.O.D.O.

@ The Interval at Long Now: check-in starts at 12 noon.
The talk will begin @ 12:30pm.

The authors will sign books after the event from 1:30 to 2pm. Additional books will be on sale before and after the talk thanks to Borderlands Books.

Quantum physics, witchcraft, playfully mixed with vernacular from several centuries and a dizzying number of acronyms, create a fascinating experiment in speculation and metafiction that never loses sight of the human foibles and affections of its cast.
—Publishers Weekly, review of The Rise and Fall of D.O.D.O.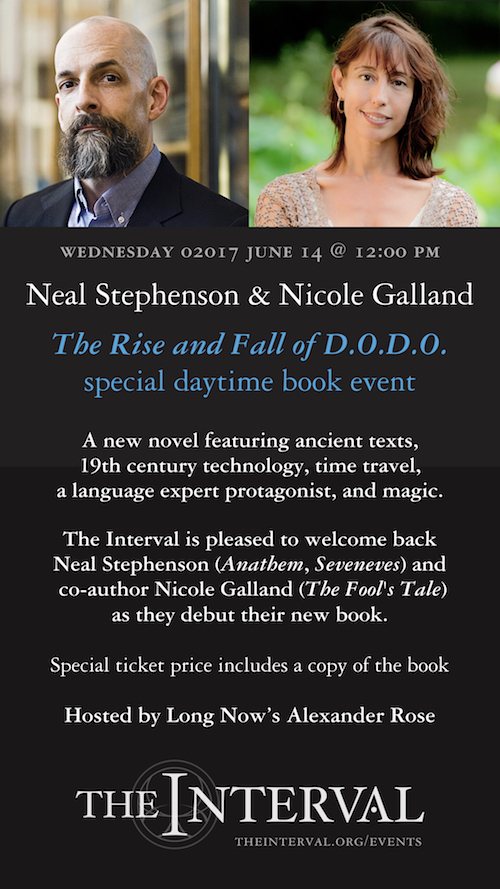 Immense and immensely entertaining genre-hopping yarn... Blend time travel with Bourne-worthy skulduggery, throw in lashings of technology and dashes of steampunk... A departure for both authors and a pleasing combination of much appeal to fans of speculative fiction.
—Kirkus Reviews, review of The Rise and Fall of D.O.D.O.
Neal Stephenson is the bestselling author of more than a dozen novels including Snow Crash, Anathem, Seveneves, and The Baroque Cycle. He has been a friend of The Long Now Foundation since our founding. In 01998, while brainstorming with Danny Hillis and others, Neal sketched his own 10,000 Clock design ideas which years later came to life in Anathem. Stephenson spoke in Long Now's SALT series in 02008 in a launch event for Anathem. In 02013 he was amongst the first donors to The Interval at Long Now, our public space in San Francisco. He previously spoke at The Interval in May 02015 on the release of Seveneves. He lives in Seattle, Washington.

Nicole Galland has written six previous novels, most recently Stepdog; others include The Fool's Tale; I, Iago; and Godiva. She previously collaborated with Neal Stephenson on The Mongoliad Cycle. Galland spent time in the Bay Area studying at UC Berkeley and as dramaturg for Berkeley Repertory Theatre. She lives in Martha's Vineyard, Massachusetts.
Long Now members hear about our events first: join today