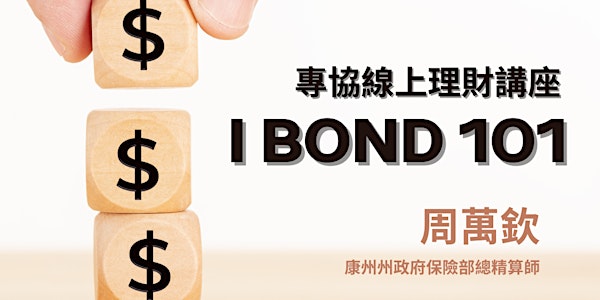 NEACP 中華專協線上理財講座: I BOND 101
10/4 晚上康州州政府保險部總精算師周萬欽將以輕鬆的對談方式介紹 I Bond!
Refund Policy
Contact the organizer to request a refund.
Eventbrite's fee is nonrefundable.
About this event
近期由於嚴重的通貨膨脹,越來越多人注意到年利率 9.62%、由美國財政部發行的Series I Savings Bonds(又稱I Bonds)。但 I Bond 是什麼? 安全嗎? 如何購買? 什麼樣的人適合購買?
10/4 晚上康州州政府保險部總精算師周萬欽將以輕鬆的對談方式介紹 I Bond
Meeting link:
https://neacp.webex.com/neacp/j.php?MTID=meceabc6f9e931b34524c6fc2decf8309
Meeting number: 2556 409 4916
Password: 1234
與談人: 周萬欽董事長 (中文)
AGENDA
8:00-8:20 pm Presentation:
- Bear Market - Stock, Bond?​
- What Are Inflation-Indexed Bonds?​
- Pros and Cons of I Bond Investing​
- When and How to Purchase an I Bond ​
- Scenarios in Early Redemption
8:20 pm Q&A
同場加映:
紐英崙中華專業人員協會第45屆年會: 自媒體時代的經驗與知識傳播
10月 22日 (周六), Science Center at Harvard University
報名: https://www.eventbrite.com/e/45-tickets-424852373887