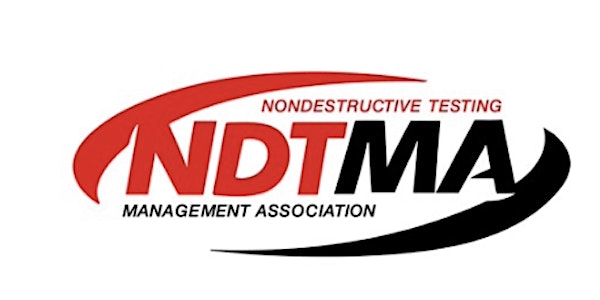 NDTMA 2022 Conference
Join us for the NDTMA 2021 Conference featuring technical and management workshops and presentations, exhibits, and networking.
When and where
Location
Golden Nugget Las Vegas Hotel & Casino 129 East Fremont Street Las Vegas, NV 89101
Refund Policy
Refunds up to 7 days before event
Eventbrite's fee is nonrefundable.
About this event
This year's program starts at 1pm on Tuesday February 8, 2022. Make your reservations early and don't miss out on our great program! Highlights include presentations from the FBI and Delta TechOps, workshops covering Conflict Resolution, Sales, and Supply Chain, as well as updates from relevant code bodies and regulatory agencies.
Please Note: By registering for this conference you are agreeing to the following COVID-19 and Photography Waivers:
WAIVER OF LIABILITY AND INDEMNITY RELATED TO COVID-19
COVID-19 SAFETY INFORMATION:
While participating in events held or sponsored by the Nondestructive Management Association, Inc., ("NDTMA"), consistent with CDC guidelines, participants are encouraged to practice hand hygiene, "social distancing" and wear face coverings to reduce the risks of exposure to COVID-19. Because COVID-19 is extremely contagious and is spread mainly from person-to-person contact, NDTMA has put in place preventative measures to reduce the spread of COVID-19. However, NDTMA cannot guarantee that its participants, volunteers, partners, or others in attendance will not become infected with COVID-19.
In light of the ongoing spread of COVID-19, individuals who fall within any of the categories below should not engage in NDTMA events. By attending an NDTMA event, you certify that you do not fall into any of the following categories:
1. Individuals who currently or within the past fourteen (14) days have experienced any symptoms associated with COVID-19, which include fever, cough, and shortness of breath among others; or
2. Individuals who have traveled at any point in the past fourteen (14) days either internationally; or
3. Individuals who believe that they may have been exposed to a confirmed or suspected case of COVID-19 or have been diagnosed with COVID-19 and are not yet cleared as non-contagious by state or local public health authorities or the health care team responsible for their treatment.
WARNING
You must follow all posted instructions while visiting NDTMA events and activities. An inherent risk of exposure to COVID-19 exists in any public place where people are present. COVID-19 is an extremely contagious disease that can lead to severe illness and death. I acknowledge that participation in NDTMA events and activities brings some risk and I do hereby assume responsibility for my own well-being. I will follow all Centers for Disease Control and Prevention (CDC) guidance, and all posted instructions while visiting NDTMA events and activities. I understand, agree and hereby consent that my failure or disregard to follow all protocols in effect and required by NDTMA, CDC, the venue provider and governing authorities during my attendance at NDTMA International is hereby sufficient grounds to be excluded from attending the event by NDTMA or an event authority, and I hereby consent in advance to leave and exit the event, without protest or refund, upon request by NDTMA or an event authority due to my refusal to follow said protocols.
DUTY TO SELF-MONITOR:
Participants and volunteers agree to self-monitor for signs and symptoms of COVID-19 (symptoms typically include fever, cough, and shortness of breath) and, contact NDTMA at marybeth@ndtma.org if he/she experiences symptoms of COVID-19 within 14 days after participating or volunteering with NDTMA.
ASSUMPTION OF RISK
I have read and understood the above warning concerning COVID-19. I hereby choose to accept the risk of contracting COVID-19 for myself in order to attend an NDTMA conference and enter into the conference premises. The conference is of such value to me that I accept the risk of being exposed to, contracting, and/or spreading COVID-19 in order to attend in person.
WAIVER, RELEASE, AND INDEMNIFICATION
As a condition of my participation in this meeting or event, I do hereby expressly waive any rights against and release and hold harmless NDTMA and any of its officers, employees, affiliates, contractors, agents, heirs, legal successors, and assigns (collectively "NDTMA") from and against any and all claims, suits, demands, losses, damages, expenses, or liability of whatever kind or nature (collectively "liability"), under any theory of law or equity, that may arise during or as a result of my presence at the premises, including but not limited to any such liability related to or arising out of illness, injury, or death associated with infection of COVID-19 or complications, symptoms, or other effects resulting from contracting COVID-19. I shall defend, indemnify, and hold harmless NDTMA and all other Releasees against any and all losses, damages, liabilities, deficiencies, claims, actions, judgments, settlements, interest, awards, penalties, fines, costs, or expenses of whatever kind, including attorney fees, fees and the costs of enforcing any right to indemnification under this Agreement, and the cost of pursuing any insurance providers, arising out or resulting from any claim of a third party related to the Activities.
I UNDERSTAND, AND IT IS MY EXPRESS INTENT, THAT THIS RELEASE AND WAIVER OF LIABILITY RELEASES NDTMA FROM SUCH LIABILITY EVEN IF SUCH LIABILITY RESULTS FROM OR IS CAUSED BY THE SOLE OR CONTRIBUTORY OR ACTIVE OR PASSIVE NEGLIGENCE, STRICT LIABILITY, OR OTHER LEGAL FAULT OF NDTMA OR ANY THIRD PARTY. I ALSO UNDERSTAND AND AGREE THAT NDTMA DOES NOT ASSUME ANY RESPONSIBILITY OR OBLIGATION TO PROVIDE FINANCIAL OR OTHER ASSISTANCE, INCLUDING BUT NOT LIMITED TO MEDICAL, HEALTH, OR DISABILITY ASSISTANCE IN THE EVENT OF INJURY OR ILLNESS. IN THE EVENT THAT I OR MY FAMILY MEMBER IS INJURED, BECOMES ILL, OR SUFFERS COMPLICATIONS DUE TO COVID-19, ALLEGEDLY AS A RESULT OF MY PARTICIPATION IN A NDTMA EVENT, I AGREE TO RELEASE AND HOLD HARMLESS NDTMA IN THE SAME MANNER AND TO THE SAME EXTENT AS SET FORTH ABOVE.
NDTMA TRANSFER POLICY
If another individual participates in my place per NDTMA transfer policy, the new registrant must agree to this disclaimer and waiver by default of transfer in writing.
CHOICE OF LAW AND VENUE
I understand and agree that the law of the State of California will apply to this contract and the Venue for any legal action would be in Los Angeles County, CA.
BY ATTENDING THIS EVENT, I HAVE CAREFULLY READ AND FULLY UNDERSTAND ALL PROVISIONS OF THIS RELEASE AND FREELY AND KNOWINGLY ASSUME THE RISK AND WAIVE MY RIGHTS CONCERNING LIABILITY AS DESCRIBED ABOVE.
BY ATTENDING AND/OR PARTICIPATING IN THIS EVENT, YOU ARE DEEMED TO HAVE GIVEN A FULL RELEASE OF LIABILITY TO THE RELEASED PARTIES TO THE FULLEST EXTENT PERMITTED BY LAW.
PHOTOGRAPHY AND INDEMNIFICATION
By attending NDTMA 2022, you acknowledge and agree as follows: (a) NDTMA may edit and use footage it captures at the event for marketing and promotional activities and for any other lawful purpose in the ordinary course of its business; and (b) due to the prevalence of mobile recording devices in today's world, NDTMA disclaims all liability for the capture of your image in any multimedia format by other attendees at the event.