Description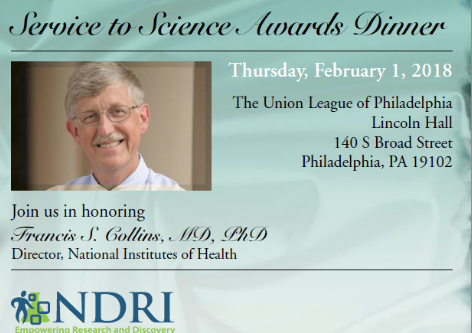 D. Walter Cohen, DDS Service to Science Award
The Board of Directors of the National Disease Research Interchange (NDRI) is pleased to announce that Francis Collins, MD, PhD, Director, National Institutes of Health (NIH) will be the 2018 recipient of our D. Walter Cohen, DDS Service to Science Award. In his role as Director of the NIH, Dr. Collins oversees the work of the largest supporter of biomedical research in the world, spanning the spectrum from basic to clinical research.
Founded in 1980, the mission of NDRI is to provide human biospecimens to advance biomedical/bioscience research and development worldwide. The progress of scientific research has been revolutionized over the years with the provision and distribution of human biomaterials. The strategic driving force of NDRI has been and continues to be service to science.
In addition to the D. Walter Cohen, DDS, Servcie to Science Award, NDRI will be honoring Service to Science with additional awards, recipients will soon be announced.
NDRI's Service to Science Awards Dinner
Thursday, February 1, 2018
6:00 p.m. Cocktail Reception
7:00 p.m. Awards Dinner
The Union League of Philadelphia - Lincoln Hall
140 S. Broad Street | Philadelphia, PA 19102
Dress Code: Festive Business
Don't miss this exciting opportunity to honor Dr. Francis Collins!
Learn about our dinner sponsorship opportunities
For questions about NDRI's Service to Science Awards Dinner or additional information about our sponsorship opportunities contact Kerri Harvey, Executive Assistant by phone at 215-557-7361
ext. 216 or email kharvey@ndriresource.org.