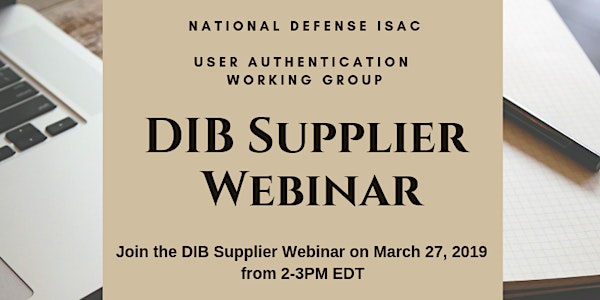 NDISAC DIB Supplier Webinar
Date and time
Wednesday, March 27, 2019 · 2 - 3pm EDT
Description
You're invited to a FREE DIB supplier webinar on March 27, 2019 from 2:00-3:00PM EDT, hosted by the National Defense Information Sharing and Analysis Center (NDISAC) User Authentication Working Group.
We've formed a User Authentication Working Group that is focused on the various methods of validating the identity of communicating entities that goes beyond usernames and passwords. Through this webinar, our goal is to develop best practices and solutions for multifactor authentication for NDISAC member companies and their suppliers.
During this discussion, NDISAC will identify, evaluate, and recommend appropriate security tools and methods to protect access to information resources. The focus will be on solutions for multifactor authentication (MFA) for remote, network, and local authentication for both normal users and accounts with elevated privileges.
We anticipate that participants in the webinar will include representatives from our Member Companies who comprise the working group, NDISAC staffers, and suppliers to our Member Companies.

As background, NDISAC is a non-profit organization formed to enhance the security and resiliency of the defense industry and its strategic partners. NDISAC provides defense sector stakeholders a community and forum for sharing cyber and physical security threat information, best practices and mitigation strategies and is developed to serve as the Defense Industrial Base (DIB) sector's critical infrastructure protection operational coordination mechanism.
If you are interested in learning more about NDISAC Working Groups visit www.ndisac.org/workinggroups/. For more information about NDISAC membership, visit www.ndisac.org/membership-benefits/
Please contact info@ndisac.org with any questions.