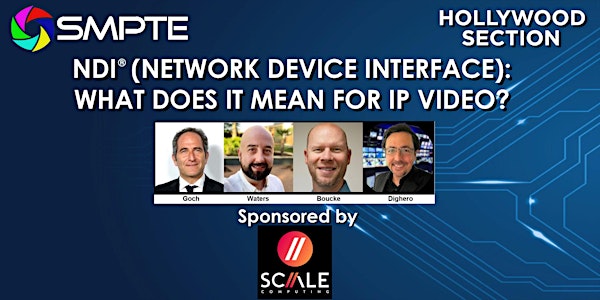 NDI® (Network Device Interface): What Does it Mean for IP Video?
The SMPTE Hollywood Section presents an informational meeting about an emerging IP video standard: NDI©.
About this event
On Wednesday, January 25, SMPTE Hollywood will host a virtual meeting focused on the emerging IP video standard NDI®. Developed by NewTek, NDI (Network Device Interface) is a royalty-free software that facilitates the use of high-quality, low-latency video across IP networks in a manner that is frame accurate and suitable for live production environments.
In a 60-minute Zoom meeting beginning at 12:00 p.m. PST, representatives from NDI, Aja Video Systems and Advanced Systems Group will discuss the impact of the new standard on broadcast video and streaming workflows. They will describe the technology behind NDI®, the types of AV equipment it supports and how it can be implemented on cloud-based networks.
Speakers:
Barry Goch - Moderator, Chair, SMPTE Hollywood Chapter; Product Marketing Manager, AJA Video Systems, supports the company's global marketing efforts. Previously he was a feature film and television finishing editor with credits including Spiderman: Homecoming, Passengers, Money Monster, Eye in the Sky, and Game of Thrones. In addition to SMPTE, Barry is a member of the Television Academy, the Visual Effects Society, and The Hollywood Professional Association.
Will Waters, VP Product Management, NDI® is a visionary of innovative product strategy with over 16 years' experience leading systems design, product marketing, product development, and workflow planning across the video and broadcast industries. As the Head of Product Management for NDI, a division of Vizrt Group, William brings his extensive knowledge across networking, configuration, IP media transport, and software-defined live video production solutions in his leadership of the product management team. Before leading NDI's product management, Waters oversaw the launch and delivery of numerous NewTek video solutions into the broadcast and ProAV markets. Through that tenure, Waters was responsible for designing and implementing extensive NDI-based workflows. Waters is passionate about using leading-edge technologies to develop cutting-edge solutions that have the ability to change the world, which is exactly what his team is working on at NDI.
Mike Boucke, Senior Product Manager, AJA Video Systems, got started in the media industry while in the United States Air Force. Mike was stationed at Lowry AFB Colorado for training as a broadcast technician. His first job was as a support technician for Combat Camera, and later he moved to AFNews to build and support TV stations in Europe and Japan. After leaving the military, Mike worked for DirecTV in Los Angeles, then switched to the manufacturing side by joining Nvision, where he eventually became a product manager for control systems and routers. As a Project Manager at AJA, he really enjoys being a part of a team that focuses on innovation to create products our customers need and find useful. The industry is experiencing a seismic shift from baseband to IP, which makes this an incredibly exciting time to innovate and collaborate with market leaders.
Jorge Dighero, Director of Cloud Production Engineering, Advanced Systems Group, LLC, specializes in live production, automation, and cloud-centric workflows. He has over 28 years of experience in the broadcasting industry and has held various roles in production, system integration, and manufacturing, providing him with a comprehensive understanding of solution design and implementation.He has previously worked at industry-leading companies such as Newtek, Vizrt, and Grass Valley, and was involved in the early implementation of NDI technology at Newtek. Currently, he is leveraging and designing cloud-based solutions for live production and has developed an end-to-end workflow utilizing the capabilities of multiple vendors' cloud-centric solutions. Through his work at ASG, he has collaborated on projects for major networks, sports leagues, and media organizations and has successfully deployed solutions on AWS and Google Cloud.
As always, SMPTE meetings are free and open to all, even non-members. Each guest must register separately.
Sign up to be notified about future SMPTE Hollywood Events: