NCWIT TechTalk: Startups & Why Gender Diversity Matters, and the 2014 Symons Innovator Award
When and where
Location
VMware, Inc 5 Cambridge Center Cambridge, MA 02142
Description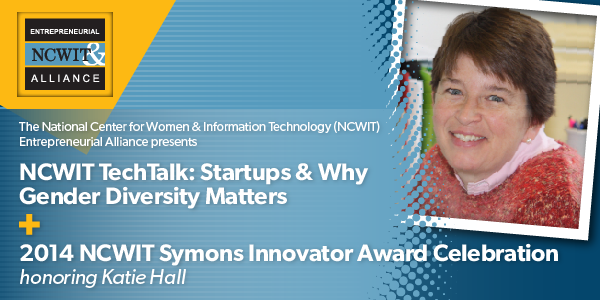 You're invited to join NCWIT Entrepreneurial Alliance members and entrepreneurial guests from the greater Boston area for the upcoming "TechTalk," reception, and celebration of the NCWIT Symons Innovator Award at the Cambridge offices of VMware.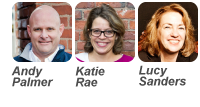 Andy Palmer (entrepreneur, mentor and founder of Koa Lab) and Katie Rae (managing director of Techstars Boston and founder of early investment firm Project 11) will lead evening introductions. Following, NCWIT CEO and Co-founder Lucy Sanders will give a TechTalk about optimizing your startup's success by including women, tips for attracting diverse candidates, and building a company culture that fosters innovation through diversity.
Following the TechTalk, we invite you to join us for a reception celebrating Katie Hall, recipient of the 2014 NCWIT Symons Innovator Award. Katie is the CTO of WiTricity Corporation in Watertown, Massachusetts. She is also the founder of Wide Net Technologies, Inc., and former CTO and co-founder of PhotonEx Corporation. Katie began her career at MIT's Lincoln Laboratory, as well as AT&T Bell Laboratories. She was a Research Affiliate at the Massachusetts Institute of Technology from 1993-2012. Katie is a Senior Member of the Institute of Electrical and Electronics Engineers (IEEE) and a Fellow of the Optical Society of America (OSA). She also holds 35 U.S. Patents.
The NCWIT Symons Innovator Award honors an outstanding woman who has successfully built and funded a technology-driven company. The NCWIT Symons Innovator Award seeks to raise the visibility of technical women entrepreneurs and inspire more people, especially women, to engage in technology startups.
The award is named for Jeanette Symons, founder of Industrious Kid, Zhone Technologies, and Ascend Communications, and an NCWIT Entrepreneurial Hero whose pioneering work made her an inspiration to many.
4:00 -- NCWIT TechTalk
5:00 -- Innovator Award Presentation
5:15 -- Reception Begins
6:00 -- Reception Ends
Event Instructions
Upon arriving at 5 Cambridge Center, please use the parking garage adjacent to the Marriott with entrances on Ames Street and Broadway. We will validate parking. Once you enter the building, head towards the left-hand double doors (by Clover). You will need to check in at the front desk and take the elevators up to the 10th floor.
RSVP
Please RSVP to EventBrite here. Inquiries about attendance should be directed to Stephanie Wanek.
About us
The National Center for Women & Information Technology (NCWIT) s a non-profit community of more than 500 universities, companies, non-profits, and government organizations nationwide working to increase women's participation in computing and technology. NCWIT helps organizations more effectively recruit, retain, and advance girls and women in K-12 through college education, and from academic to corporate and startup careers.
Find out more about the Entrepreneurial Alliance, fill out a inquiry form, or contact Stephanie Wanek.
The NCWIT Entrepreneurial Alliance is supported by Turner Broadcasting System, Inc. and EMC.