Description
$70 (early bird) WCA Members | $80 (after Aug. 18) WCA Members | $35 WCA Volunteers
$120 Public | $60 Public Volunteers
The Northern California Women's Caucus for Art (NCWCA) Day at Djerassi Resident Artists Program will bring together a vibrant community of women artists to explore, make art, reflect and interact in a setting of great natural beauty.
In addtion to our artist panel and workshops, we will have breakfast and lunch served from Djerassi's amazing organic kitchen and the unique opportunity to tour the land art created by years of Djerassi Residency Artists. Djerassi, in the hills above the Northern California peninsula, is closed to the public most of the year.

Djerassi Day 2017's theme is "Actionable Art and Artists" – focusing on art practices that take action, create change, communicate, heal, activate, educate, transform and make the planet a better place. In these uncertain times, many of us are asking what we can do as artists, individuals, and collaboratively. Djerassi Day 2017 will provide an opportunity for WCA artists to connect, share, learn new skills, and plan with these thoughts in mind.

SCHEDULE
8:30-9:00AM: Breakfast,Registration and Welcome
9:00-11:00AM: Land Art Tour, (limited space in gator cart for those who need it)
11:00-11:15AM: Break, reconvene & brief pop-up discussion
11:15AM-12:15PM: Artist Panel, "Actionable Art and Artists" with Pamela Blotner (Artists Beyond Boundaries), Lydia Nakashima Degarrod (CCA), Maria Jensen (SOMArts), Carol Newborg (Prison Arts Program), Judy Shintani (Kitsune Studios), Michelle Wilson (Rocinate Press)
12:15-1:00PM: Lunch
1:00-1:15PM: Reconvene & Creative Movement
1:25-4:00PM Workshops & Activities
(1:25-2:35PM: Workshops Session A, 2:35-2:50PM: Break, 2:50-4:00PM: Workshops Session B)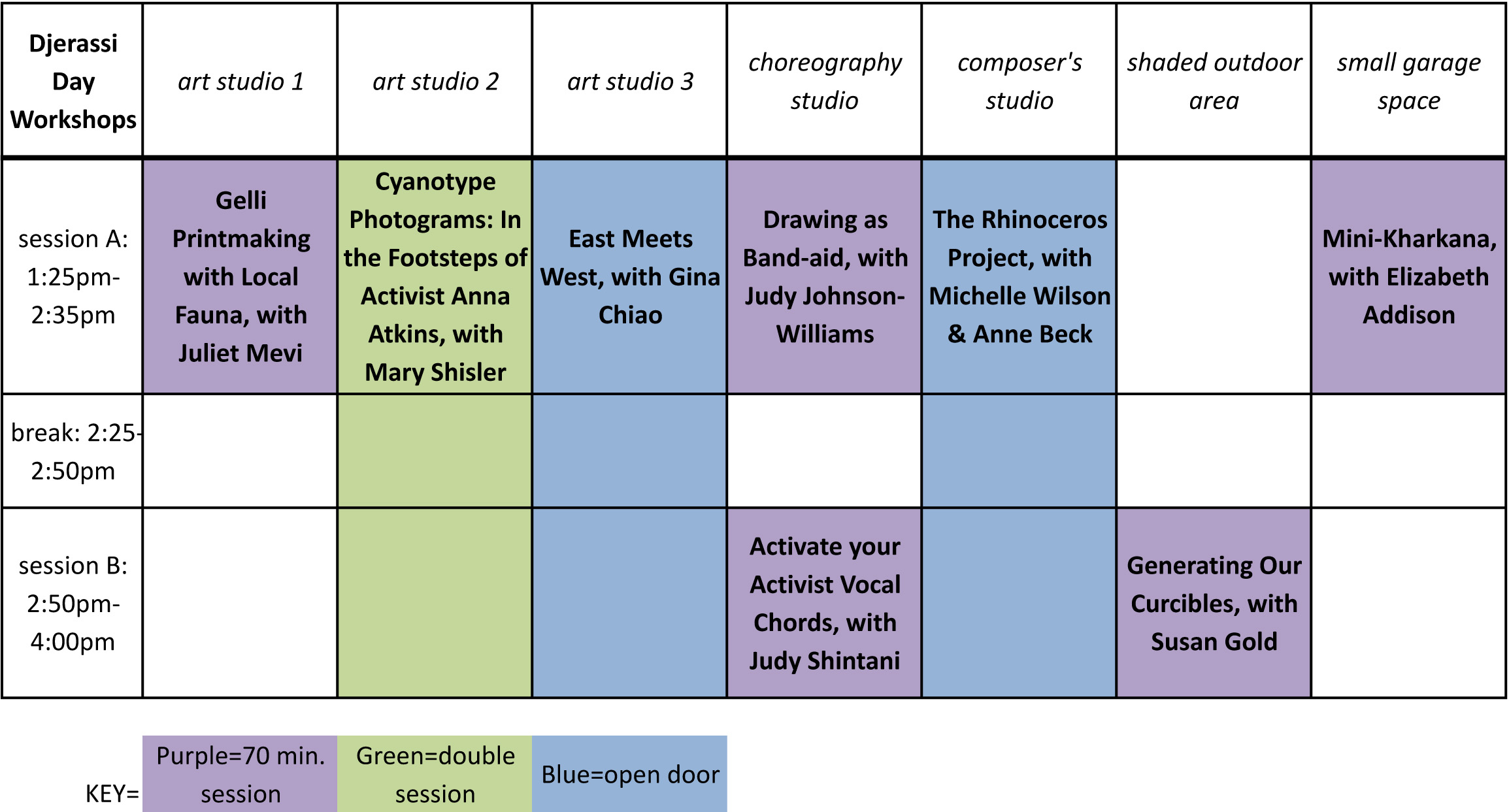 4:00-4:30PM: Afternoon Refreshment & Closing Activity
VOLUNTEER! The success of Djerassi Day depends on the help and goodwill of many people. Volunteering only takes a few hours and there are many rewards that include friendships & comaraderie, connections, new skills & professional development, 1/2 price discount fee (!), and the acknowledgement that you contributed to the creation of an amazing and transformative event. CONTACT: Elizabeth Addison, elizabethaddison@sbcglobal.net, to join the Djerassi Day 2017 team!
Limited Time Offer: $5 2017 NCWCA Membership Fee
This special NCWCA chapter membership offer will make you eligible for the Djerassi Day member ticket price. It's a deal! Take advantage of a special 2017 NCWCA membership rate of $5 to enjoy NCWCA benefits and programs for the rest of 2017. This rate is offered between now and September 30 and is limited to chapter programs and benefits good through December 31, 2017. It does not cover National WCA benefits. To take advantage of this discounted rate, go to http://www.ncwca.org/membership-2017.html, and select the option, "Chapter Only - 2017." REMEMBER that your membership and the benefits expire on December 31, 2017. (Our 2018 membership drive that provides National WCA and NCWCA benefits begins October 1, 2017 and new members who join at this time will have their benefits extend all the way to December 31, 2018.)
Cheers,
Elizabeth Addison, elizabethaddison@sbcglobal.net
NCWCA Professional Development Chair