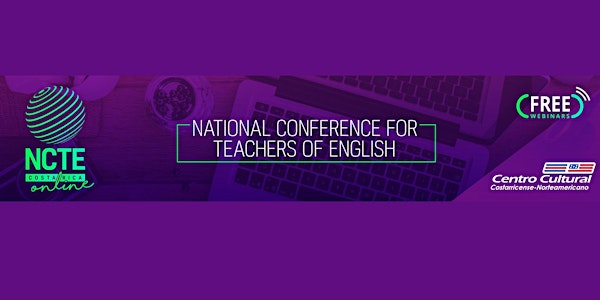 NCTE 2021 Online
NCTE 2021 Online.
About this event
Over the decades, the conference has evolved to better meet the needs and realities of our participants. In 2020, the unprecedented conditions caused by the COVID-19 pandemic led us to hold our event in a virtual format for the first time ever. The result was a complete success with the participation of more than 1,000 teachers from over a dozen countries as well as distant regions across Costa Rica.
This year we will hold our conference virtually again for the safety of everyone involved. It is our sincere hope that we can return to our face to face format in 2022 with the possibility of alternating between in-person and virtual events each year going forward. This innovation will allow the conference to continue to grow and make an even larger impact on the English teaching community of Costa Rica and beyond.  
The NCTE Online 2021 conference, with its theme "Building a Community of Practice to Enhance and Transcend English Language Teaching and Learning", aims to take us back to our roots by focusing on the cultivation of relationships among teaching professionals in order to stimulate a dialogue and shared sense of collaboration and passion for teaching that will extend well beyond the limits of the event itself. 
Thank you for joining us!