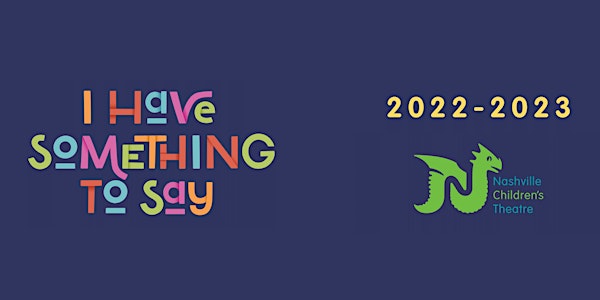 Multiple dates
NCT Opening Night Educator Preview 2022-2023
NCT Opening Night Educator Preview 2022-2023
By Nashville Children's Theatre
Date and time
September 7, 2022 · 4:30pm - April 13 · 6:30pm CDT
Location
Nashville Children's Theatre 25 Middleton St Nashville, TN 37210
About this event
PLEASE BE OUR GUEST FOR A SPECIAL OPENING NIGHT EDUCATOR EVENT AT NCT! Tickets to the performance are free for each educator and a guest (you may reserve up to 2 tickets). Additional tickets may be purchased at the door; $25 for adults and $20 for students. NCT also offers a reception and a professional development workshop for each event that explores the themes of the show and activities that educators can take back to their classrooms. The workshop qualifies for PD credit in many districts.
For our Educators, we provide Free Childcare during the workshop!  Supervised by one of our CPR certified Teaching Artists, potty-trained kids will enjoy an unstructured, free-play environment. You can visit our sign-in table with your child for them to receive a nametag for free drop-in childcare during the workshop.
 2022-2023 NCT EDUCATOR EVENTS 
September 7, 2022 The Diary of Anne Frank
November 17, 2022 The Wizard of Oz
January 19, 2023 Llama Llama Red Pajama 
April 13, 2023 Hip Hop Cinderella
2022-23 SEASON
The Diary of Anne Frank
By Frances Goodrich and Albert Hackett
A New Version by Wendy Kesselman from her original adaptation
World Premiere
September 8, 2022 – October 2, 2022
This transcendently powerful adaption for a current generation brings new life to the story of Anne Frank, a thirteen-year-old Jewish girl who lived through the 1942 Nazi occupation of Holland. It tracks the lives of eight people hiding from the Nazis in a concealed storage attic, capturing the claustrophobic realities of their daily existence while also painting a coming-of-age story about a spirited young woman. Anne Frank's account, told through her extraordinary diary, is a compelling self-portrait of a young writer whose promising life was tragically cut short and it continues to serve as an essential part of how we remember one of the darkest periods of human history.
Accompanied by the exhibit Let Me Be Myself: The Story of Anne Frank
This guided visiting exhibit from the Anne Frank Center discusses the life and struggles of Anne Frank from her birth in Frankfort, Germany in 1929 to her death in the Bergen-Belsen Concentration Camp in 1945. It then jumps forward to the present, creating a personalized experience that has visitors learning about their own individual identities and how people continue to face discrimination and exclusion today.
Click, Clack, Boo A Tricky Treat!
based on the book by Doreen Cronin and Betsey Lewin
Adapted by Ernie Nolan
Music by David Weinstein
October 1, 2022 – October 30, 2022
Happy Halloween! Farmer Brown does not like Halloween, much to the chagrin of Duck, Pig, Cow, and Hen who want to throw a wild Halloween party complete with apple-bobbing, bottomless candy bowls, and a spook-tacular costume contest. Join the barnyard crew in this musical treat as they show Farmer Brown that sometimes a little scare can be big fun.
The Wizard of Oz
Written by L. Frank Baum
Music and lyrics by Harold Arlen & E.Y. Harburg
Book adaptation by John Kane
November 17, 2022 – December 23, 2022
Based on the famed novel and classic movie, The Wizard of Oz follows the story of lonely outsider Dorothy Gail, a young girl who is whisked away to the magical land of Oz with her dog Toto. She travels down the Yellow Brick Road and learns not only the value of having heart, brains, and courage but also the importance of friends. This timeless story reminds us that, no matter what you are searching for, there truly is no place like home.
Llama, Llama Red Pajama
Based on the books by Anne Dewdney
Book, Music, and Lyrics by Austin Zumbro
January 19, 2023 – March 10, 2023
After a long day of adventures at school, Baby Llama can't wait to put on his red pajamas and go to bed. But where's Mama Llama to tuck him in and read a bedtime story? Llama Llama Red Pajama, based on the beloved best-selling books by Anne Dewdney, hilariously tracks Baby Llama's bedtime worries and will warm every Llama and Mama Llama's heart.
Hip Hop Cinderella
Book by Scott Elmegreen
Music and Lyrics by Rona Siddiqui Story
Adapted by Linda Chichester and David Coffman
World Premiere
April 13, 2023 – May 21, 2023
Celebrating the 50th Anniversary of Hip Hop
The galaxy has lost its mojo, and it is up to Cinderella and her rapping robot companion Runka to get it back. This futuristic remake of a classic fairytale is complete with a wicked stepmother, two social media obsessed stepsisters, and a dreamy prince who is throwing a Rap Competition to turn the beat around. "Ella C" attends the rap competition but ends up leaving behind a glittering sneaker that sends the prince and her wicked stepmother on a warp-speed chase throughout the galaxy.
About the organizer
Believing the culturally curious child is the future, Nashville Children's Theatre nurtures the next generation of global citizens by providing transformational theatrical experiences which reflect our evolving community, instill profound empathy, and foster personal discovery.