The fight for zero waste is not the only area where effective advocacy requires longterm perseverance against entrenched political interests
About this event
August 10, 2021, ZWAC show will feature two women who have succeeded in their advocacy of really important things.
First, interview with attorney Cynthia Chandler, who is featured in the just-released documentary Belly of the Beast (https://www.bellyofthebeastfilm.com/) about her fight against Ca law and policy that began with Nazi-era eugenics that lead to our state prisons sterilizing women, mostly women of color, without their consent.
Second, interview with long time Berkeley activist Nancy Gorrell about how she helped catalyze the reconfiguring of a holiday celebrating Christopher Columbus to one celebrating indigenous peoples. In each case the fight was against hardened interests with political clout and the stories are inspiring. Nancy will also discuss Berkeley's landmark Styrofoam ban, her zero waste artwork, and will be this month's featured pioneer from the Recycling Archives. Both speakers will be available to answer questions. Hope you can join us. john
The agenda of the show will be:
5:00pm PT Cocktails and sharing, a NCRA tradition;
5:30pm SHARP interview with Cynthia Chandler
6 ish Reading from Recycling Archives and interview with Nancy Gorrell.
6:30ish Doug Brooms will update us on legislative activity and the governor's responses thereto followed by open forum.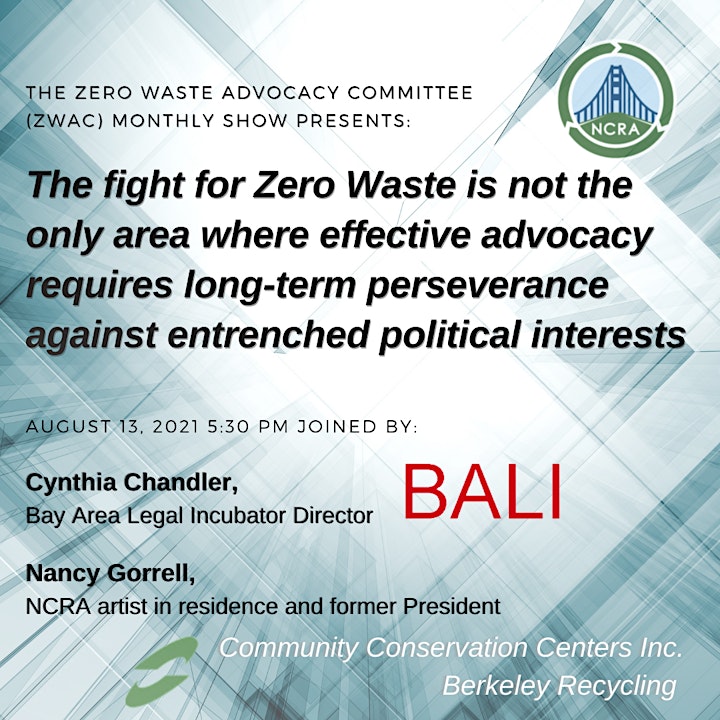 Organizer of NCRA Zero Waste Advocacy Committee Monthly Show