NCPD: Prepare/Enrich® Training Seminar: Approved Facilitator Certification...
Description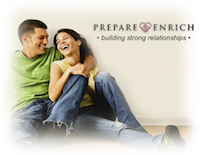 Prepare/Enrich® Training Seminar:
Facilitator Certification for Mental Health Professionals, Clergy, and Community Members working with Couples
"Give Your Couples the Right Tools to Set Them Up for Success!

Give them the Prepare/Enrich®, a powerful relationship inventory and skill-building program for new and long-term couples.

"
Training Information:
Instructor: Ryan Kennedy, PsyD, LAC, LMFT, LPC; Prepare/Enrich® Trainer

Date: Sunday, October 7, 2018
Time: 9:00 am - 6:00 pm (Check-In at 8:30 am)
Where: Noeticus Office; 190 East 9th Avenue, Suite #310; Denver CO 80203
Cost:

$175 General Fee (No other registration categories available)

Contact Hours: 7.5 Contact Hours of Continuing Education (CE); Applicable to Prepare/Enrich® Facilitator Certification
Registration: Pre-Registration is required for attendance
Size: Limited to 20 Participants; Please Register Early to Ensure Placement
Related Prepare/Enrich® Training Opportunities in 2018:
Other Training Opportunities at Noeticus:
---
Training Description:
Helping couples with their relationship is no easy task. How do you stimulate the right kind of conversation with a couple in the early part of their relationship? What types of issues should a married couple or couple in a long-term relationship focus on? Which assessment tools are the most effective? What sort of materials allow couples to get the most from their time and effort?
For over thirty years, Prepare/Enrich® has served as the perfect guide for helping couples explore and strengthen their relationships. Built on a solid research foundation, Prepare/Enrich® has been improved and refined over the years to become one of the best, most effective, easy-to-use resources available. Prepare/Enrich® is a scientifically proven program that will help you make a significant impact in the lives of all your couples.
The Prepare/Enrich® Certification Workshop is designed to help facilitators learn how to administer and provide feedback to couples in new relationships, premarital couples, and couples who have been in relationship or married for many years. The Prepare/Enrich® Curriculum draws from a set of tried and true core skills along with 20 supplemental exercises - all of which will be taught and reviewed in this one-day facilitator certification training.
Learn to help your couples identify their strengths and growth areas in categories such as Communication, Conflict Management/Resolution, Personality Traits, Spiritual Beliefs, Parenting, Financial Management, and Relationship Goals. The Prepare/Enrich® has two components: 1) Administering an online assessment that tailors the scales to each of your couples; and 2) Reviewing over 20 couple exercises that teach important relationship longevity and success skills.
With Prepare/Enrich® you give your couples a customized online assessment tool that identifies their unique strengths and growth areas. Based on these assessment results, you then provide structured feedback sessions that help your couples discuss and understand their results while you teach them the relationship skills outlined in the Couple's Workbook provided to all your clients who go through the program.
Training

Objectives

:
With Prepare/Enrich®, you don't just receive a packet of materials to figure out on your own. You'll get thorough training on the program, providing you with the skills you need to use the Prepare/Enrich® materials immediately and effectively. During this training, you'll learn how to:
Administer the online assessment

Interpret your couples' reports

Provide useful feedback to your couples

Guide the couples' exercises for one or many of your couples

Teach relationships skills

Work more effectively with all of your couples
After completing this training, you will be fully authorized to administer, score, and deliver the Prepare/Enrich® relationship inventory to your couples. You will also receive:
Your own Prepare/Enrich® Facilitator ID

An official Certification of Completion

Complimentary Online Scoring of All Your Couple Assessments

Access to all training sessions and materials for your review online
Register now and start helping your couples get the right answers to their relationship concerns by asking the right questions. Prepare/Enrich® provides those questions, along with all the other materials you need to help your couples thrive.
Training Instructor:
Ryan Kennedy, PsyD, LAC, LMFT, LPC, RN, Prepare/Enrich Trainer® is the Executive Director of Noeticus Counseling Center and Training Institute® and the Training Director for the Center for Professional Development (CPD). He has been a psychotherapist since 1993 and a counselor educator and clinical supervisor since 1996, serving as core faculty at Naropa University in the Graduate School of Psychology and as adjunct faculty at the University of Colorado Denver, Prescott College, and Front Range Community College. Ryan is a Licensed Marriage and Family Therapist (LMFT) and completed a three-year post-graduate program in couple/marriage and family therapy through the Denver Family Institute. He is an authorized facilitator of the Becoming a Love and Logic Parent® program and the Prepare/Enrich® Relationship Success Program. He has also completed extensive training in many approaches to helping couples succeed, include Emotionally Focused Therapy (EFT), Pragmatic-Experiential Therapy for Couples (PET-C), and Satir Transformational Systemic Therapy (STST).
Training Text:
Though there is no specific preparatory text for this professional training program, participants may find it helpful to read this article by Prepare/Enrich® founder and developer David H. Olson, PhD and co-author Dean M. Gorall, PhD: The text is available HERE.
More Information:
Cancellation and Refund Policy:
We hope you will be able to attend your training after you register, but we also understand that life can present many complications and challenges that are sometimes unavoidable. If you register for a training and discover later that you will be unable to attend, please take a look at our Cancellation and Refund Policy to see what your options are, then let us know what you'd like to do. Here is a link to the policy: http://www.noeticus.org/Cancel_and_Refund_Policy.html
Approved Continuing or Professional Education Provider Information:
Noeticus Counseling Center and Training Institute has been approved by the National Board for Certified Counselors (NBCC) as an Approved Continuing Education Provider (ACEP #6704). Programs that do not qualify for NBCC credit are clearly identified. Noeticus Counseling Center and Training Institute is solely responsible for all aspects of the programs.
Date and Time
Location
Noeticus Counseling Center and Training Institute
190 East 9th Avenue
Suite #310
Denver, CO 80203