NCPD: DSM-5® and the Clinical Process - 02/2018
Description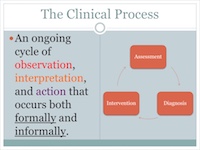 DSM-5® and the Clinical Process:
Clarifying and Refining Your Assessment, Diagnosis, and Intervention Skills
"What treatment, by whom, is most effective for this individual with that specific problem, and under which set of circumstances?" - Gordon Paul, PhD
Training Information:
Instructor: Ryan Kennedy, PsyD, LAC, LMFT, LPC, RN, ACS

Date: Wednesday, February 28 through Thursday, March 1, 2018
Time: 9:00 am - 6:00 pm All Days (Check-In at 8:30 am)
Where: Noeticus Office; 190 East 9th Avenue, Suite #310; Denver CO 80203
Cost: $250 General Fee; $200 Graduate Student Fee; $150 Noeticus Staff/Alumni
Discount: $225 Group of 3 or More Registering Together; $215 Military Personnel/Veterans
Contact Hours: 15.0 Contact Hours of Continuing Education (CE); Applicable to DBT® Certification
Registration: Pre-Registration is Required for Attendance
Size: Limited to 18 Participants; Please Register Early to Ensure Placement
Related Clinical Training Opportunities in 2018:
Other Training Opportunities at Noeticus:
---


Training Description:
Assessment, diagnosis, and intervention are a set of overlapping and integrated skills referred to as the "Clinical Process" in this dynamic training designed for new and advanced clinicians. Gaining confidence in competently applying the skills and tools required in their daily practices of gathering data, making meaning out of that data, and applying it effectively in the treatment of a variety of mental health issues and populations is a primary goal of this class. Throughout the training, participants develop an understanding of how to integrate clinical assessment tools and diagnostic processes into crafting therapeutic interventions using principles of ethical mental health practice and their own theoretical orientations.
Training participants first review the history of the DSM® and the historical contexts, cultural factors, and clinical trends associated with the publication of the DSM-5®. This is then integrated into a broader conversation about the need to locate the DSM-5® within the larger framework of the clinician's own information-gathering tools, clinical conceptualization skills, and therapeutic application capacities. Themes associated with sociocultural factors, personal identity, and life experience are focal points explored here. In addition, reinforcing the application of ethical decision-making principles and how those relate to case conceptualization and the clinical process is emphasized.
The training also reviews important dimensions of using objective assessment tools in clinical practice and provides experiential opportunities to become acquainted with the suite of assessment tools associated with the DSM-5®. These include resources for both early screening and further assessment as well as a variety of tools for children, adolescents, and adults. They also include assessments for evaluating level of disability as well as for supporting better multicultural formulations of the problems, concerns, or issues faced by today's clients. Finally, through active practice exercises and group discussion, learners come away from the training with clearer administrative skills designed to support them in often confusing and frustrating necessities of diagnostic coding and insurance billing.
NOTE: Training participants have the option of purchasing a USB flash drive with PDFs of the entire suite of assessment tools associated with the DSM-5® at an additional charge. They are downloaded and organized on the flash drive for easy identification, location, and usage.
Training Objectives:
This training is designed for graduate and post-graduate level mental health professionals who are ready to integrate the clinical process into their theoretical framework and fortify their assessment, diagnosis, and intervention skills with ample opportunities for practice, discussion, and feedback. Key learning objectives include the following:
Exploring the historical context of the DSM®
Introducing the Clinical Process framework of Assessment, Diagnosis, and Intervention
Grounding the Clinic Process within a Foundation of Professional Ethics
Reviewing the Diagnostic Categories in DSM-5®
Affirming Basic Competencies in Selecting, Administering, Scoring, Interpreting, and Delivering Assessment Results
Practicing Clinical Assessment Skills with DSM-5® Suite of Assessment Tools and Clinical Case Studies
Learning Multicultural Assessments associated with DSM-5®
Learning Diagnostic Assessments associated with DSM-5®
Applying Clinical Process to Administrative Practice Functions such as Insurance Coding and Billing
The training is designed for both novice clinicians wishing to clarify and strengthen their assessment, diagnosis, and intervention skills, as well as seasoned practitioners hoping to refine their practice, reinforce their skills, and integrate what they already know with new concepts and tools.
Training

Instructor

:
Ryan Kennedy, PsyD, LAC, LMFT, LPC, RN, ACS, is the Executive and Training Director at Noeticus Counseling Center and Training Institute. He has been a psychotherapist since 1993 and a counselor educator and clinical supervisor since 1996, serving as core faculty at Naropa University in the Graduate School of Psychology and as adjunct faculty at the University of Colorado Denver, Prescott College, and Front Range Community College. Ryan's clinical training is in the areas of trauma and dissociative disorders, chronic and persistent mental illness, psychiatric nursing and psychopharmacology, addictions and recovery, domestic/family violence, and living with life-threatening illnesses. He began his clinical training with the DSM-III-R in 1986 and has taught clinical assessment and psychopathology courses in a number of educational, clinical, and professional contexts since 1996 using the DSM-IV, DSM-IV-TR, and now since May 2013 – the DSM-5.
Training Text:
This training draws from the newly revised book, Diagnostic and Statistical Manual of Mental Disorders (5th Edition), by the American Psychiatric Association. Training participants may benefit from purchasing this book prior to the training and bringing the book with them to the training as a resource. The text is available HERE as well as many other booksellers.
More Information:
Program

: Noeticus Center for Professional Development (NCPD)

Contact: Ryan Kennedy, PsyD; Training and Education Program Director
Website:

www.noeticus.org/ncpd.html

Email: ncpd@noeticus.org
Call: 303-399-9988 x 510
Cancellation and Refund Policy:
We hope you will be able to attend your training after you register, but we also understand that life can present many complications and challenges that are sometimes unavoidable. If you register for a training and discover later that you will be unable to attend, please take a look at our Cancellation and Refund Policy to see what your options are, then let us know what you'd like to do. Here is a link to the policy: http://www.noeticus.org/Cancel_and_Refund_Policy.html
Approved Continuing or Professional Education Provider Information:
Noeticus Counseling Center and Training Institute has been approved by The Association for Addiction Professionals (NAADAC) as an Approved Education Provider (AEP, #151584). Programs that do not qualify for NAADAC credit are clearly identified. Noeticus Counseling Center and Training Institute is solely responsible for all aspects of the programs.
Noeticus Counseling Center and Training Institute has been approved by the National Board for Certified Counselors (NBCC) as an Approved Continuing Education Provider (ACEP #6704). Programs that do not qualify for NBCC credit are clearly identified. Noeticus Counseling Center and Training Institute is solely responsible for all aspects of the programs.