Description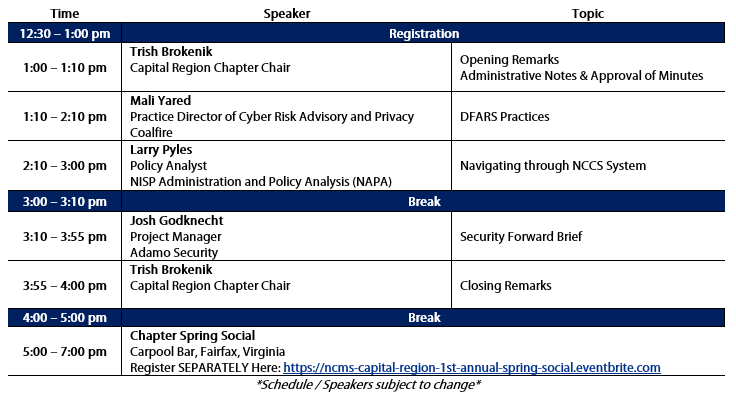 Please join the Capital Region Chapter for our first quarter 2019 Quarterly Meeting. We will be meeting at OmniPlex's facility in Chantilly, VA on Thursday, March 28, 2019 at 1PM. Registration, via Eventbrite, is accessible now. We encourage both members and non-members to attend. The meeting is free for NCMS members and there is a $25 registration fee for non-members.
Please register via Eventbrite by 12:00 pm on Tuesday, March 26, 2019. Your registration notification will automatically come to us. Each attendee is required to register through Eventbrite.
Payment must be received PRIOR to 12:00 pm on March 26, 2019.
Cancellation policy: To receive a full refund, you must notify Laurie Hendren no later than 12:00 pm on March 26, 2019. No refunds are available for cancellations made after noon on this this date. Should you have questions regarding payment, please contact: Laurie Hendren, NCMS Capital Region Treasurer, via email – laurie.a.hendren.civ@mail.mil – or via telephone – 571.256.8910.
Attendance certificates will be emailed within 14 working days to those that meet NCMS attendance requirements.