NCMC's First Annual Fundraiser: CELEBRATING SPIRIT & CULTURE
Sales Have Ended
Registrations are closed
We're sorry you missed the event! Please stay in touch with us through any of the links provided here: https://linktr.ee/NCMC.
Sales Have Ended
Registrations are closed
We're sorry you missed the event! Please stay in touch with us through any of the links provided here: https://linktr.ee/NCMC.
Your ticket purchase will help NCMC raise funds for our planned multi-purpose Learning & Community Room, a space to connect, learn, inspire.
About this Event
Join us for a live-emceed virtual fundraiser with exclusive video presentations and performances — a unique, at home experience for a meaningful cause!
We welcome you to become a Corporate Sponsor, Individual Benefactor, or General Admission Donor at an inclusive range of $5 to $600. Please scroll down for donor levels. For details on our background and $5,000 goal see About Our 2020 Fundraiser.
This event is appropriate for viewers aged 18 and older (12+ with parental guidance).
GROUP VIEWING (Get details on how to donate and watch on ZOOM with your Group — such as Online Communities, Co-Workers, Organizations, Neighborhood Groups, Families, Friends, Sanghas, Soul Groups)
PROGRAM
Emcee Ihsaan R. Muhammad
BLOCK 1 — 1:00 to 1:50 EST
— Welcome —
The Story of NCMC | Marcie Barth
A Virtual Tour of NCMC | Ihsaan R. Muhammad
On Spiritual Culture | Ib'nallah S. Kazi
The Four Wheels of Success — Dharma Talk | Ven. Kaboggoza Buddharakkhita
The Success of NCMC | Andrew Coombs
• Break (Content available for viewing and listening.)
• Silent Meditation 1
BLOCK 2 — 2:00 to 2:50 EST
Helpless — Spoken Word | Mesha Allen
Qigong, Harmonizing Breath with Movement | Shaka Georges
Simple Daily Breath Practices | Kamilah Crawley
Belonging — A Discussion | Cornelia Santschi & J. Javier Cruz
• Break (Content available for viewing and listening.)
• Silent Meditation 2
BLOCK 3 — 3:00 to 3:50 EST
African Art & Empowerment | Akua Ishangi
Cultivating Clarity — Dharma Talk | Rebecca Li
5 Minutes of Covid 19 Fame | Raul "Gorras" Moris
Kirtan Harmonium Performance | Andrea Lee
• Break (Content available for viewing and listening.)
• Silent Meditation 3
BLOCK 4 — 4:00 to 4:50 EST
Have You Ever Seen the Sun Rise? | Kathy Hampton
Qigong for Health & Vitality | Mfundishi Khalil Maasi
Walking with the Lenape | Keyana Jones
Jazz Performance of Obatala | Richard Ford
— Conclusion —
The Importance of NCMC's Work & Words of Gratitude | Ib'nallah S. Kazi
• Silent Meditation 4
END 5:00 EST
(Please scroll down for Presenter Bios.)
__________________________________________
SPONSOR & TICKET LEVELS
SPONSOR DONORS
(For Corporations and Organizations)
Includes:
• Your corporate logo will appear on our promotions for the fundraiser.
• 1 Event Ticket
• Workshop: Diamond, Ruby, and Sapphire Sponsors can receive one of three tiers of NCMC Meditation/Mindfulness Workshops for your organization such as: Basic Mindfulness & Meditation, Mindfulness Based Stress Reduction, Stress-Resilience/Meditation Medicine, Wellness Coaching, Women's Programs, BIPOC Affinity Sessions, Deep Ecology Wellness, Mindfulness in Daily Living, Developing Happiness at Work, Yoga-Meditation, Qigong, Tai-chi, Lectures, Children's/Family Workshops, and more. Limited Spanish language sessions also available. (Scheduling may require 1-3 months advance notice, redeemable through October 31, 2021.)
$600+ Diamond Divine = 3-Part Workshop (3 one-hour sessions) or NCMC's new Mind, Brain & Meditation Workshop Video Series
$500-$599 Ruby Royal = 2-Part Workshop (2 one-hour sessions)
$400-$499 Sapphire Spirited = 1 Hour Workshop
$300-$399 Emerald Evolved = Half-Hour Basic Meditation Mini-Workshop
••••••••••••••••••
INDIVIDUAL BENEFACTORS
Includes:
• 1 Event Ticket
• Workshop (as listed above under Sponsor Donors) but for use by individual or an informal group or family. Or instead, you can choose the top General Admission gift (11"x14" Dear Newark art print see below).
$600+ Diamond Divine = 3-Part Workshop (3 one-hour sessions) or NCMC's new Mind, Brain & Meditation Workshop Video Series
$500-$599 Ruby Royal = 2-Part Workshop (2 one-hour sessions)
$400-$499 Sapphire Spirited = 1 Hour Workshop
$300-$399 Emerald Evolved = Half-Hour Basic Meditation Mini-Workshop
••••••••••••••••••
GENERAL ADMISSION DONORS
$200-$299 (includes an 11"x14" art print "Dear Newark" by Newark Photographer Tanisha Best)
$150-$199 (includes digital book Sowing Seeds of Peace: Mindfulness Meditation for Finding Peace Within by Ven. Buddharakkhita)
$100-$149 (includes digital album Basso Profondissimo by Jazz Composer Richard Ford)
$75-$99 (includes NCMC Newark in Yin & Yang 11 oz. ceramic white mug)
$50-$74 (includes one pouch of therapeutic blended tea from Tru Intentions Tea, a product of Tru Intentions Therapy, East Orange, NJ)
$5-$49 (admission only)
••••••••••••••••••
Gifts based on donation levels pictured left to right below:
Art Print ($200+), Meditation E-Book ($150+), Digital Music Album ($100+), NCMC Ceramic Mug ($75+), Therapeutic Tea ($50+).

••••••••••••••••••
Want to make a purchase that also supports our fundraising?
Go to the NCMC Spirit Culture Shop for our Community Awareness Wear (pictured below)!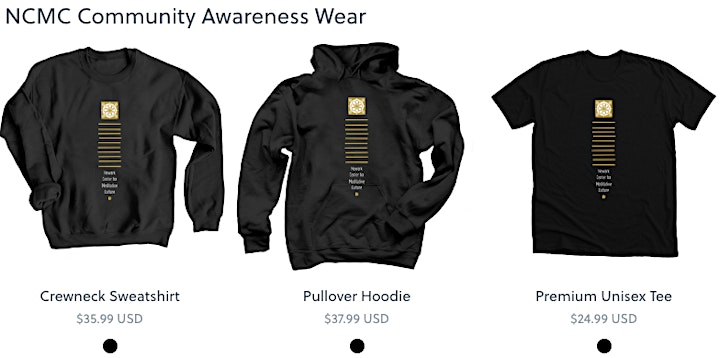 __________________________________________
PRESENTER BIOS
SPECIAL GUEST APPEARANCES

Akua Ishangi is a cultural preservationist, educator, and entrepreneur. She toured extensively with the Ishangi African Dancers as one of its' primary dancers/musicians, using the stage as classroom — teaching African folklore, multiculturalism, and tolerance. The Ishangi Dancers traveled extensively in Africa, the Caribbean, North and South America, receiving international acclaim for their artistry and professionalism. Iya Akua's Motto: Knowledge of culture and tradition give us identity and direction. Akua Ishangi shares her passion as a BAM DanceAfrica New York arts educator through the Council of Elders for African Cultural Heritage, Inc., facilitating youth/adult workshops that inform and motivate. See the Ishangi site for more information.
Richard Ford is a composer and bass player, living in Los Angeles. After years of moulding other people's compositions as music editor and music producer for movies, he is now focused on creating his own music. He started his musical career as a bass player in his home town of London and later in New York City, working with, amongst others, singer/songwriter Joe Jackson. Since settling in California, Richard has won an Emmy for music editing. He is best known for his work on Hidden Figures, Argo, The Descendants, Sideways, Training Day and American History X. In 2019 he released his first solo EP Basso Profondissimo.
FEATURED TEACHERS

Ven. Kabogozza Buddharakkhita was born and raised in Uganda, Africa. He first encountered Buddhism in 1990 while living in India, and began practicing meditation in 1993. He was ordained as a Buddhist monk by the late Venerable U Silananda in 2002 at the Tathagata Meditation Center in California and then he spent eight years under the guidance of Bhante Gunaratana at the Bhavana Society. He is the founder of the Uganda Buddhist Centre. He is on the council of advisers to Buddhist Global Relief. Venerable (Bhante) has been teaching meditation internationally since 2005. (Visiting Teacher with NCMC.)
Shaka Georges began his martial arts practice at the age of 9 years old. He immigrated to the U.S. from Haiti in 1975, and ever since has studied various forms of martial arts since then. He is a Tibetan Buddhist practitioner from the Mahamudra Lineage and has been meditating for over 10 years. Shaka is a certified tai chi and qi gong teacher practicing in Montclair and Harrison NJ (see his page Discovering The Healer Within) and is a mathematics high school teacher in West Orange.(Visiting Teacher with NCMC.)
Dr Rebecca Li is a Dharma heir in the Dharma Drum lineage of Chan Master Sheng Yen, started practicing meditation in 1995. She began her teacher's training with him in 1999 to become a Dharma and meditation instructor. Currently, she leads Chan retreats, teaches meditation and Dharma classes, and gives public lectures in North America and the U.K. She is the founder and guiding teacher of Chan Dharma Community and a sociology professor at The College of New Jersey, where she also serves as faculty director of the Alan Dawley Center for the Study of Social Justice. (Visiting Teacher with NCMC.)
Mfundishi Khalil Maasi is the son and a senior student of legendary meditation and martial arts Grandmaster Shaha Mfundishi Maasi. He now teaches his father's system of mindfulness and internal martial science, Moyo Kazi AKA Dikitisa Ngolo, an integrated system of Qigong and Mindfulness Meditation that he developed from over 50 years of study of various internal martial traditions. You can go to their blog Awakened Warrior for more information about the practice.(Visiting Teacher with NCMC.)
GUEST APPEARANCES

Mesha Allen is currently serving in her AmeriCorps fellowship at a health center in NYC. She graduated from Ramapo College of New Jersey (Mahwah, NJ) with a Bachelor of Arts (B.A.) in Contemporary Arts in Jan. 2018, where she took courses in Music Studies, Health & Wellness, and participated in extracurricular activities focused on Human Rights/Social Justice Issues. Mesha is a resident of Newark, NJ and aspires to gain her Master's degree in Healthcare Leadership so she can help heal and enhance the well-being of under-served communities, especially those living with chronic pain and invisible illnesses.
Kamilah Crawley (MPH, CHES), began her meditation practice in 2014 as result of seeking healing and peace in her own life. She merges her professional knowledge in public health, her personal mindfulness practice, and passion for cultural healing. After several years of working in Public Health, in 2019 Kamilah founded The Mindful Woman, LLC that focuses on educating individuals about how mindfulness practices can help reduce stress, cultivate daily self-care, and restore an authentic sense of self. Born and raised in Newark NJ, she now splits her time between there and Memphis TN.
Raúl "Gorras" Moris was born and raised in the Bronx, but has lived in Puerto Rico for 25 years and has traveled the world as a Life Artist. He is a graphic design professor, social worker, yogi, and multi-media performance artist and producer. Raul is considered the first Cannabis Chef of Puerto Rico and is founder/producer of the Cannabis Cooking Channel and a Medicinal Marijuana organization. He is a published author with five books to his credit including Caminando Entre Los Muertos, Golgotha Lugar de Calavera, and the recent La Alquimia del Sofrito Cannabico. Raul also works with community and government-based organizations to stimulate sensibilities of people amongst the Nations. Su sitio en español.
NCMC PRESENTERS
Ib'nallah S. Kazi is a New York-based spiritual wilderness guide, born in Panama and raised in New York. He graduated from Adelphi University, in 1981 with a BA in Psychology. Following careers in human services, public education and public health in the New York City area, he then placed an emphasis on wellness and spiritual cultivation through his own program, presently known as Our Shaman Song. As a spiritual wilderness guide, Kazi gently awakens the inner guidance of wellness seekers through the process of integrating the medicinal forces inherent in our Heavenly (spiritual), Human (social) and Earthly (natural) environments. (NCMC Spiritual Director; Founding Board Member; Meditation Medicine Teacher)
Marcie Barth began her inquiry into meditation in 1998 through tai-chi and qi-gong. In 2001 she began a committed practice of tranquility-insight (samatha-vipassana) meditation and the study of Buddhist theory. This then led her to engage in activism and social justice, serving for years as a board member of Buddhist Global Relief and as a mentor in a correspondence course for prisoners. She works remotely from Puerto Rico where she has resided since 2017. Prior to that she lived in New Jersey and was partner in Barth and Co. a graphic design company. (NCMC Co-founder; Chairperson)
Cornelia Santschi, PhD is a graduate of the Community Dharma Leader Program through Spirit Rock and Insight Meditation Society and is now an insight meditation teacher. She has been a vipassana (insight) meditator and dedicated student of Buddhist psychology for over 15 years. She is the director of Neuropsychology at the Institute for Neurology and Neurosurgery in NJ, founder/director of Anatta World Health & Education Outreach, and Vice President of Alegria Dharma Center in Playa Buenavista, Costa Rica. (NCMC Co-founder; Lead Insight Meditation Teacher; MBSR Coordinator)
Andrea Lee is a Preschool Assistant Teacher at Montclair Cooperative School in her hometown of Montclair, NJ. She is an intern organic farmer at Rabbit Hole Farm in Newark where she resides. She is a senior disciple of Reverend Jaganath Carrera, Spiritual Head and Founder of Yoga Life Society. She completed seminary training and was ordained a Yoga Life Minister. She is a certified Yoga instructor and performs Kirtan with Mirabai Catherine Moon. (NCMC Acting Treasurer; Mindfulness and Meditation Instructor)
Kathy Hampton began her journey of self-awareness and wellness in 2005 when she began her study in massage therapy at the former Health Choices Holistic School of Massage in Therapy, studying varied modalities of massage, meditation and somatic studies. Soon after her studies in 2007, Kathy began blogging about wellness. She then created the business Wellside Retreats, a transformation destination and virtual retreat and life coaching service in 2019. Kathy is a law librarian, community activist and advocate for mental health awareness. Currently she is completing 200 hours of Yoga Instructor Training, studying Buddhism and the practice of meditation. (NCMC Secretary; Wellness Instructor)
Ihsaan R. Muhammad graduated from Rutgers Law School and has been until recently a practicing lawyer. Still retaining his law certification, he is now a branding and marketing communications consultant at his own company IHSAAN Designs. Born and raised in Newark, he leads drum circles there and in the surrounding area. He is also active in a local yogic community. (NCMC Founding Board Member; Webmaster)
J. Javier Cruz was born and raised in Puerto Rico, but has lived in the Greater Newark area for decades and resides in Harrison, NJ. Consequently, he is fluent in spanish and english. He works full-time as a stationary engineer at a Newark plant. He was introduced to meditation early in his 12-step recovery program with over 20 years in recovery. Javier is a Buddhist practitioner with residential retreat experience, currently enrolled in the Mindfulness Meditation Teacher Certificate Program with Jack Kornfield and Tara Brach. He has had a committed meditation practice for over 10 years and teaches meditation weekly. (NCMC Board Member; Insight Meditation Teacher; Security Manager)
Keyana Jones has a Bachelor's Degree in Psychology from Montclair State University and a Masters in Corporate & Organizational Communication from Fairleigh Dickinson University. She is currently a NJ state employee by day, but considers herself to be a superhero by night, since it is her extracurricular activities that fuel her spirit. She began leading group hikes in April 2015 and soon after launched her brainchild: HIKEOLUTION, a company geared towards bringing a lifestyle of hiking into practice for all. She is a board member of the Sisters Helping Sisters in Christ (SHSIC) Ministry and Carolyn Dorfman Dance. (NCMC Board Member; Mindful Hike Leader; Grant Coordinator)
Andrew Coombs started his CPA firm, Coombs CPA, PC, in Newark, NJ in 2017, where he has since more than quadrupled his revenue and clients. His firm provides forensic accounting, complex taxation issues, trust and estates, and accounting/financial services. Andrew started his career at Deloitte and worked at other companies before starting his firm. He completed his undergrad in accounting at Loyola University Chicago where he also walked on and played Division I basketball. He passed his CPA and received a Master's Degree in Taxation from Bentley University. He also volunteers in the community, especially through providing mentoring opportunities to community youths and creating seminars to teach people financial literacy. (NCMC Board Member; Chair of the Finance Committee)
__________________________________________
A donation-based program of Newark Center for Meditative Culture.
Newark Center for Meditative Culture (NCMC) is a New Jersey 501(c)(3) non-profit organization. Your tax deductible donations make it possible for us to continue delivering life-changing programs to the Greater Newark community.
Want to help a little more? Share our flyer (just below) with like-minded people!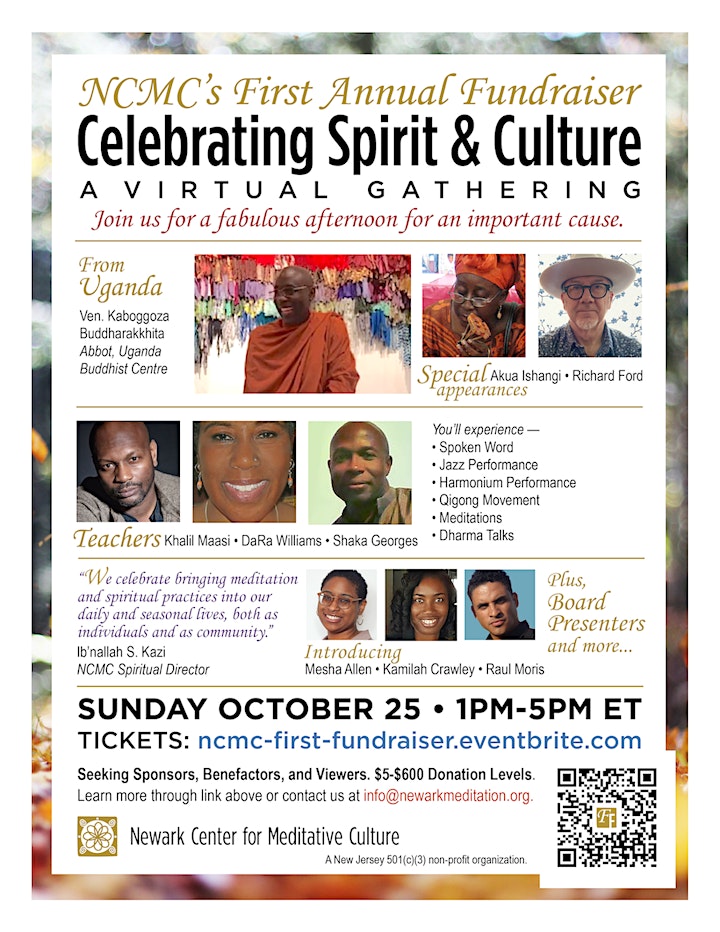 Newark Center for Meditative Culture (NCMC) is a New Jersey 501(c)(3) non-profit organization. Your tax deductible donations make it possible for us to continue delivering life-changing programs to the Greater Newark community.