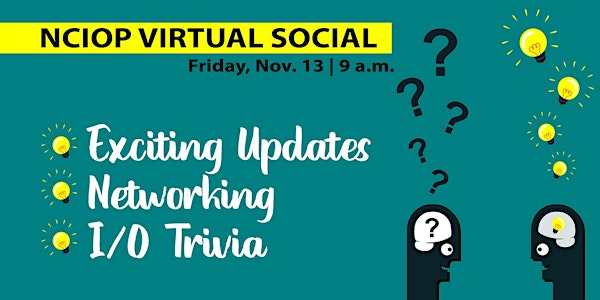 NCIOP Fall Social
Join our first Virtual Social!
About this event
Times are changing, and so are we. This year, covid-19 required employees and organizations to rethink their day-to-day operations. The amount of time spent in meetings (and "at work" in general) has increased, especially for those of us working from home. At the same time, social distancing has made it more difficult for professionals to connect with and support one another.
In the spirit of innovation, adaptation, and support, we hope that you'll join us for NCIOP's first Virtual Social! We don't want to add another lecture or strategy session to your calendar. As a professional network, we want to address the current needs of our members - even if that means deviating from old patterns and experimenting with something new.
Although we are not charging admission, we ask that members RSVP so that we can create balanced break-out groups and distribute links as necessary.
We look forward to seeing you!
----------
What to Expect
Updates (9:00AM - 9:15AM)
*Learn about the "new" NCIOP and future directions for the organization
*Discover new ways to get involved with our members from across NC
*Meet incoming members of the Executive Board
Networking (9:15AM - 9:30AM)
Attendees will be randomly assigned to breakout groups AKA "teams"
*Connect with practitioners, academics, and rising grad students from across NC
Trivia (9:30AM - 10:30AM)
*Work with your team to answer trivia questions about I/O
*Test your own knowledge of I/O research, practice, and media presence
*Compete against other teams for prizes, including NCIOP merchandise!