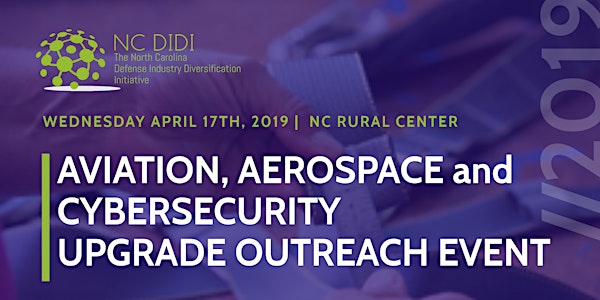 NCDIDI AVIATION, AEROSPACE & CYBERSECURITY UPGRADE OUTREACH EVENT
Event Information
Location
NC Rural Center
4021 Carya Drive
Raleigh, NC 27610
Description
The North Carolina Defense Industry Diversification Initiative (NC DIDI) invites you to our first recruitment of 2019. Through the continued support of the United States Department of Defense Office of Economic Adjustment NC DIDI is expanding their commercialization program. NC DIDI's newest program is called UPGRADE, The Universal Production Growth and Diversificaiton Extension. NC DIDI will be adding 20 companies to their commercialization program that are withing the Aerospace and Aviation Defense Supply Chain.
NC DIDI will be sharing the findings of North Carolina First Defense Cluster Analysis as well as reviewing the states 6 Regional Profiles. NC DIDI will also be sharing informaiton on their forthcoming DoD Cybersecurity Initiative. NC's companies need to be prepared for the DoD's new cybersecurity requirments. NC DIDI can insist your company in better understanding and meeting those new compliance standards.
There will be industry stakeholders on hand as well as past program partcipants. Come here their success stories.
This event is Free and Open to the public, however registration is higly recommended.
The NC DIDI is a partnership of NC State Industry Expansion Solutions and the North Carolina Department of Military and Veterans Affairs. The goal is to understand and support, respond to the needs of North Carolina's defense businesses at the state level.
Date and time
Location
NC Rural Center
4021 Carya Drive
Raleigh, NC 27610