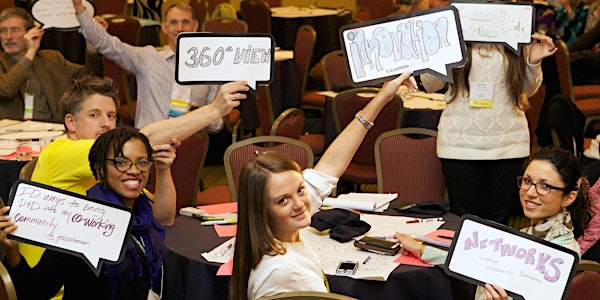 NCDD 2016 - Boston Metro Area
When and where
Location
Framingham 1657 Worcester Road Framingham, MA 01701
Description
NCDD conferences bring together hundreds of the most active, thoughtful, and influential people involved in public engagement and group process work across the U.S. and Canada.
Register today for the National Coalition for Dialogue & Deliberation's 2016 national conference! "NCDD 2016: Bridging Our Divides" is taking place this October 14-16 in the Boston Metro Area at the Sheraton Framingham Hotel & Conference Center in Framingham, MA.
Registration is $450. NCDD members whose dues are in good standing pay $400. And our student rate is $250.
Our theme for the 2016 conference is Bridging Our Divides. NCDD 2016 is taking place a month before the U.S. Presidential election, and in light of the extreme rhetoric and partisan rancor in this election cycle, we want to lift up our attendees' stories about healing the partisan divide and about creating and implementing strategies that will help us move forward together in addressing our shared problems.
Dialogue and deliberation are innovative processes that help people come together across differences to tackle our most challenging problems. In this time of extreme political partisanship, global-scale problems, and increased conflict between religious and ethnic groups, it's more important than ever to support, connect, and empower the leaders and future leaders in dialogue and deliberation -- and that's what NCDD 2016 is all about.
Our events bring together practitioners, scholars, public leaders, trainers, artists, activists and students from across this critically important field. Over 2,800 people, from dozens of countries, have attended our biennial national and regional events, and we're expecting at least 400 again this year!
Learn much more about the conference at www.ncdd.org/ncdd2016 -- and check out our FAQs page for answers to your most common questions (about sponsorship, schedule, group rate at the hotel, and more). Also feel free to contact conference manager Courtney Breese at courtney@ncdd.org or NCDD director Sandy Heierbacher at sandy@ncdd.org if you have any questions. We look forward to seeing you in October!
---
Cancellation policy: If you need to cancel your registration, please notify NCDD Office Manager Joy Garman via email (joy@ncdd.org) before October 1st. Your registration fee will be refunded, less a 15% processing fee plus any Eventbrite or PayPal fees incurred. No refunds will be issued for cancellations made after October 1st, though substitutions can be made at any time. Refunds will be processed after the conference has been held.