Description
The Cannabis Advisory Board and Cannabis Control Commission have begun the process of drafting the regulations that will define cannabis industry and opportunity for the cities, towns, and people of Massachusetts. We, as responsible business owners, citizens and neighbors, are the voice of the community. Our collective knowledge and insight are invaluable tools as our government works to create an industry that is both a model for the Northeast and reflects the values and potential that lies here in our home state.
Join our multidisciplinary group of experts as we create comprehensive policy recommendations that will ensure a robust and safe market that allows businesses committed to enriching our communities and providing real opportunity within our state to grow and prosper. Innovation, technology, and creating an environment in which a wide variety of ancillary businesses can thrive are also key priorities.
Drafting the official NCC Massachusetts Cannabis Policy Report & Recommendations will begin with the NCC Policy Summit & Regulatory Roundtable on November 29th from 10am - 4pm at the Newton Crowne Plaza. At this day-long forum, we will hear testimony from NCC members and participants on each policy issue, and distill our group discussions into final recommendations for the Cannabis Control Commission. NCC's final report will be issued to the CCC on December 5th, the start of the agency's formal drafting process.
There is one opportunity to organize and fight for the type of industry the people and businesses of Massachusetts deserve. Help us make that a reality by joining us in this endeavor. Lend your thoughts and expertise and shape history by providing the type of guidance that will lead to a uniquely special and prosperous Massachusetts cannabis industry.
We will be addressing and preparing recommendations on the following topics. If there is an issue that has not been identified below, please contact us at board@necoalition.com to discuss possible inclusion. #letsbuildit
Access to Banking and Financing

Cultivation and Cooperative Regulations

Social Consumption Regulations

Small Business Licenses and Incentives

Marketing and Advertising Rules

Patient Protections

Municipal Guidance

Local Control

Residency Requirements

Ensuring Access and Participation (for previously incarcerated, minorities, women, veterans)

Research and Development Guidelines

Medical to Adult-Use Conversion

Laboratory Testing Standards and Requirements

Packaging Requirements

Professional Protections (licensure)

Retail Dispensary Rules & Regulations

Processing Rules & Regulations

Delivery Rules & Regulations

Wholesale and Distribution Regulations

Security and Safety Requirements

Small Business Support

Community Investment and Enrichment

Correcting the Harms of Prohibition
How to participate in the NCC Policy Summit & Regulatory Roundtable and NCC's Massachusetts Cannabis Policy Report and Recommendations:
NCC members are invited to attend, present oral and written testimony, participate in discussion groups, and sign as drafters of the final report. NCC Membership is $100 a month and link to the membership subscription is here: https://www.paypal.com/cgi-bin/webscr?cmd=_s-xclick&hosted_button_id=VXRQNRNRF3Z9L
If you are not yet a member of NCC but would like to present testimony, participate in discussions, and sign as a drafter of the final report, please purchase a $200 ticket to attend the Summit & Roundtable, This ticket will also allow you to submit written testimony/recommendations for consideration.
If you plan to have additional members of your organization attend, please email board@necoalition.com after reserving your membership ticker or purchasing the lead ticket, and we will provide a link to +1 tickets; $50 each for members, $60 for non-members.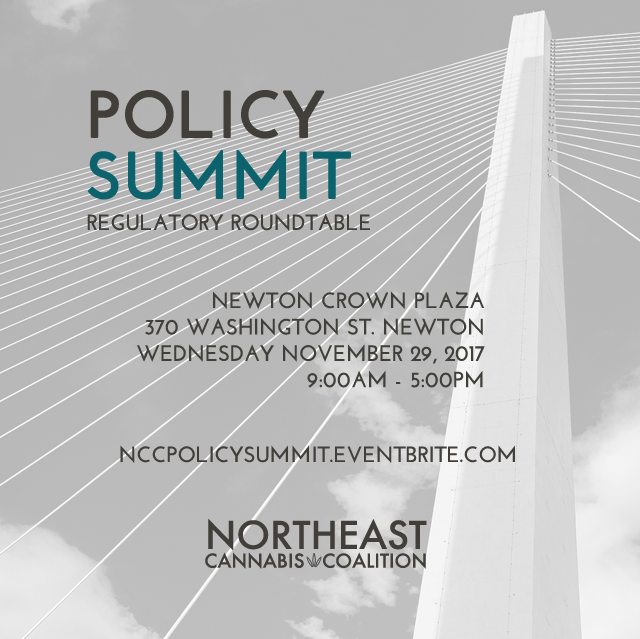 About Northeast Cannabis Coalition (NCC)
The future of the regulated cannabis industry starts here in the northeast. NCC is a non-profit trade group that represents the interests of marijuana related businesses and professionals in the northeast corridor of the United States. From NYC to Boston, the cannabis industry needs a voice to communicate with local, state and national stakeholders. The Northeast Cannabis Coalition strives to be that voice by encouraging new ideas within the cannabis community and creating a dialogue with established businesses as well as investment centers to bring more opportunities into the community at large. http://www.necoalition.com/
About Cannabis (Marijuana)
Cannabis is well known as a beneficial drug for cancer treatment, psychological and physical disorders and muscular ailments. Over the last decade, cannabis' myriad medical uses have slowly lead to a broader acceptance of adult consumption for wellness and recreation. In the last few years, reform has swept the nation with the promise of more to come. This expansion presents unprecedented economic opportunity for innovators looking to make a splash in these uncharted waters. The Northeast Cannabis Coalition is a non-profit trade association dedicated to ensuring that the northeast corridor of the United States implements legalization in a manner that supports our local entrepreneurs and innovators while providing economic stability and safety for our communities.

Parking Options at Crown Plaza Hotel in Newton
This event takes place in Newton where parking on the street can be challenging. Below is a link to Parkopedia for the time of the event in order to give the best possible data on where to park and the cost of parking. If you're open to carpooling to the event please reach out to board@necoalition.com and we will try and link you with another attendee going.
https://en.parkopedia.com/parking/locations/crowne_plaza_boston_-_newton_washington_street_newton_ma_united_states_drt2ung34g6/?arriving=201711020900&leaving=201711021600
Instagram / Twitter / Facebook Tips
One of the best ways to share our events is to use common hashtags when tweeting, facebooking, or instagramming about the event. Don't forget to take photos and share them with everyone using the hashtags below. #CannabisPolicySummit #CannabisPolicySummit2017 #ThisIsCannabis

This is a Non-Consumption Event...
No cannabis will be permitted during this professional event. No viewing, exchanging, selling, or using cannabis is permitted at this event. Bring your business card or a way for individuals who attend to get back in touch with you so the connections last.

Email List Disclaimer
If you RSVP for an NCC event we add you to our mailing list announcing future events and promotions from our organization. By attending a NCC event you give us permission to add your email contact information to our mailing list for future contact. For any questions related to our mailing list policy and user privacy please email board@necoalition.com.
Legal Disclaimer
Views or opinions expressed by speakers or sponsors at our local Northeast Cannabis Coalition community events do not necessarily express the opinion or views of the Northeast Cannabis Coalition organization and we do not take responsibility for the views expressed or the actions of speakers or sponsors at our local events. The Northeast Cannabis Coalition does not distribute cannabis.
The Cannabis Industry's Voice in the Northeast
The northeast while progressive follows the beat of a different drum. NCC is a trade group that represents the sensibilities of the northeast United States and the fast paced life we lead.