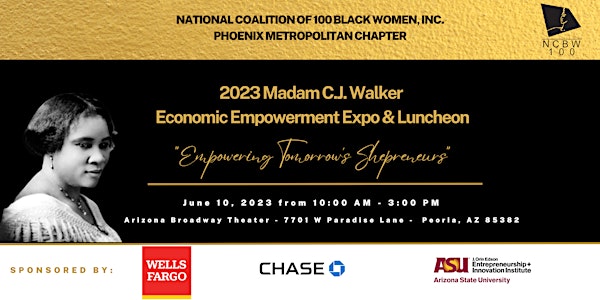 NCBW100 Phoenix: 2023 Madam C.J. Walker Economic Empowerment Expo/ Luncheon
Paying homage to the life and legacy of Madam CJ Walker, the 2023 Economic Empowerment Expo/Luncheon celebrates Black women-owned businesses
By NCBW100 Phoenix Metropolitan Chapter
Date and time
Saturday, June 10 · 10am - 3pm MST
Location
Arizona Broadway Theatre 7701 West Paradise Lane Peoria, AZ 85382
Refund Policy
Contact the organizer to request a refund.
Eventbrite's fee is nonrefundable.
About this event
Theme: "Empowering Tomorrow's Shepreneurs"
The National Coalition of 100 Black Women, Inc. Phoenix Metropolitan Chapter is proud to announce the 2023 Economic Empowerment Expo and Luncheon named in honor of the life and legacy of the first self-made millionairess, Madam C.J. Walker. The theme of this year's Expo is "Empowering Tomorrow's Shepreneurs."
Paying homage to the life and legacy of Madam C.J. Walker, the 2023 Economic Empowerment Expo celebrates Black women-owned businesses and offers mini empowerment sessions designed to:
Engage, network, educate, and harness the collective power of Black women entrepreneurs.
Provide tools for building generational wealth through entrepreneurship, home ownership and investment planning.
Whether you want to buy a home, start or sustain your business, or learn to invest wisely, you'll have the opportunity to learn directly from industry experts.
The Economic Empowerment Expo will include:
Mini empowerment sessions featuring leaders from partnering companies addressing key areas of expertise that affect a diverse segment of women such as home ownership, financial planning and investing, pay equity, livable wage employment, and Black women business growth.
Luncheon and awards program to honor our sponsors, community partners, trailblazer award recipient, and shepreneurs ages 5-17
Business Expo to network and visit exhibitor tables of local businesses, community partners and sponsors
Special Awards Program:
For the first time, NCBW 100 Phoenix is also celebrating the future generation of Black women entrepreneurs, by highlighting Black girl entrepreneurs under the age of 18, who have participated in our Youth Entrepreneur Series (YES) program and Pitch Perfect Pitch contest. The intent is to celebrate the accomplishments of these young Black girls as they are the next generation of Black entrepreneurs to pave the way for others, and to follow the legacy of Madam C.J. Walker "to provide employment to hundreds of women of [our] race." The timely Expo falls on the heels of Black Women's History Month (April) and three months shy of Black Women's Equal Pay Day (September 21).
This fundraising event is dedicated to honoring community leaders in entrepreneurship that contribute to building wealth and economic equity for our communities, which is part of the mission of NCBW and our commitment to advocacy on behalf of Black women and girls. Funds raised from this event are used to offer community programming and resources for the upcoming program year.
Title, Strategic, Platinum, Gold and Silver sponsorships, as well as advertising and vendor table opportunities are available. Benefits of sponsorship could include playing a company video during the Luncheon, displaying a company banner or logo, tickets to the Expo and Luncheon, opportunity to present at a mini-empowerment session, and a full page ad in the 2023 program booklet.
Please contact Co-Chairs Micha Harris/Tyisha Gillette at mcjwphoenix@gmail.com for additional information and package options or visit our Madam C.J. Walker Events Page
Guest Speaker
Honorable Vice Mayor Denette Dunn
City of Peoria, Pine District
Vice Mayor Denette Dunn currently serves as the Vice Mayor for the City of Peoria where she has served as council member since April of 2019. In addition to her role as council member she currently serves as Chair to the city's Boards and Commissions Subcommittee. She has an extensive background in the private sector as well, where she served as Marketing and Government Relations Director at Dixon sweeping. She also managed the entire southwest area for Republic Services for over 5 years, which involved managing $85 million in municipal contracts. In her role with Republic Services she was a registered lobbyist and worked to pass legislation and establish law for equitable partnerships between private entities and municipalities. She served as the President of the Arizona Recycling Coalition and also served as Board Member on WESTMARC – the Western Maricopa Coalition which addresses important issues facing the west valley.
The Honorable Dr. Coral J. Evans, MBA
Former Flagstaff, AZ, Mayor
Topic: "Bridging the Gap of Pay Equity Through Entrepreneurship"
Dr. Coral Evans is a social entrepreneur passionate about public policy that creates opportunities for civic engagement, civil discourse, community revitalization, and advancement.
Her family (the Dorsey's) has been in Arizona for six generations and has been an active part of the Flagstaff and greater Northern Arizona community since the early 1900s.
As a small business owner, author, and social-profit executive, she has over 25 years of experience in community redevelopment, investment, and business.
Dr. Evans has a Ph.D. in Sustainability Education (area of focus; Statesmanship), a master's degree in Business Administration, and a master's level certificate in Public Management. She is a Hunt-Kean Leadership Fellow, a Babson College Social Innovation Fellow, a Flinn-Brown Foundation Center for Civic Leadership Fellow, and the co-producer of the award-nominated "Lived Black Experience Community Dialogues" Podcast Series.
Dr. Evans was named one of the 48 Most Intriguing Women of Arizona for 2022 by 48 Arizona Women and the Arizona Historical Society. As Mayor, she was recognized by the Arizona Business Magazine as one of Arizona's "Most Influential Women in Business." Other recognitions include The Arizona Community Action Association's Margie Frost Champion Against Poverty Award, the Coconino Hispanic Advisory Council Cesar E Chavez Community Award, and the Greater Flagstaff Chamber of Commerce Athena Award.
Keynote Speaker and Trailblazer Award Recipient
Teniqua Broughton
Founder & CEO, VerveSimone
Executive Director, State of Black Arizona
Topic: "The Soul of Pay Equity for Black Women"
Teniqua Broughton is a curator of community connection. As Executive Director of the State of Black Arizona, Teniqua advances the organization's mission of using actionable data to motivate our community, unite new partnerships and relationships, and create solutions. The evolution and paradigm shift of producing data-driven reports to raise awareness and incite action with accountability has been displayed throughout her tenure.
Her proven efficacy in educating communities and growing civic leaders is evident in her involvement in the expansion of the African American Leadership Institute.
A 2022 "Titan of Industry", Teniqua has received numerous awards for her contributions: ASU 2021 MLK Community Servant-Leader Award, Phoenix Business Journal's Most Admired Leader, and 2020 Governor's Arts Award Individual Nomination.
Teniqua has a master's in educational administration and supervision, a bachelor's in interdisciplinary studies in educational psychology-emphasis on theater for youth, and garners certificates as a certified nonprofit accounting professional (CNAP), nonprofit leadership and management, and equity and inclusion.
LaSetta Hogans, MSW, GCDF
Workforce Administrator
Phoenix Business and Workforce Development Board, Executive Director
Topic: "Strengthening the Economy by Leveling Up the Workforce"
LaSetta Hogans, Workforce Administrator for the Community and Economic Development (CED) Department and concurrently serves as the Executive Director of the Phoenix Business and Workforce Development Board (Board), oversees the day-to-day operations of the Business and Workforce Development teams. This team works diligently to improve the city's competitive position with not only developing the future workforce but also engaging with and repositioning the current workforce. These efforts are focused on through the Board by engaging the business community, workforce, Universities, and Community College partners. The team works to leverage resources, services, and information to develop and access talent pipelines to meet workforce needs of workers, business, and industry with an annual operating budget of $22M dollars consisting of local, federal, and philanthropic funds. CED provides the full spectrum of economic development activities including business attraction, business retention and expansion, community development, international relations, Phoenix Sister Cities, workforce development, and the city-owned Footprint Center arena.
LaSetta' s career spans more than a decade of management, workforce development, social work, and administration experience in the public and private sector. LaSetta leads many of the city's major workforce and economic development efforts and has helped impact economic growth and eliminate poverty by advancing the skills of workers to meet business needs in both western Pennsylvania and the Phoenix Metro Area.
LaSetta joined the City of Phoenix in 2010 and prior to working in CED, she worked in the city's Human Services Department, Education Division. Prior to Phoenix, LaSetta worked in Erie, Pennsylvania, and New Castle, Pennsylvania. She is a graduate of Walden University, with a Master of Social Work, Edinboro University of Pennsylvania, with a Bachelor of Science in Social Work, and is a certified Global Career Development Facilitator. Currently, LaSetta serves as a Board Member of the National Forum for Black Public Administrators, Central Arizona Chapter, and the Neurodiversity Education Research Center Board. LaSetta is a member of the National Association of Social Workers, Arizona Association for Economic Developers (AAED), and Alpha Kappa Alpha Sorority, Incorporated.
LaSetta enjoys singing and volunteering with non-profit organizations serving the urban youth community and is a major Steelers fan. Her hobbies include home projects, making new food dishes, serving our community, crafty projects, and traveling. When LaSetta is not working in the world of workforce and economic development, she enjoys spending time with her husband, three children and their dog Coco.
Kaaren-Lyn Graves
Executive Director, NABEDC
Topic: "Level Up Your Business: Maximizing Your Business Opportunities & Resources"
The Minority Business Development Agency (MBDA) is committed to promoting the growth of minority-owned businesses through the mobilization and advancement of public and private sector programs, policy, and research.
The American Indian, Alaska Native, & Native Hawaiian (AIANNH) Project NABEDC (pronounced "Nah Bed See"), assists all AIANNHs and minority business enterprises (MBEs) with building scale and capacity, increasing revenue, creating and retaining jobs through regional, national, and international expansion and direct assistance services. Learn about NABEDC and sign up for a free consultation at the Expo!
Ms. Kaaren -Lyn Graves is the Executive Director of the American Indian, Alaska Native, and Native Hawaiian (AIANNH) Project, a grant funded project of the United States Department of Commerce, Minority Business Development Agency (MBDA). In her role she oversees business development services designed specifically for AIANNH and minority communities located in Arizona, Utah, Nevada, the Navajo Nation, and Southern California. Ms. Graves has proudly served in the public and private sectors for more than twenty-six (26) years. She remains passionate about helping entrepreneurs and business owners alike grow their business through education, timely resources, and consulting services.
Ms. Graves is a natural and respected leader with a robust background working in political environments, including serving as the Project Manager and Data Content Manager on a Health & Human Services Initiative on a former Arizona Governor's initiative. Ms. Graves also developed financial forecasting documents resulting in awarded grants, general funds, and monetary awards ranging from $935 thousand dollars to $4 million dollars per year.
As a business owner, Ms. Graves created documents consisting of grant proposals, resumes, capability statements, business plans, responses to solicitations, and marketing documents for her clients, including a political sub-division, chamber of commerce, students, business owners, and military servicepersons located in the United States, Afghanistan, Dubai, and Germany.
Degrees & Certifications:
Master of Business Administration with an Emphasis in Global Business Management; Purdue University; Indianapolis, Indiana (anticipated 10/2023)
Bachelor of Science in Communications with an Emphasis in Business Management, Purdue University; Indianapolis, Indiana
Male & Female Communications and Male & Female Relations – Applied Science & Special Requirement's Degree; Mesa Community College
Research & Development; Mesa Community College
Native American Research in Healthcare Practices Certification – CITI Program
Social & Behavioral Research Investigations Certification – CITI Program
Biomedical Research Investigators Certification – CITI Program
Psychometric Evaluation & Applied Use of Tools & Sources - State of Arizona, Arizona Health Care Cost Containment System & CITI Program
Board Positions:
Sworn member of the City of Phoenix Business and Workforce Development Board
City of Phoenix Business Engagement Committee Member & Co-Champion
Board Member of The Herberger Theater & Member of the Diversity, Inclusion, & Equity Committee
Work History:
Executive Director; Arizona Hispanic Chamber of Commerce Foundation – AIANNH Project NABEDC; 09/2019 –Present
Senior Business Consultant & Opportunities Specialist; Phoenix MBDA Business Center; 10/2013 – 09/2019
Arizona Health Care Cost Containment System (AHCCCS); 2003 – 2009
Health Literacy Administrator; 2008 – 2009, Data Content Manager; 2004 – 2007, Project Manager for Arizona 2-1-1 (Contractor); 2003 – 2004, Voiceover Talent for Arizona 2-1-1; 2004-2007
Executive Business Consultant; My Business Lady LTD LLC; 01/1996 – Present
Personal:
Kaaren is very happily married to Glenn Graves Jr., and is the mother of 5 children and 2 grandchildren (blended family) and lives in Eastmark Mesa, Arizona.
Krystal Garcia
Sr. Manager of Business Empowerment, Prestamos CDFI
Topic: "Empowering Our Community Through Knowledge"
As an entrepreneur, you face many hurdles head on, from time management to operating your business 24/7. Learn ways to set yourself up for success, and leverage the resources and loan opportunities in your community that will help make you a more confident, knowledgeable and empowered business owner!
As an Arizona native, Krystal has always had the passion to lead, educate and advocate for others in her community. With over 10 years of financial industry experience, Krystal is able to identify challenges and assist in providing solutions to direct staff which aid entrepreneurs who may be challenged in accessing capital or seeking to strengthen their business acumen skills. Currently she supports in leading the staff and day to day operations for the Prestamos, CDFI Business Empowerment Services, which promote the economic development of many communities in Arizona, Nevada, New Mexico, Texas and Southern California. She focuses on inspiring her direct staff to motivate the empowerment of the small business community. In 2021, Krystal graduated from the Arizona Foundation for Women's SHE Leads! Program, which strengthened her executive leadership skills. In addition to continued leadership development, she earned a Diversity, Equity and Inclusion in the Workplace Certificate offered by the University of South Florida Muma College of Business, from which its essential tools and teachings has helped embrace equity and inclusion within her staff.
Clyde Turpin
Financial Advisor, Wells Fargo Advisors
Topic: "Investment Strategies and Wealth Management"
College students often enroll in classes that open windows to the future. While at the University of Arizona, Clyde took a personal and family financial planning course and became intrigued with becoming a Financial Advisor. He graduated with a Bachelor of Science degree in Business Administration with a focus on Marketing. This focus involved applying all other business disciplines (accounting, economics, finance, management, and public relations) in a coordinated fashion and prepared Clyde well to work in the field of investments.
Clyde has been with Wells Fargo Advisors and its predecessors since 1989, earning the title Senior Vice President – Investment Officer. He believes in striving to make our community a better place to work, live and raise families. Given this core belief, he has been involved in leadership capacities with a variety of charitable organizations, including Canyon Del Oro Little League, the Carondelet Healthcare Foundation, the Desert Kiwanis Club, the American Red Cross, and Junior Achievement.
As a 41 -year resident of the Tucson community, Clyde currently resides in Oro Valley with his wife Robin, of 35 years.
Senior Home Lending Advisor
Carlton Barker, Chase Bank
My name is Carlton and I've been proudly serving clients at the Mesa, AZ Chase branch since 2010. I have 31 years of experience at Chase and 26 years of experience in home lending.
I have experience with pre-qualification, first-time homebuyer programs, fixed-rate mortgages, FHA and VA mortgages, lending to self-employed clients and low-to-moderate income lending programs. This experience will allow me to help you with anything you may need.
Whether you are a first-time home buyer, need to expand or downsize, or are looking for a second home, I'm here to help you find the right mortgage to fit your needs. Starting with a review of your finances, I can help you get a clear picture of what might work best for you. I will explain your options, answer any questions you may have, keep you informed and guide you through every step of the process. Above all, I want to ensure that you have a positive experience.
At the Expo, you can ask me about:
Chase Closing Guarantee2 — Chase customers will close on time guaranteed, or we'll give you $5,000, if you qualify.
Chase MyHome — This personalized online tool makes it easy to manage the application process.
Low down payment options5 — Pay as little as 3% down, which can come entirely from gift funds.
Meet the Shepreneurs and Winners of the YES Biz Grant Pitch Perfect Pitch Contest
As a part of our Youth Entrepreneur Series (YES), the National Coalition of 100 Black Women, Inc. (NCBW) Phoenix Metropolitan Chapter partnered with Afro Unicorn to offer the YES Biz Grant. The YES Biz Grant was awarded to Black, female aspiring or existing entrepreneurs between the ages of 5-17 who reside in the state of Arizona. The YES Biz Grant was developed to drive positive systemic change that results in gender equity in business and economic empowerment, to create a foundation for building generational wealth for Black girls, and to promote and support youth entrepreneurship.
Pitch Perfect was a live pitch contest before the community and a panel of judges to bring awareness of our great, aspiring and existing entrepreneurs within the state of Arizona, and to give 8 entrepreneurs an opportunity to pitch their business ideas for a chance to win $1000 from our sponsor, Afro Unicorn!
The purpose of Pitch Perfect was to propel business growth and awareness of youth entrepreneurs within our community and to demonstrate our commitment to advocate for and invest in young, Black female entrepreneurs.
Meet Our Eight Winners and visit their booth at the Expo on June 10th!
The five $1,000 winners were:
• Myracle Scott, Myracle's Snack Shack
• Madilyn, Bailee and Taylor Chisholm, MBT Clothes
• Nadia Fonseca, Kozzy Creations
• Danae Bell, Turtle Shell
• Ai'Yana Garland, YaYa Cares Lip and Skincare Products
Three additional community partners - ThinkZilla, VerveSimone, and Hodge Family Enterprises also donated $500 each to three other finalists.
The three $500 winners were:
• Nadia Simms, YummiPop Cosmetics
• Alaysha Nash, HighLife Designz
• Ava Caldwell-Meeks, Ava Leigh Art
Special Vocal Performance By the Renowned, Sandra Bassett
President & CEO of the Phoenix Center for the Arts in Phoenix, Arizona
Sandra Bassett is an engaging, entertaining, and gifted singer with a powerful vocal range and a smooth delivery. Originally from Detroit, MI and now based in Phoenix, AZ, Sandra embraces the musical history of her birthplace and enjoys performing in many styles, including Jazz, R&B, Motown and Blues.
Sandra is a unique and versatile musician in any setting and is an accomplished piano & organ player in addition to also playing the alto sax. Her album "Just for You", featuring beloved jazz and R&B standards, was released independently in 2018 and promoted heavily with live appearances in the United States and Japan.
Performing many dates yearly as a solo artist, duo, trio and with her bands, the Motown Experience and September Soul, Ms. Bassett is comfortable in many formats as a headliner, supporting artist, or as a package performer.
Sandra is also an accomplished workshop leader and motivational lecturer, having lectured on jazz at the MIM, Tempe Center for the Arts, and Many other venues in the valley.
Sandra is currently the President & CEO of the Phoenix Center for the Arts in Phoenix, Arizona.
About the organizer
National Coalition of 100 Black Women, Phoenix Metropolitan Chapter advocates on behalf of Black women and girls, promotes leadership development, and encourages gender equity in the areas of health, education, economic empowerment, and civic engagement.