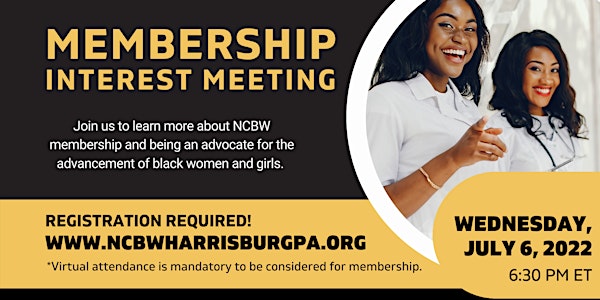 NCBW Harrisburg Chapter Membership Interest Meeting - July 6, 2022
Join Harrisburg Chapter - National Coalition of 100 Black Women Inc. to learn about membership in our professional advocacy organization.
About this event
We are looking for a few good women! If you are interested in standing up and speaking up for women and girls and working with like-minded women to create effective programming in health, education, and economic empowerment for women and girls, we welcome you to join us.
Join our virtual membership information session where we will provide information on being considered for Chapter membership with our National organization. Our members stand together to educate, empower on advocate on behalf of Black women and girls. Be the change you want to see!
*Prospective members must attend membership information sessions to be considered for any level of membership including: New, Reinstatement, and Associate level.
Please take note of important mandatory dates below before applying for membership:
Monday, July 11, 2022: Membership Applications due
July 14-15, 2022: Prospective Membership Interviews (virtual)
Monday, August 15, 2022: New member fees due in full
Thursday, August 18, 2022 : New Member Induction (virtual)
Saturday, August 27, 2022: New member orientation meeting/ Strategic Planning Retreat
Friday, November 11, 2022: 4th A Tribute to Trailblazers Awards Gala
*The full Harrisburg Chapter 2022-2024 membership information packet can be downloaded at: https://www.ncbwharrisburgpa.org/get-involved.html
*Log in information for your virtual session will be provided to you via email prior to the event date.