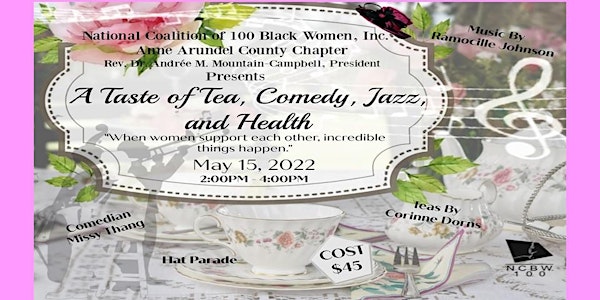 NCBW-AACO "A Taste of Tea, Comedy, Jazz, & Health" Virtual Fundraiser Party
This Virtual Tea Party Fundraiser supports the NCBW-AACO's Scholarship Program.
About this event
Virtual Tea, Comedy, Jazz, and Health Fundraiser Party!!!
Come listen and learn how women are leading the way!!!
The National Coalition of 100 Black Woman, Inc., Anne Arundel County Chapter is excited to invite you to our Virtual Tea, Comedy, Jazz, and Health Fundraiser. We will have tea and conversation with a Phenomenal Woman who has paved the way to success. Our guest speaker for this event is the founder and owner of Herbs & Spices, Ms. Corinne Dorns.
This Virtual Tea Party Fundraiser, "A Taste of Tea, Comedy, Jazz & Health," will support the NCBW-AACO Scholarship Program and will be filled with Fun, Comedy, Music, and a Hat Parade for all to enjoy.
What to Expect:
Gift Bag: Each participant will receive a Virtual Tea Party bag which will contain gifts for the Tea Party. Please Note: Participants will receive an email notification, identifying the exact location and time to pick up your gift bag, on Saturday, May 14, 2022.
Place Settings: Guests are encouraged to get out their fine china and decorate their space for the event.
Etiquette Attire: We ask for you to please wear a fashionable hat and stylish outfit for our elegant afternoon tea.
Hat Parade Contest: A fun activity open to all. Please send your Camera-Ready pdf, jpeg file of yourself in your fashionable hat to: sawny71@gmail.com no later than May 10, 2022.
Menu: Your choice.
The deadline to purchase tickets is Friday, May 13, 2022. Please tell your family and friends to join in the fun. We are excited that you have decided to join us for this fun filled and educational event. Thank you.
Zoom information will be provided to all registrants upon registration.