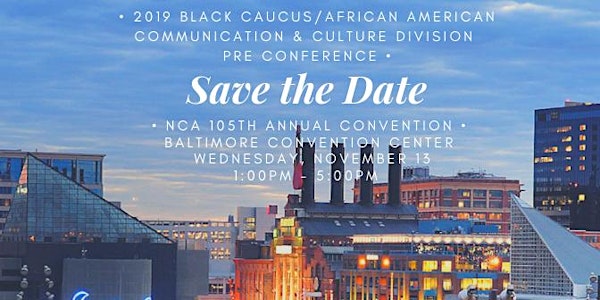 NCA Black Caucus & AACCD PreConference
Voices and Resources: Placing communication at the forefront through financial literacy, self-health management, social change and survival
When and where
Location
Convention Center 1 W Pratt St Baltimore, MD 21201
About this event
Attend a half day of interactive collaboration featuring current scholars and leaders from the Black Caucus, African American Communication Culture Division and Baltimore/D.C. area.
In honor of Dr. Lucia Hawthorne, who was a professor at Morgan State University and one of the Founders of the Black Caucus, the pre-conference schedule compliments the 2019 NCA Conference theme and mission of both BC/AACCD by acknowledging and illustrating ways communication can increase survivor among undergraduate/graduate and post-graduate students of color through a community-centered intervention approach that will be discussed in a sequence of five break out panels:
Panel 1: Financial Literacy: Understanding the importance of financial literacy in the Black Sphere explores and highlights ways communication can improve students engagement with financial literacy. The panel will feature experts from the Baltimore/D.C. area to explicate resources and tools for students to manage monetary resources for community empowerment and financial readiness during and after college.
Panel 2: Healthy conversations: Exploring the role of self-health management and communication explores and highlights ways students can manage their health and well-being. The panel will feature experts from the health and communication field to discuss resources, tips, and techniques for a practical engagement with health.
Panel 3: Advocacy: Placing social change and survival engagement as a muse for advocacy or communication at work explores and highlights ways communication can advocate for social change and civil engagement. This panel will recognize communication scholars and community experts that use communication as a tool for social change in Baltimore, MD.
Panel 4: Media: Representation, Media Effects, and Resource: Exploring the role and implications of media scholarship explores and highlight ways media studies impact communities of color in terms of representation, media effects, and resources used by communities of color to connect, share, and establish community identities in the digital era.
Panel 5: Careers in Communication: Being a communication enthusiast in the 21st century will highlight ways communication is a beneficial career after college and showcase current members of Black Caucus and African American Communication Culture Division through roundtable discussion on career choice in communication, personal connection to the discipline, and contributions to the field of communication.
Audience: NCA BC/AACCD Members, High School Seniors, Community College and University Students interested the vast field of communication studies.
Contact Dr. Tara Reed at drtarareed@gmail.com for more information.