A one of a kind model and photographer workshop, improvisational photoshoot, and networking experience.
About this event
NC Models & Photographers Creative Portrait Workshop/Photoshoot
Join us for a one-of-a-kind model and photographer workshop. Sessions are available for both models and photographers.
Model Sessions:
Model sessions include a Model Essentials session and an Improv & Adapt Photoshoot. These dynamic sessions are designed to help creatives gain an understanding of industry fundamentals, including posing, emoting, building a high-quality portfolio, marketing, staging, improvisation, and much more!
Session 1: Model Essentials
Within the essentials workshop, the goal is to:
Gain an understanding of posing fundamentals - the good, the bad, and the ugly.
Learn how to properly emote and how to carry depth of feeling and expression into your images.
How to market yourself as a freelance model to help build a high-quality portfolio at little or no cost to you by networking with other local creatives on TFP projects: what you need to bring to the table.
Find your why - why are you doing this? What are your goals?
Session 2: Creative Portrait Session for Photographers:
This session will take photographers through all steps of creative portrait production from selecting references and wardrobe all the way to the photoshoot. You will learn how to work with a color wheel and how color impacts the final photo. A creative portrait set will be staged during the workshop and participating photographers will be able to take photos for their portfolios of a fully styled. A detailed explanation will be provided on the logic behind the set.
Session 3: Improv & Adapt Photo Session for Models:
The shoot improv session with Mila Vega will teach you to adapt to any setting. You will get assigned a random shoot concept (for example, a soft light portrait session or dramatic avant-garde fashion). The photoshoot will start immediately. During the shoot, you will receive instant feedback from the photographer and an experienced model on set.
After the shoot, the images will be reviewed on the computer or projector screen. A helpful pre-shoot checklist will be provided after the workshop. It will allow you to cover essential components of a photoshoot and be prepared to shoot with any photographer. Edited photos may be purchased following the workshop/photoshoot. **edited images not included in the price of the workshop.
******************************************************************************************************
About Our Model Coaches & Photographers:
Megs Silva - Model/Model Coach : Megs Silva is a 10x published model with over 20 years of experience in freelance and creative modeling. She started her modeling career as a teenager and did print for various clothing lines such as Sears, JC Penny, and Macy. As she got older (and got tattooed) her professional modeling career turned into freelance for more underground alternative companies, along with the ability to have creative freedom in her projects.
Her background in ballet and other various styles of dance and theater, in addition to the study of lighting and photography composition, has helped her understand the lines and shapes needed for posing.
Mila Vega - Photographer/Presenter : Mila Vega is a photographer who creates fantasy and magic worlds through her photos. Her main focus is creative portraits. Warriors, princesses and forest fairies pose for her portraits. Mila is constantly working on improving her skills and has completed numerous courses with world-class photographers. She took courses on portraiture, creative photography, the art of digital editing and more. She also believes in sharing her knowledge with others to inspire growth and creative thinking.
Salma Badr - Makeup Artist: Professional self-taught makeup artist with over 10 years of experience, certified from Sephora, Clinique and Ulta. Salma offers flawless face makeup application for bridal, fashion and everyday looks using high-end and highly rated products, makeup lessons, and beauty tips you will need every day to achieve perfection.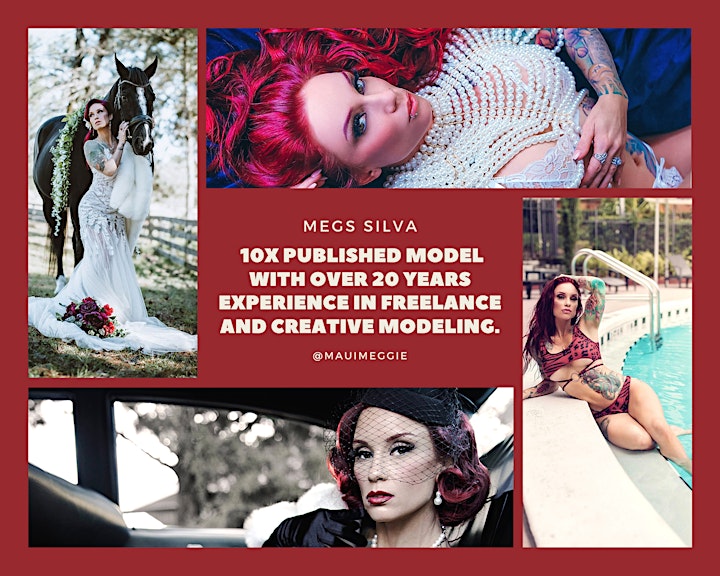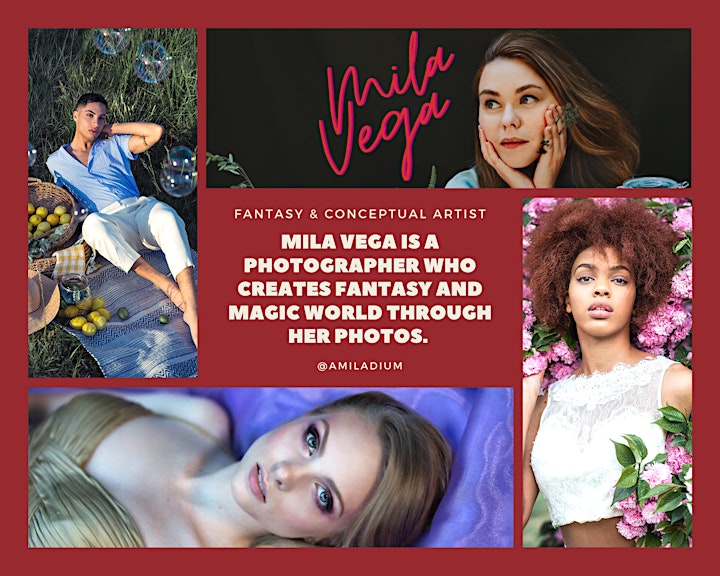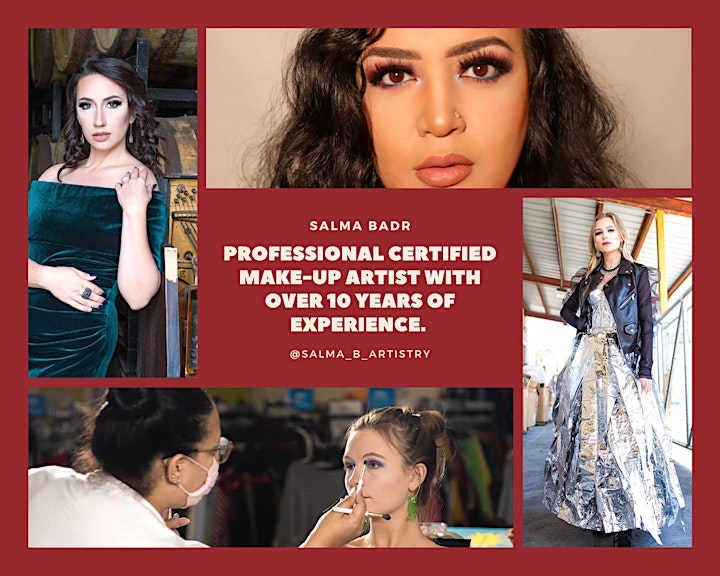 Organizer of NC Model & Photographer Creative Portrait Workshop and Photoshoot