NC Global Advantage Forum : Building on Our Legacy, Planning for Our Future
Join business, education, government and community leaders at the NC Global Advantage Forum 2020!
About this event
Become part of a collaborative effort to ensure that NC is the most globally engaged state in the US.
An event hosted by the NC Coalition for Global Competitiveness, for more information: https://goglobalnc.org/ncglobaladvantageforum/
For inquiries and sponsorship opportunities contact: rachel.page@northcarolina.edu
By purchasing this ticket and attending the event, I give permission to NC Coalition for Global Competitiveness and organizations supporting the event to capture and publish photographs, video, audio, or other impressions of my image or voice. I understand that I will not be compensated for any photographs or other likeness that may be used in this capacity.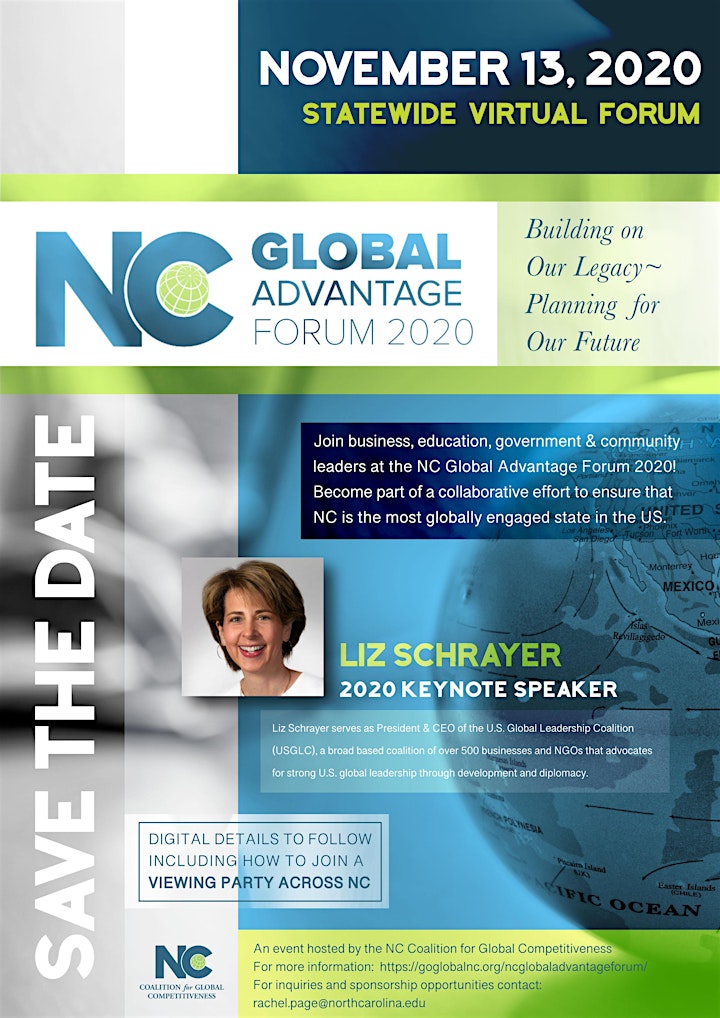 Date and time
Refund policy
Organizer of NC Global Advantage Forum : Building on Our Legacy, Planning for Our Future
N.C. Coalition for Global Competitiveness is a private and public sector partnership of leaders from a variety of industries from all over North Carolina co-chaired by Elaine Marshall, NC Secretary of State, and Steve Troxler, NC Agriculture Commissioner. The Coalition, founded in 2013 and coordinated by Go Global NC, fosters thought leadership and serves as a catalyst for a statewide vision for global engagement.
The purpose of the Coalition is to foster thought leadership and serve as a catalyst for our statewide vision for global engagement. The Coalition is focused on optimizing North Carolina's global engagement through a comprehensive approach, including FDI, trade and workforce development to generate jobs and opportunities and create an environment for success in the global economy. Economic well-being and quality of life for all North Carolinians depends on effectively engaging the rest of the world.
The Coalition created the N.C. Blueprint for Global Engagement and N.C.'s Global Engagement Snapshot, a road map and an online tool, to track the state's path and progress toward global engagement. North Carolina is the first state to develop a roadmap for global engagement across all sectors – education, business, government, and community.