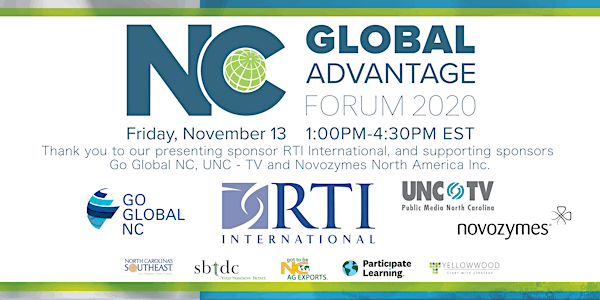 NC Global Advantage Forum : Building on Our Legacy, Planning for Our Future
Join business, education, government and community leaders at the NC Global Advantage Forum 2020!
About this event
Become part of a collaborative effort to ensure that NC is the most globally engaged state in the US.
An event hosted by the NC Coalition for Global Competitiveness, for more information: https://goglobalnc.org/ncglobaladvantageforum/
For inquiries and sponsorship opportunities contact: rachel.page@northcarolina.edu
By purchasing this ticket and attending the event, I give permission to NC Coalition for Global Competitiveness and organizations supporting the event to capture and publish photographs, video, audio, or other impressions of my image or voice. I understand that I will not be compensated for any photographs or other likeness that may be used in this capacity.